Top Ten Most Powerful Anime Siblings
The Top Ten
1
Whis and Vados - Dragon Ball Super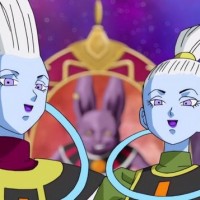 2
Beerus and Champa - Dragon Ball Z

3 Washu, Tsunami and Tokimi - Tenchi Muyo!
4 Goku and Raditz - Dragon Ball Z
5
Gohan and Goten - Dragon Ball Z

6
Android 17 and Android 18 - Dragon Ball Z

7 Vegeta and Tarble - Dragon Ball Z
8 Trunks and Bulla - Dragon Ball Z
9
Itachi and Sasuke - Naruto

10
Zeref and Natsu - Fairy Tail
Wow shuld be first,zeref the evilest and most crazy strong wizard of all time with natsu,the dragon slayer aka end should be first
The Contenders
11
Sanji and Reiju Vinsmoke - One Piece
The best Vinsmoke! Likable and badass.
12 Sesshomaru and Inu Yasha - Inu Yasha
13
Portgas D. Ace and Monkey D. Luffy - One Piece

14 Temari, Gaara and Kankuro - Naruto
15 Alphonse and Edward Elric - Fullmetal Alchemist
16 Hagoromo and Hamura Ōtsutsuki - Naruto Shippuden
17 Sango and Kohaku - Inu Yasha
18 Mirajane, Elfman and Lisanna - Fairy Tail
19 Indra and Asura Ōtsutsuki - Naruto Shippuuden
20 Sorano and Yukino - Fairy Tail
21 Kirigaya Kazuto / Kirito and Suguha / Leafa - Sword Art Online
22 Kagura and Kanna - Inu Yasha
23
Korosensei and Itona - Assassination Classroom

24 Kagura and Yuzuru Yamai - Date A Live
25 Kenshiro and Raoh - Fist of the North Star
BAdd New Item