Top 10 Most Romantic Things to Do With Her
All men want to be the most romantic person in the lives of their partners. So when Valentine's is around we always start thinking for long hours how to make this day the most beautiful and romantic one. Here are some ideas for the beautiful couples to make this day an unforgettable one.

The Top Ten

1 Kiss her slowly so she can feel every spark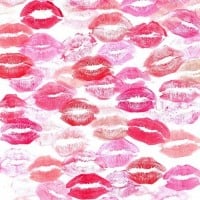 I plan on kissing my future woman for the first time slowly and intimately, and I'm hoping she will do the same on February 14th.
It really works out for both of you. She might not even want the moment to end.
Definitely the best. Always works, and it makes her feel very special.
2
Hug her tightly under the starry night
Laugh out loud. I hugged my girlfriend really tight and kissed her on her neck. She swore never to let go.
I hugged my girlfriend really tight, and she cried in my arms and fell asleep on my lap.
But make sure you're watching the stars while you do this!
3
While watching the sunset, hug her from behind, kiss her cheek, and whisper in her ear
My husband did this on my birthday. He said I love you for the first time.
4 Hug and kiss her from behind and tell her you love her
5 Kiss her deeply on the lips and say, "You'll always be mine, forever."
6
Kiss her on the neck while dancing to slow music
This is the most intense way to express your true feelings for her. Nothing more romantic than this.
Take it from a girl. It will work, and it is the best.
It's the best thing to ever do.
7
Lie with her in bed, wrapping your arms around her and perhaps stroking her hair
I would love that. Can you tell my boyfriend about this?
8
Watch the sunset on a secluded beach
Amazing, did it and it was great. Definitely an option I'd recommend. And if it's cold, lend her your coat.
Sunset on a silent beach is great. You might even get something for yourself that evening.
The beach, the sunset, and your love - how could it get any better?
9 Run through a large field together, fall down when you're tired, kiss her, and say she's adorable
10
Lie on the roof of your car at midnight and watch the stars
Most romantic thing, but you've got to have a romantic song playing with the windows down.
I did this the other night. It was great.
Sounds like a great idea.
The Contenders
11
Nestle her head against your chest and stroke her hair
I don't even know, man. This hits.
12
Take her to a restaurant with only one table, surrounded by candlelight and soft music
Yes, works every time.
13
Send a handwritten message expressing your love
I think that will make your girlfriend see how much you love her and that you are always thinking about her.
This is a nice trick. By doing this, my girlfriend is very happy.
Every girl wants this.
14
Watch "Duck Dynasty" reruns and drink boxed wine over crushed ice
Have done this numerous times. Wow!
Hey Jack, that's a good one.
Damn, baby, that's romantic.
15
Kiss her in the middle of her sentence
It works. When I did it two or three times, the fourth time she kissed me first and for a long time.
For when she's talking and all you can focus on is how beautiful she is.
I want John C. Reilly to do this to me so badly. Like, I talk so much and he kisses me to shut up.
16
Pull her away from her friends and sing songs to her
I sing to my girl every time. I like to wake up with a beautiful song. I love you when your hair turns gray, I'll love you if you gain a little weight. Because she is the rose that blooms in my garden. Gosh, I'm so in love with her every second of my day. It will be three years next month.
If you have a good voice or play an instrument, then use your talent. Getting a girl alone to sing a song for her to tell her how special she is to you is such a sweet thing to do. I promise you, this will absolutely melt her heart.
Well, yes, but timing is everything. If she's trying to discuss something with some friends and you pull her away and start rickrolling her, there's a 50-50 chance you're doomed forever.
17
Take her on a long evening drive away from her house
Yes, and make sure to have the windows down so you can feel the fresh air if it is warm outside. Put them up if you start to talk to her.
It does work. Just watch for curfew.
I did it. It works.
18
Every time you see her after a long period, wrap your arms around her and playfully refuse to let go
I do this to my girl all the time. She hates it, struggles to try and get away, but then it usually turns into real play, if you know what I mean.
This will make them feel really special and appreciated.
19 Light a fire and sit on the carpet while watching her favorite film
20
Hold hands while walking on a private beach, just the two of you
He just did it.
21
Go skinny dipping
I would LOVE that if a boy did that with me.
It really feels amazing.
I loved it with her.
22 Take her to the terrace under the moon and say that even the envious moon hides behind clouds
23
Watch a movie with her
Let her pick the movie, but first give your choice of what movie you want to see. Girls don't like men who have no opinions or who can't make choices. They will feel like you're someone who can't control things in your life, and that she will be the one to make every decision in the future.
Did this for my wife and gave her a back rub and said, I love you. That night we also had her favorite for our anniversary dinner. Do this for her when you are in a fight or for any occasion. Trust me, it works. I love her.
I watch movies with my wife every time the kids are asleep. Rent The Proposal and do this. We both love it. Go to Redbox now.
24
Fill your room with blue lights and slow music, perfect for dancing
This is perfect and 100% romantic.
25
Take her to her favorite restaurant and place a wedding ring in her glass
That's how people die. Safety should always come first, you dick-licking jackass.
PSearch List