Top 10 Best Argentine Football (Soccer) Players of All Time
The Top Ten
1
Diego Maradona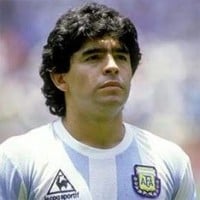 Diego Armando Maradona (October 30, 1960 - November 25, 2020) was an Argentine professional footballer. Widely regarded as one of the greatest players in the history of the sport, he was one of the two joint winners of the FIFA Player of the 20th Century award. Maradona was given the nickname "El Pibe de Oro" ("The Golden Boy"). He was known for the "Goal of the Century" and the "Hand of God" goal. He died of cardiac arrest on November 25, 2020 at the age of 60
Love Lionel Messi, but the fact that he still hasn't won a World Cup is disappointing-especially after coming so close in 2014.

Maradona can do anything Messi can do, but with the National Team too. Not saying that Messi is worse, but just cannot achieve at National level. The goal against England in the World Cup says it all.

What it would take for Messi to be considered better than Maradona?

A World Cup - if he does achieve this title, I think he's the best player ever...
Maradona is the best player in the history of soccer, he was a perfect player, he didn't need nobody near to him to win (like Messi need Xavi and Iniesta), true story, the team who used to face Maradona in the next match they used to say "We're ed! Maradona is playing! Unique one of a kind player, he had the quality of Zinedine Zidane, the speed of Roberto Carlos, the dribbling of Messi, the power shot of Romario, and the juggles of Ronaldinho, imagine what a player he was!
The players that Maradona played against sucked? , man you don't know anything about futbol saying something like that.. it didn't even fairplay exist at that time.
Maradona the best ever... He had a hand instead of a left foot.
I'm from Argentina anda everybody here know that Maradon is the best player ever.
Hey, Maradona is the best argentine, but Messi is actually same like Maradona. The real problem why he is better than Messi is because he made the 1896 world cup winner. He is now a couch of this country
2
Lionel Messi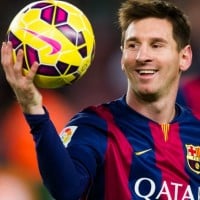 Lionel Andrés "Leo" Messi (born 24 June 1987) is an Argentine professional footballer who plays as a forward for Spanish club Barcelona. He is also known as one of the greatest football players of all time. He was born in Rosario, Argentina on June 24th, 1987.
LIONEL MESSI
AKA (GOD OF FOOTBALL)
GOD OF DRIBBLING / GOD OF BARCELONA
His name alone tells us all about him.
Maradona's world cup achievement cannot give him an edge over messi. Messi has dominated football for over a decade and has achieved almost all. He has the most prestigious award (BALLON D' OR) to his name for a record of SEVEN TIMES. The rumor's about him having xavi and iniesta by his side is all but a fallacy because for the record he has the highest assist (300+) in football history. He is the second all time goal scorer with a record (770+ goal) as of August 2022. Man this guy has done it all,he has achieved it all. Don't think anyone can reach that height of greatness.
In my opinion he deserves to be on the top of this list and not Maradona. As a kid who had a disease who would have thought that he would grow up and become the best footballer in the world and amaze us in every match he plays with his amazing, natural talents. Leo is without a doubt the best player of all time and I don't think we could ever see someone else with his talent in the near future.
Messi is the best ever. Because today Laliga League and Champion League is so much competitive versus Pele or Maradona time. Yet messi achieved so much in such stiff environment. If today top 10 players existed in the same era and they are all buy able at the same price tag. I am sure majority big clubs will chase after Messi's signature. This will proof my point. MESSI BEST EVER!
Playing against much better athletes today than Maradona did in the 80's and 90's. Consistently scores a lot of goals year after year. Does not dive. Also one of the best passers of the ball and dribblers. His first touch is the best I've ever seen. Not a self promoter like many other super stars.
3
Ángel Di María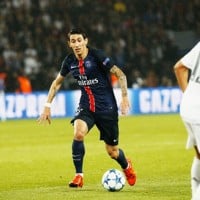 Great passer...was not used right at MAN UNITED...should of stayed at REAL and that team could be even greater
I still don't know how L. van gaal failed to use him in man united...
even man united legend said" if man united have to perform well in champions league, they need di maria and we all know what happened to man united in that season...they were kicked out in the group stage of champions league
He is fast and awesome
Di Maria is fast
4
Sergio Agüero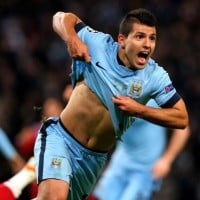 Sergio Leonel "Kun" Agüero is an Argentine professional footballer who plays as a striker for Spanish club Barcelona and the Argentina national team.
What he showed us in the Premier league. His unbelievable contribution to m city and his extraordinary soccer records. Make him the 3rd best
Better than Tevez and Di Maria, he is easily one of the best of all time.
You can forget Aguero!
The guy is great at playing.
5
Gonzalo Higuain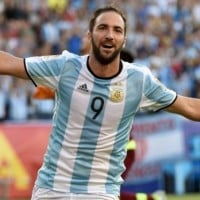 Gonzalo Gerardo Higuaín is an Argentine professional footballer who plays as a striker for Italian club Juventus.
This guy is an amazing finisher... He may be slow, but he is strong... And ruled the Spanish league in his time
It is because of his rascal Messi lost World Cup and Copa de America. How will he pay those valuable years
6
Carlos Tevez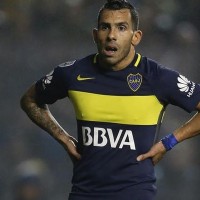 Carlos Alberto Martínez Tevez is an Argentine professional footballer who plays as a forward for Shanghai Shenhua and the Argentina national team.
Truly a complete player... Lack height but good vission for goal... Player who can tackle, score and pass...whenever he played benefits the team... Eg.. Boca, corintheans, west ham, man utd /city and now juventus
7
Gabriel Batistuta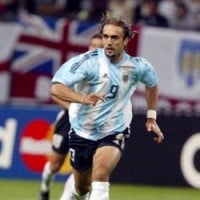 Gabriel Omar Batistuta, nicknamed Batigol as well as El Ángel Gabriel, is a retired Argentine professional footballer.
Diego Maradona once stated that Batistuta is the best striker he has ever seen play the game. His Stat explains it all. He haven't played for Argentina much in 1996 and year 1997 due to a dispute with team coach Daniel Passarella when he was in best of his form. His nick name "Batigol" explains it all. He was a very loyal, committed and complete player.
He is easily better than di maria,higuain,aguero,tevez. I think he is better than messi too because he not only scored goals but also won the world cup.
8
Alfredo Di Stéfano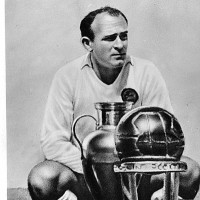 He redefined what football was at the time. If he played today, he would still be one of the best in the world. He was so ahead of his time. He was the finisher and the creator. One of the most complete football players ever. In my opinion one of the three best football players ever
Wow, its absolutely ridiculous that likes of Di Maria and Higuain are above him. 5 time champions league winner and scored in each final. The most complete player of all time.
What? Si Stefano most be in top 3! He was an exceptional player, very underrated... One of the best players in history
Best 100% all round Player of the last 50 years. Saw him play no one is close to his all round ability
9
Sergio Romero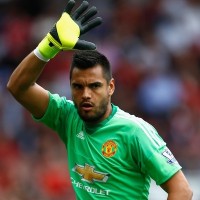 Sergio Germán Romero is an Argentine professional footballer who plays as a goalkeeper for English club Manchester United and the Argentina national team.
10
Hernán Crespo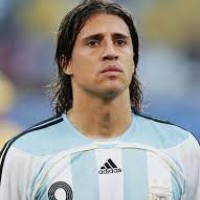 Just faultless and his experience gives him the edge over any striker around.
The Contenders
11
Javier Pastore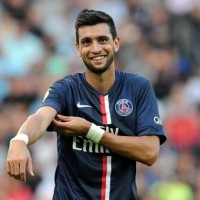 12
Javier Mascherano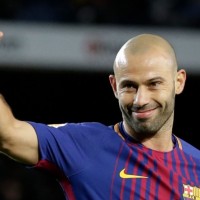 Javier Alejandro Mascherano is an Argentine professional football coach and former player who is the head coach of the Argentina national team.
Mascherano is a "take no prisoners" kinda a player! Very focused and passionate on the pitch.
16? and you have Higuain in the top ten? Stupid. Mascherano should be 3 on this list
He has to be in the top ten.
13
Marcos Rojo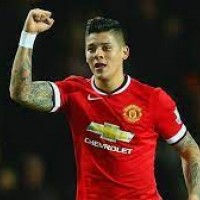 14 Manuel Lanzini
15 Guillermo Stabile
16 Ezequiel Lavezzi
17
Javier Zanetti
A defensive legend!
18 Oscar Mas
19
Maxi Rodriguez
Maxi Rodriguez is a really good player. He should be on this list
20
Juan Román Riquelme
Juan is the world's number 1. It is an insult to football to ignore him. Watch the videos of Juan playing and compare him to any other player. None of the players matches him. He is the best. You can deceive others but not us who know football. Please stop being influenced by soccer politics and be fair. Please stop misleading the world.
IF he would be in the 2011 and 2015 world cup squad Nobody could have stopped Argentina
A brilliant playmaker that Argentina needs...
When he was in his prime,you can't imagine how legendary and elegant this player was.
Watch the highlights
21
Paulo Dybala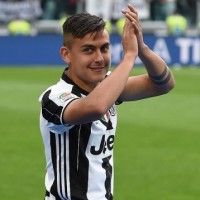 Paulo Bruno Exequiel Dybala is an Argentine professional footballer who plays as a forward for Italian club Juventus and the Argentina national team.
He should be the first one because the way I see it he is still a child but he will make history.
Why he is not in the team?
Cause he's the best
Third best player
22
Claudio Caniggia
Don't forget Caniggia was a playmaker for Argentina. He won games for his country many times. He was a strong player.
Someone said that Claudio Caniggia is the missing link between Diego Maradona and the rest of the mortals...
Best fairing to Diego
Best of the best
23 Francesco Manfredini
24
Diego Milito
A beast of a player
25 Diego Simeone
PSearch List