Top 10 Best Football (Soccer) Midfielders
The Top Ten
1
Diego Maradona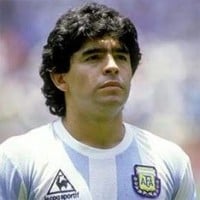 Diego Armando Maradona (October 30, 1960 - November 25, 2020) was an Argentine professional footballer. Widely regarded as one of the greatest players in the history of the sport, he was one of the two joint winners of the FIFA Player of the 20th Century award. Maradona was given the nickname "El Pibe ...read more.
Why the hell is he seventh? He scored the best goal in football history! And even I admit, though I support England! Look if have not seen these people play, don't vote and leave this list now!
He is the only guy who won world cup for his country by alone
1 Best midfielder
2'and. Best soccer player
An amazing shooter
Maradona Messi top 2 players but dribbles Messi 1 Maradona 2
The best but not better than messi
2
Ryan Giggs

Ryan Joseph Giggs is a Welsh football coach and former player who is currently the assistant manager at Manchester United and co-owner of Salford City.
Inspirational. Hard-working. Just your perfect role-model to younger players. He was born to assist, even if it was out of football
3
Bobby Charlton

Sir Robert "Bobby" Charlton is an English former football player, regarded as one of the greatest midfielders of all time, and an essential member of the England team who won the World Cup in 1966, the year he also won the Ballon d'Or.
Often overlooked. As beckenbaeur said lungs of a mule. Class
The best of his time!
4
Zinedine Zidane

Zinedine Yazid Zidane, nicknamed "Zizou", (born 23 June 1972) is a is a French former professional football player who played as an attacking midfielder. He received many individual accolades as a player, including being named FIFA World Player of the Year in 1998, 2000 and 2003, and winning the 1998 ...read more.
This a joke rite? How the hell is zidane not #1 shoot even the top 3 you really don't know soccer then this guy carried France to the world cup as a rookie he was the best player on a real madrid team that had Ronaldo raul figo r carlos that's saying something! Plus he was still playing at a high level at the age of 35 got France back to the world cup!
Zidane should definitely be in the top 5 not kaka ronaldo or lampard this guy is a legend and could school any of these players easily he was the heart and soul of any soccer team he is also rated upon the top 3 football players in the world.
Wow.. this is pathetic
Ronaldo and Lampard don't even come close to Zidane.
I guess people are just looking at modern day midfielders and not at the best of all time
Pure talent, skills, shoot, dribbling, power, spectacular goals.. No one else comes close
5 Michael Carrick
6 Duncan Edwards
7
Andres Iniesta

Andrés Iniesta Luján is a Spanish professional footballer who plays for FC Barcelona and the Spain national team.
Really? The best ever, Spain won the World Cup with his goal, Iniesta-Xavi-Messi are the best trio on football (soccer), but Iniesta is the Mastermind, the magician!
Greatest midfielder of all time in no particular order
1. Iniesta
2. Xavi
3. Pirlo
4. Modric
5. Zidane
6. Kroos
7. Rakitic
8. Alonso
9. Vidal
10. Sneijder
Best in the history.
18th? What? He is in Top 3!
8 Antonio Valencia
9
Juan Mata

Juan Manuel Mata García is a Spanish professional footballer who plays as a midfielder for Premier League club Manchester United and the Spain national team.
Cause he is a giant, sting midfielder for chelsea and scored lots of good, quality goals. Flynn age 8
10
Andrea Pirlo

Andrea Pirlo is an Italian professional footballer who plays for American club New York City FC in Major League Soccer and the Italy national team.
His passing accuracy, corner, free-kick all was awesome
Deep-lying playmaker, an invention
Best midfielder to grace football
The Contenders
11
Frank Lampard

Frank James Lampard is an English professional footballer who plays as a midfielder for New York City FC in Major League Soccer.
Look at his numbers, just look at it 232 goals and 172 assists. It's nearly impossible for any midfielder to scale such heights but not Frank Lampard. He is a legend, in every sense of the word. It was a pleasure watching him play. Too bad we won't be able to do it any longer. It's a pain, really. A pain that leaves a hole in the heart as deep as the ocean.
What can I say every one in the world know Frank Lampard is the best and is a legend.. A goal machine A friend A hero A legend A heartbeat of the team A Legend.. He have good vision to know wheere to pass where to kick the ball.. He is also the most successful penalty in football history.
It's awesome to be the top scorer for the club and, he is a midfielder! He had scored a variety of wonder, from freekicks to headers, and surely, the goal from the tightest of angle beating valdes! He's a great midfielder.
Franks the best he gets all the assists to chelsea and scores a lot. He's the top kicker on chelsea. If chelsea gets to a penalty shootout he kicks first because the coach relies on him
12
Xavi Hernandez

Xavier "Xavi" Hernández Creus is a Spanish professional footballer who plays as a central midfielder for Qatari club Al Sadd SC.
No matter what anyone says, this guy is definitely the best midfielder ever! (Coming from someone who played pro in South America) his success in club and country can't lie, plus changing the whole tactic system in the best club in the world (Barcelona) is something only a legend could do. The brain of Barça/Spain and main point of the tiki-taka system, he pretty much controlled the whole team according to his thinking (check his highlights on YouTube), this world will definitely never see another footballer like Xavi Hernandez!
Why sre Ronaldo and ribery here! XAVI is the BEST he should be in the TOP that's iT! If he is not better than maradona overall, he's surely a better playmaker and midfieder in the world, he has beter midfield skills than maradona
How the hell is xavi 12th and the top 3 are not even traditional midfielders. Xavi is a footballing legend and is the greastest passer of all time. Also where is paul scholes?
Best in the world insane pass completion rate in his prime
13
Steven Gerrard

Steven George Gerrard is an English professional footballer who plays for Major League Soccer club LA Galaxy.
Say all you want about Lampard's stats, but let's be honest, if we talk about the pure quality, Gerrard is above Lampard. The goals he scored for Liverpool and England were out of this world, and not to mention, crucial. He won Liverpool the champions league and FA cup by himself, and was arguably the best captain of the premier league era. He played in a mediocre team for his whole career and still did amazing, he didn't need to be put in a world class team to get global recognition, and that's why Liverpool fans will admit that for many years, Gerrard carried Liverpool. Lampard simply didn't have the same influence as Gerrard, or the "big game" attitude.
Gerrard is a wonderful football player and a brilliant role model I think every child should look up to him. He is 33 years old but can still play like ronaldo or messi steven is the king of football
He don't need any explanation.. Shoot power, accuracy, defense, attack, pass and leader.. He's just the BEST.
Gerrard is the best long range goal scorer in the world and the best midfielder of all time
14 Ander Herrera
15
Ronaldinho

Ronaldo de Assis Moreira (born 21 March 1980), commonly known as Ronaldinho Gaúcho or simply Ronaldinho, is a Brazilian former professional footballer and current ambassador for Barcelona. He played mostly as an attacking midfielder, but was also deployed as a winger. Often considered one of the best ...read more.
I say that he is the best, when he is at his peak he is unstoppable.
He's not a midfielder but vote for the banter
He is the best dribbler... And should be best
Visitor, he is a midfielder.
16
Cristiano Ronaldo

Cristiano Ronaldo dos Santos Aveiro (born 5 February 1985) is a Portuguese professional footballer who plays as a forward for Serie A club Juventus and captains the Portugal national team.
We all know him. OF course he somewhere on this list.
But he is not midfielder. He is a forward (winger)
Ronaldo is so awesome with his skills
Ronaldo Is Best And He Can Do Anything
17
Park Ji Sung
Park is such an underrated player. Just his determination and short passing will inspire the whole team.
This guy has an extra lung. He moves everywhere around the pitch, like an extra player to every posititon! Insane player.
SIMPLY THE BEST
HARD WORKING
EVERYWHERE!
HE LITERALLY HAS TWO LUNGS
WHENEVER HE PLAYS, I SEE HIM LITERALLY EVERYWHERE ON THE FIELD
18
Kaka

Ricardo Izecson dos Santos Leite, commonly known as Kaká or Ricardo Kaká, is a Brazilian professional footballer who plays as an attacking midfielder for Orlando City SC in Major League Soccer and the Brazil national team.
He is the best player & midfielder I have ever seen after zidane number 1 can match him in terms of quality & precision. Kaka & cr7 are my fvr8 but players lke cristiano ronaldo is the result of tremendous hard wrk and god given talent and hs 1 of my fvr8 but kaka is my fvr8 player of all time and he is just pure magic the passes he produces are unimaginable he can produce anything 4m nothing that's where the magic starts he is a game changer a match winner and most arguably the best player than messi or cr7 had he nt been benched by mou and injured during world cup... But still now he has cme bk 2 his best and will 1nce again be the best under ancelotti
The most prolific playmakers in present day football and he makes the whole attack look so simple by his passing ability... He can score from long range, inside the box... A full PACKAGE...
The best of Midfielders ever experienced by soccer!
What kaka has done, no one can do. He is the best
19 Darren Fletcher
20 Jay-Jay Okocha
21 Clarence Seedorf
22
Luka Modric

Luka Modrić is a Croatian footballer who plays for Spanish club Real Madrid and the Croatia national team.
He will win the ballon d'or he takes free kicks he takes long shot and has incredible vision
He is the magician midfielder put him in 1st
He should be above christiano ronaldo!
Should be no1 in the last few years.
23
Xabi Alonso

Xabier "Xabi" Alonso Olano is a Spanish footballer who plays for German club Bayern Munich as a central midfielder.
24
Arjen Robben

25
Franck Ribery

Franck Henry Pierre Ribéry is a French professional footballer who plays for German club Bayern Munich.
PSearch List