Top 10 Best Things to Color With
There are many different things to color with. Colored Pencils, Crayons, Markers, etc are many cool things to color with and there are many different brand versions as well. Some of them are either plain, or scented, or are in different variants.

The Top Ten

1 Cra-Z-Art Colored Pencils
Cra-Z-Art has multiple different types of colored pencils. Some packs have 12 colored pencils, others have 24 colored pencils, 72 colored pencils and even 100 colored pencils.
Colored pencils are great. Especially when I put some nice colors together.
Colored pencils are my favorite things to draw with.
Colored pencils are the best!
2
Crayola Markers
Crayola Markers typically come in red, orange, yellow, green, blue, and purple as well as brown or black. There are also many super-tips versions of markers.
3
Crayola Crayons
Crayola Crayons come in many different colors like red, orange, yellow, green, blue, purple, etc and there are different boxes with different amounts, ranging from 8, 10, 24, 64 to 96.
Crayola is a million times better then Cra-Z Art!
96 Crayons?! Is it true?!
4
Twist-up Crayons
Twist-up Crayons, just like Crayola Crayons, come in many different colors and are different from regular crayons. They involve twisting the crayons out
5
Cra-Z-Art Crayons
Cra-Z-Art Crayons also come in different colors and they also come in different amounts namely 8,
6
Crayola Super Tips
Crayola Super Tips are washable super tip markers and are not like ordinary markers. They are thinner and usually are in amounts like 10, 20, 50, or 100.
7
Crayola Glitter Crayons
Crayola Glitter Crayons color glitter with the respective color of the crayon.
8
Sharpie Highlighter
Sharpie Highlighters are just like regular highlighters, only they're in sharpie form.
9
Crayola Silly Scent Crayons
Crayola Silly Scent Crayons are crayons that are scented with flavors and are twistable.
10
Laurentien Colored Pencils
Laurentien's my favorite brand. It's a shame that this brand's discontinued.
The Contenders
11
Crayola Silly Scent Markers
I love to use the. To check my homework at school
Even if the scent is good, these burn my nose.
Crayola Silly Scent Markers are markers scented with flavors and are also washable,
12
Crayola Makeup Line
13
Prismacolor Premier Colored Pencils
My friend has these and she let me use them.
Let me say this. I will NEVER look at Crayola the same way AGAIN. Great color options, for one thing; a very wide selection and multiple shades of every color. But let's talk about usage. AMAZING. No scratching sounds, no white streaks left where you missed a spot. The coverage and opacity is flawless and the color applies like butter just OH so smoothly. The pencils are very rich and pigmented, too. Definitely worth the money.
14
Crayola Colored Pencils
They're pretty decent, in my opinion. Not the best, but they're pretty good.
15
Glitter Pen
It has glitter.
16
Twistables
17
Pencils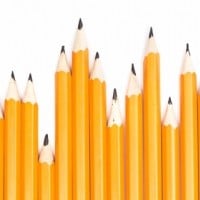 I'd say they're better to draw/write with than to color with them.
18
Laurentien Fineline Markers
They're markers with thin tips. There's packs of 12, 20 and 50. There's the original ones and washable ones. I have a pack of 20 of the original version and the following colors are Black, Grey, Brown, Red, Blue, Green, Light Green, Yellow, Orange, Purple, Lavender, Pink, Turquoise, Yellow Orange, Dark Red, Dark Green, Light Blue, Medium Blue (Cap looks Teal, though), Light Brown and Indigo. The washable version's slightly different.
19 Play Day Super Tip Markers
20
Chalkola Watercolor Brush Pens
21
Castle Watercolor Pencils
BAdd New Item