WWE Superstars We Hope Win Their First World Title in 2020
A list of WWE Superstars, male or female, who fans hope to see win the big one in 2020.
The Top Ten
1
Io Shirai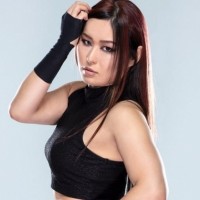 Masami Odate is a Japanese professional wrestler, better known by her ring name Io Shirai. She is currently signed to WWE, where she performs on the NXT brand where she won the NXT Women's Championship. ...read more.
Before her heel turn, I wasn't paying much attention to Io Shirai, but now she is one of my favorite NXT wrestlers. Hope she wins the NXT women's title.
She's the hottest thing going on in NXT's women's division. She's definitely win a title soon.
Hope she recovers quickly from her injured leg during her vs Toni Storm. Hopefully her time is now as champ.
It finally happened ladies and gentlemen!
2
Drew McIntyre

Andrew McLean Galloway IV is a Scottish professional wrestler currently signed to WWE, where he performs on Monday Night Raw under the ring name Drew McIntyre, where he is in a tag team with Dolph Ziggler.
Finally happened during night 2 of WrestleMania 36! I am so happy right now!
He definitely earns this opportunity, it's been a long time and this should be his year to shine and fulfill that prophecy as world champion.
Drew has charisma, he's really good on the mic and he can wrestle. What more do you want?
So happy he won the rumble! Now let's hope he beats Lesnar clean and in convincing and dominant fashion.
3
Rusev

Miroslav Barnyashev is a Bulgarian professional wrestler and former powerlifter and rower, better known by his ring name Rusev on the Raw brand. He works for the American professional wrestling promotion WWE, where he is the current United States Champion in his second reign. Barnyashev is the first ...read more.
I'm still pissed off that Jinder won the WWE championship instead of Rusev. At least Rusev would of been a credible champion and one that fans would of been happy with. Maybe he will finally win the big one after the Lana / Lashley storyline.
Yeaaa hehe... nope! He's gone now.
4
Cesaro

5
Braun Strowman

Adam Scherr is an American professional wrestler and strongman. He is currently signed to WWE under the ring name Braun Strowman. He has recently been in rivalries with Roman Reigns.
Braun finally the won Universal championship and from Goldberg no less!
It's so long overdue. They could still save Braun's monster push by putting him in a feud with The Fiend. He's pretty much one of the only men I could see beating Bray for the Universal title.
6
Shinsuke Nakamura

Shinsuke Nakamura is a Japanese professional wrestler and former mixed martial artist currently signed to WWE competing on Smackdown Live. Nakamura is known for his work in New Japan Pro-Wrestling (NJPW), where he is a former three-time IWGP Heavyweight Champion. His other accomplishments within the ...read more.
7
Samoa Joe

Nuufolau Joel "Joe" Seanoa, better known by his ring name Samoa Joe, is an American professional wrestler, currently signed to WWE and performing in it's Monday night show, Raw. He is most well known for his time in NXT, where he was a former two time NXT champion.
8
Keith Lee

Keith Lee looked amazing at Survivor Series when he faced off against Reigns. And now, he lasted over 5 minutes in the ring with Lesnar during the rumble match. Lee's future is bright.
So awesome talent.
I love him! Bask in His Glory!
Bask in his glory!
9
Aleister Black

I love how his finisher is so protected.
He has the best finisher in the WWE right now.
10
Buddy Murphy

The Contenders
11
Lacey Evans

She's great in the ring, she cuts great promos and she has charisma. Plus she knows how to be a face or heel super well! When she got to Smackdown and talked about her being a marine, having a daughter and the struggles with her father, that really got me.
I love her! She's my fave! She definitely deserves to be Smackdown Women's Champion. She probably would've won it at Wrestlemania 36 if Bayley and Sasha hadn't have cheated and made her lose. Lace it Up!
I'm tired of seeing always the same people being pushed in the women's division. It's always the four horsewomen winning championships. I feel like Lacey could be amazing if given the chance.
12
Ilja Dragunov

13
John Morrison

John Randall Hennigan is an American professional wrestler and actor, who is best known for his tenure with the WWE where he was better known by his ring names John Morrison and Johnny Nitro.
Once Morrison and Miz are done chasing the tag titles, Morrison can focus on his singles career, either with Miz in his corner or not.
Winning a world title is the only thing left for Morrison to do in WWE. Fingers crossed that he does sometime this year or next year.
Morrison is one of my favorite wrestlers, he's amazing in the ring, I hope he wins a world title this year or next year.
I would love to see Morrison vs Styles for the WWE Championship. That would be phenomenal!
14
Bobby Lashley

Franklin Robert "Bobby" Lashley is an American professional wrestler, mixed martial artist, and former collegiate amateur wrestler and former United States Army sergeant currently signed to both Bellator MMA, where he is undefeated through four heavyweight fights, and Total Nonstop Action Wrestling, ...read more.
Pairing him with MVP was a blessing for him, he finally looks like a credible competitor. We finally have the Lashley of old that's just ready to kick asses and take names.
15
Andrade

16
Shayna Baszler

She's a beast and she has a legitimate background, lots of potential there.
17
Bianca Belair

18
Dexter Lumis

19
Mandy Rose

Amanda Saccomanno is an American professional wrestler, television personality, and former fitness and figure competitor.
20
Elias

21
King Corbin

22
Angel Garza

I see a lot of potential in Angel Garza. He reminds me of Eddie a bit, but with his own spin into it.
BAdd New Item