Strongest WWE Wrestlers of 2013
The Top Ten
1
John Cena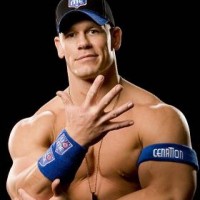 John Felix Anthony Cena Jr. (/ˈsiːnə/; born April 23, 1977) is an American professional wrestler, rapper, actor, and reality television show host signed to WWE, where he is assigned to the SmackDown brand. ...read more.
John cena is the strongest man alive he beat mark henry in a arm wrestle match. And he beat ryback three times 1 in a tables match 2 in a amblelince match 3 in a tables match. He beat brock 2 times he lifted big show and shemaus at the same time.
John Cena is the best in the world. I love the signature move I.E. "Attitude adjestement"and John Cena is champion of all the belts " wwe, world heavy wieght, United States, tag team & intercontinental championships. John Cena can beat the shield also. He... s the strongest man in wwe universe.
He is respect wwe wrestler and he can beat any wrestler undertaker, brock lesnar, the rock, batista the strongest in 2008 everybody says as a john cena but he needs to improve to become poweful as brock lesnar
John cena picked up big show with eaz un like brock and he can beat the world strongest man mark henry in arm wrestling
2
Brock Lesnar

Brock Edward Lesnar is an American professional wrestler and former amateur wrestler, professional American football player, and mixed martial artist who is currently signed to WWE.
Cena's real strength is being overlooked and fabricated with his superhero like persona in WWE because if we talk about real brute strength then cena doesn't stand a single chance against Brock. Stamina plus strength plus techniques equals Brock lesnar. Mayor of suplex city. Apparently cena took a trip down to suplex city and didn't quite like it. Next big match braun strowman vs Brock lesnar the beast. It's pathetic to know that Dean Ambrose is going up against Brock at wrestlemania.
Brock lesnar is the strongest wrestler after bill goldberg... The beast has lifted mark henry, big show, tensai... Has literally destroyed almost all wrestlers in wwe amd became the youngest wwe champ... Brock undertaker's hand with a propane tank and has defeated him numerous timesand also became ufc heavywieght champ... What more can be the evidence of him being the second strongest man in wwe history and strongest wrestler at present..?
I think Brock is a little bit stronger because he beat Bill Goldberg at wrestle mania 33 and he is not on much that means his quality is rare and his training is super human and his power is every 1 out of 670,000
Brock is more powerful than cena
He can easily lift big show while
Cena become unstable after lifting big show, Mark Henry
Brock is real fighter
Cena is best faker
I hate cena
Please carefully saw cena match most of them are fake
3
The Rock

Dwayne Douglas Johnson, also known by his ring name The Rock, is an American and Canadian actor, producer and semi-retired professional wrestler, signed with WWE.
I am very impressive of your finshers rock bottom and peoples elbow we are the very very very very big fan of you in wwe history our name is raghav and kashish from india and when are you coming and I am waiting for you to come and win wwe championship from randy orton
He is the greatest superstar in the history of WWE and has the powerful stamina which makes him different from any other wrestlers. when he insults anyone he looks awesome
You are my favourite rock and you are also the strongest and I say that if you are stronger and smarter then you have beat john cena on wrestle mania 30th
He is the awesome wrestler in the wwe wrestling history but he should improve like goldberg the worlds strongest wrestler in the wwe in the year of 1999
4
Ryback

Ryback Allen Reeves is an American professional wrestler that performs in wrestling shows on the indy circuit. He is a former WWE superstar and Intercontinental Champion.
Ryback is incredibally strong, visious and dangerous! Brock lesnar would be my seconed pick, there very close but I got to pick ryback! You know what I would want to see" ryback vs brock lesnar that would be one hell of a match! Raw would love that match
He is the strongest in the WWE history. He is a power house. He can easily shell shock everyone. He is as strong as Bill goldberg. Ryback rocks
This guy injects steroids for breakest. His incredible size is a result of desire to cover up the fact his penis is microscopic
Ryback is one of the strongest WWE superstars that I have ever seen.
5
Randy Orton

Randal Keith "Randy" Orton is an American professional wrestler and actor who is signed with WWE, where he is a member of the SmackDown brand. He is a 12-time world champion, having held the WWE World Championship eight times and the World Heavyweight Championship four times.
I love rko n randy Orton. He is my best n super favorite super star in wwe. He is the best in wwe n I like his pose at the corner of the ring. And I like is tattoos his tattoos is superb that skulls are awesome... Last but not least I love you randy...
Randy I am a very very very big fan of you. On TLC match between you and John Cena was a match between us. In my group no one like you but I like you very very much. I LOVE you.
Randy orton is the best superstar he should pick the right moment and cash in his money in the bank contact and win the WWE title hope he does
He is more better than any one... He has even beaten big show.
I like his tattoos, he can rko any one whether he is rey mysterio or big show...
6
Antonio Cesaro

Claudio Castagnoli is a Swiss professional wrestler currently signed to WWE, where he performs under the ring name Cesaro. He was previously known for his work in Ring of Honor (ROH) and various independent promotions including Pro Wrestling Guerrilla (PWG), Combat Zone Wrestling (CZW), and Pro Wrestling ...read more.
He is a beast because he picked up Brodus
Clay. 2. Times
Strongest right? Why isn't Antonio Cesaro higher?
He has so cool skills and the best skills of all time
Pound for Pound the strongest for sure!
7
Undertaker

Mark William Calaway (born March 24, 1965), better known by his ring name The Undertaker, is an American semi-retired professional wrestler currently signed to WWE, where he has worked since 1990, making him the company's longest tenured in-ring performer . Calaway began his wrestling career with World ...read more.
He is best in world and he is the winner of 21 wrestle mania
Undertaker is bike racer undertaker should be one
Undertaker is strongest because he won every wrestle mania
I like undertaker's finishing move and signature move and he baet everyone
I Like undertakers finishing move and signature move and he beat everyone in the wrestlemanias he should be at the number 1 and I like his tattoes and his superb moves so he should at the number 1
The Undertaker is the best wrestler of wwe. He knows how to finish his opponent. He is unbeatable man at Wrestlemania. He is a man that is 48 yrs old then also he can defeat all wrestlers of wwe. I think he should be number 1
Its pretty sure that undertaker should be first as he is defeated very less times but he was defeated against brock in wrestle mania because he is too old for wrestling but I love him
8
Mark Henry

Mark Jerrold Henry is an American powerlifter, Olympic weightlifter, strongman, and professional wrestler who is currently signed to WWE.
Mark henry is by far the strongest, did you see that he pulled 2 tractor trailers (over 55 tons) and has been lifting weights since the age of 10
He's the world strongest man so duh he would be the strongest read his title
I don't like his face but his weight is heavy then all the wrestler...
He's the worlds strongest man I mean how is he not number 1
9
Triple H

Paul Michael Levesque, better known by his ring name Triple H, is an American semi-retired professional wrestler, corporate executive, and actor.
Triple h should be higher because he beat Brock Lesnar at wrestlemania 29
He is one of the best wrestlers of the world
Triple H is the best in the world!
He'st thd game! He has beaten everyone named above! King F Kings!
10
CM Punk

Phillip Jack "Phil" Brooks, also known by the ring name CM Punk, is an American comic book writer, actor, upcoming mixed martial artist and retired professional wrestler who is signed with the Ultimate Fighting Championship. ...read more.
CM Punk os the best in the world. He has held the championship for almost 2 years continuosly. He beat Jericho in Wrestlemania too. He is the Cult Of Personality. I I mean we repeat HE IS THE BEST IN THE WORLD.
Cm punk is amazing and very talented unlike the others. He has the best skills on the mike and in the ring. No one can beat him because he's the best in the world
Cm punk is the best guy among all the wrestlers... He only plays with the best wrestlers like john cena, The rock, the undertaker, chris Jericho etc. He wl be the best guy all the time...
CM Punk is the best in the world. he can beat each and every wrestler in WWE some times he lose but when he come back after the lose I can tell you 100% he will win that match. chear for cmp CM Punk CM Punk CM Punk
The Contenders
11
Sheamus

Stephen Farrelly is an Irish professional wrestler and actor. He is currently signed to the American professional wrestling promotion WWE, where he performs under the ring name Sheamus.
He should be at the top 2. No one can beat him in arm wrestling.
This Irish dude is strong as he lifted Mark Henry like easy
Sheamus is the best he always win in every match so he should be the second greatest wrestler
I like when he never gives up in his matches and he never quit. Plus he's the first Irish heavyweight champion too!
12
Big E Langston

Ettore Ewen is an American professional wrestler and former powerlifter and American football player who is currently performing under the ring name Big E.
I see guys like Undertaker, Randy Orton and Triple H higher on the list, and its a mistake. While they are better superstars, Big E is stronger, and that's what this list is about.
The black monster have ended everyone in the ring.
You are cool. You are the best
13
Daniel Bryan

Bryan Lloyd Danielson is an American professional wrestler best known for his tenure in WWE under the ring name Daniel Bryan. He is a five time WWE world champion.
He beat all of your so called stars so you had him hurt? Or maybe he is just sick of being ganged up on. It's no wonder you have to give away time on your channel to get us to watch the looosers you have left.
The yes man deserves every bit of credit from all the wwe universe and has beaten the likes of JOHN CENA and RANDY ORTON. YES! YES! YES! YES! YES! YES! YES! YES!
He should be on top because he beated cena in summerslam and he become wwe champion. Yes yes yes yes yesa yes yes yes
He is now the strongest champion - yes yes yes yes yes yes yes yes yes yes yes yes yes yes yes yes
14
The Great Khali

Dalip Singh Rana, better known by his ring name The Great Khali, is an Indian promoter, actor, powerlifter and professional wrestler best known for his time with WWE.
He should be on top in worst wrestlers
Khali is dad of all wrestler he is a outstanding wrestler he is vary strong
He is a strong wrestler in WWE
He Can win his matchs easily
The Great Khali is one of the strongest wrestlers in history. But he is one of the worst wrestlers in wwe.
15
Heath Slater

Heath Miller III is an American professional wrestler. He is signed to WWE, where he performs under the ring name Heath Slater.
16
Justin Gabriel

He is a awesome high flyer dude and and like his finisher move
He is not strong
17
Roman Reigns

Leati Joseph "Joe" Anoa'i (Roman Reigns) was born on May 25, 1985. He is an American professional wrestler and former professional Canadian football player. ...read more.
I like it 2014 2015 2016, he his the best he his the powerhouse the juggernaut he will win royal rumble 2015 and defeat brock lesnar in wrestlemania 31 on WWE worldheavyweigt chamionship I very very like his hair and dress style I like his entrance very much
It is the world best superstar of ever it is amazing and he is wwe world champion he defeat Brock lesner, the undertaker, john cena, Batista, Samoa joe, Kelvin Owens, krish Jericho and all wwe super stars
I love his superman punch and spear, they are fantastic and fabulous.

BELIEVE IN THIS GUY AS HE ROCKS AND BOOST HIS TEAM.
He will beat brock at wrestlemania he beat rollings,29 people and bryan
18
Damien Sandow

Aaron Steven Haddad is an American professional wrestler, best known for his past tenure with WWE under the ring name Damien Sandow.
He is stronger because he has beaten Shemus
19
Big Show

Paul Randall Wight, Jr. is an American professional wrestler and actor, better known by his ring name Big Show.
Wy he not in top fifteen he can win Rey mystario I don't understand wy big e langston in15 he can't even win alberto.big show must be in 12 plase this is not true rankings
Big Show is a big fatty
20
Sheild
Sheild is a combination of ruthlessness skills and strength
The new new exus the hounds of justice
Shield is ossom believe in the shield
21
Dave Batista
He's the most powerful in WWE he can defeat anybody in WWE
He's the only one who beated Brock Lesnar in OVW and he'd broke Goldberg's leg
Batista is the best the strongest and he is THE ANIMAL!
He is very storg and powerful
In OVW Batista defeat Brock Lesnar many times
22
Kane

Glenn Thomas Jacobs is an American professional wrestler, insurer, and actor. He works for WWE, and is best known by his ring name Kane.
Brock Lesnar could beat everyone (even Big Show) in the locker room at arm wrestling - EXCEPT KANE
Kane isa true Monster and has a pure evil inside his mind that's why The Big Red Machine is the best!
The devil's favourite demon nothing can stop the big red machine he is the best,chokeslam to hell kane is a legend
I am scared of him. He is tall strong and can face hardships with courage
23
Rob Van Dam

Robert Alex "Rob" Szatkowski, better known by his ring name Rob Van Dam, is an American professional wrestler and occasional actor.
He is simply one of a kind... Stylish...
24
Rey Mysterio

Óscar Gutiérrez, better known by the ring name Rey Mysterio, is a Mexican-American professional wrestler who currently works for WWE on the Smackdown brand.
I know that rey is fast he is one of my best but he is not the strongest so he should not be in this list he should be at the fastest WWE wrestlers
Small man but very daring and quick. He can beat even the Undertaker, Big Show And John Cena.
He deserve in top 10...look at him..he's too small but his ability was outstanding.. his 619 is the best smack of WWE history ever...
Best dude its like 1 second he is the winner
25
Curtis Axel

Joseph Curtis "Joe" Hennig is an American professional wrestler currently signed to WWE, where he performs under the ring name Curtis Axel, where he is one-fourth of The Social Outcasts.
PSearch List