Top Ten Actors In South India
The Top Ten
Vijay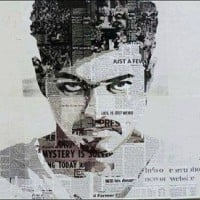 Joseph Vijay, better known mononymously as Vijay, is an Indian film actor and playback singer who works in Tamil cinema and his films dubbed into Telugu, Hindi, Malayalam and Mandarin Chinese. He is one of the highest paid actors in Tamil cinema.
Superstar of tamil movies
Best dancer and so handsome
Don't come to near, I am fire our star vijay...!
When it comes to Mass, Style, Craze, Dance, Action, Comedy we can say only one actor in south with huge fan following and he is one and only Thalapathy Vijay... With his recent hit Thuppaki which rocks at BO with 187 crores.. Damn that's the big deal to all fellow competitors
Pawan Kalyan
He is my God, I am a fan of Pawan Kalyan Sir. His down to earth Character inspires me a lot. I love my Father, Mother and My family next in my mind comes is my God Power Star Pawan Kalyan Sir. No Doubt he is number 1 Superstar of Telugu Film Industry with his excellent actor and a Great human in nature
Pawan kalyan does not have any fan following as a hero.. But he has enormous craze and unanimous response from fans because of his behaviour and character which is unique
Power star has a super fan following in India. His style is unique he is the trend setter. Pawanism is another Religion in world...
We love pk
Mahesh Babu

Mahesh Babu is an Indian actor, producer, media personality, and philanthropist known for his works in Telugu cinema.
He is so cute... He can compare any Hollywood actor. So powerful so smart and a real superstar
Looks like a telugu speaking Hollywood Hero! Incomparable Acting skills. Undoubtedly the next big brand in South India after Rajnikanth
His acting super and he looks so cute. Next badsha
He is the best actor in South India, fifth most desirable man in India according to a survey conducted by TIMES. No comparison with other actors.
Ajith Kumar

Ajith Kumar (born 1 May 1971) is an Indian film actor best known for his work in Tamil cinema. He is one of the most successful actor in Tamil Cinema. In addition to his acting, Ajith Kumar in a sabbatical, participated in the 2004 British Formula 3 season as a Formula Two racing driver and was ranked ...read more.
An Actor known for his discipline, straight forward, trust towards his fans, with a huge mass of fans hub in south india and Tamil Nadu.
His movies have a great mass opening even greater than rajinikanth and beyond expectations. Hence, he is named as THALA of tamilnadu.
He have a great bunch of followers that includes actors a lot.
Till he uniquely... Known for his expressions, acting and stylish, the only actor in india who can play a hollywood role without any doubt.
Thala is a mass. Mgr is a first super star. Rajni is a second super star. AJITH is a NEXT SUPER STAR. This is people judgement
He is a man of principle... Heaven..
Ajith is a best actor and human being in Tamil industries, He is a real hero, before the camera and after the camera, there are so many followers in face book, twitter and some of the website, but, you only given in 4% I can't believe it, something wrong in your survey, you only seeing talking of media not fans mind, but 4% unfair, definitely it a wrong survey
Rajnikanth
Rajinikanth sir is world super star
All the actors mentioned as locall heros or stars... BUT THALIVAR RAJINIKANTH IS WORLD SUPERS TAR!
Who else.. Indian superstar! Proved what he is even in overseas market..
All Small kids can win this poll.Real Rajinikanth Mass and star Value cannot be determined by these polls. He is the Demi God of South and till today he is the BOX OFFICE Emperor
Allu Arjun

Allu Arjun is an Indian film actor who primarily works in Telugu cinema. After playing as a child artist in Vijetha and as a dancer in Daddy, Arjun made his adult debut in Gangotri. Arjun then appeared in Sukumar's debut film Arya.
He knows what kind of movies youngsters want.
Stylish Star... Youngster's Hero... Superb Dancer And Hard worker... Risk Taker...
Bunny... Number 1 top south Indian star than vijay...
Ntr and prabhas should be in 6 and 7 numbers and after allu arjun will come
Jr. NTR
Jr. Ntr is the best dancer as well as best actor
In recent times he is the king of the South India.. He is the excellent dancer and actor..
Ntr is a great dancer. No one can delivery dialogues like him. He is a great actor and don't have any limits in acting. He is the only hero who can do any types of roles.
NTR is the best Actor in India with extraordinary All-Rounder abilities.
Surya
He is only good actor. And physical fit. Any character suit him. Handsome in Tamil cinema industry. Very cute expression guy acting sense is very high very brilliant boy
I think surya is handsome
He is the most handsome than anyone in this list and south India's most Googled actor
I surya very much because he is so handsome. I love you surya. Surya is my dream boy. In our family we are all the fans of singam surya. We all are the big... Fans of surya. I like surya's six pack
Chiranjeevi

He is one of the greatest actors the county has ever seen. He can play any role with ease. With his dances he can simply mesmerize audience. When chiru dances none looks at the lady dancer and the total concentration will be on chiru and chiru alone. Such an impact he created on audience. People would throng theatres to watch chiranjeevi in action let whatever the movie it be, a success or failure. Without an iota of doubt chiru is the top ranked actor from south.
Chiranjeevi is the best from south India. None comes close to him. He is the one adorned by both class and mass. With his dances he can make audience spellbound.
He was a great actor has frendly with everyone like super star rajani, amathab, kamal, etc he has bult blood bank etc
He is the all time great actor. No one can reach him. He has to be in first position along with rajini and kamal
The legends of indian film industry
All the other heroes are noting before them
Mohanlal

Mohanlal Viswanathan Nair, better known as Mohanlal, is an Indian actor, producer and occasional singer best known for his work in Malayalam films .
The flexible and natural actor in Indian film industry
He is most prominent and talented actor India had ever seen! He has acted in more than 300 films! Such a LEGEND!
Real south Indian legend
When it comes to acting and expressions, Mohanlal is the best actor in India. I think actors like Mohanlal, Kamal Hassan and Vikram should be on top of this list instead of actors like Pawan Kalyan who are not at all good actors.
The Contenders
Prabhas

Well he is an expressive actor and good at heart. Perfect Hero on and off screen.
Prabhas is the only hero in Tollywood. No other hero compares with him because he is a cool person
1st PRABHAS looking very charm and attract the girls amazingly his dialog delivery is too excellent his best pair forever is TRISHA no one cannot beat this pair
Prabhas is biggest actor in India compete over Bollywood stars
Vikram

Vikram is an Indian film actor who predominantly appears in Tamil language films and has won six Filmfare Awards as well as one National Film Award and Tamil Nadu State Film Award amongst other recognitions and was awarded an Honorary Doctorate by the People's University of Milan in May 2011.
Undoubtedly the best actor who lives in the character given to him.. Deserves place next to kamal in Tamil.
Vikram is very actor in Tamil cinemas &next to kamal
Finnest actor in this century
Hard working. Struggled at the start of his career.
Dhanush

Venkatesh Prabhu, better known by his stage name Dhanush, is an Indian film actor, producer, director, writer, lyricist, screenwriter and playback singer who usually works in Tamil cinema. Dhanush's first film was Thulluvadho Ilamai, a 2002 coming-of-age film directed by his father, Kasthuri Raja.
HE IS THE BEST ACTOR OF THE UNIVERSE, SUCH A LEGEND, HE REALLY DESERVED THE NATIONAL AWARD. HE MUST BE AWARDED THE SIMPLEST ACTOR OF ALL TIME AWARDS. HE ACTS WITH SUCH AN ORIGINALITY
Indian bruce lee he married rajini kanth s daughter and he is a national award winner
Looks like the boy come nxt door.. Such a wonderful actor.. Who deserves the nationa al award for wonderful flim AADUKALAM...
Good Humanity And Excellent Character And All Rounder Good Performer And Leading Star In Field And Also Help Everyone With Good Heart And He Is My Favorite VIP Man In The World. Congrats To You And All The Best For Your Upcoming Success In Anything And Everything.
Kamal Hasan
Kamal hassan is oolaga naayagan! He has been praised by Amithab bhachan, rajinikanth, jackie chan.. Now recently by lord of d rings director... He deserves a OSCAR... Even more than that... An only actor who earned money in industry & spent it for industry! Salute
I never seen any actor in India like kamal hasan. In fact he is the real superstar in India even though few of his film not success. Who is only growing the Tamil film industry...
In performance Kamal, Mohanlal, Vikram, Mammutty, Surya, etc. ,
In stardom Rajni, Chiranjeevi, Magesh Babu, Ajith, Vijay, Pawan, etc. ,

Let us not list the legends like MGR, NTR, Rajkumar, Shivaji, etc. ,
He is the library.
N. T. Rama Rao
He was an legand still there r fans to ntr after his death was completed 18 years
Nothing to comment a ideal actor for Indian cinema industry
Ntr legend for acting
He is short in height but tall in following
Mammootty

Mammootty is an Indian film actor and producer best known for his work in the Malayalam film industry .
Who created this, putting three natinal award winner in 14th position, keep in first
Greatest actor ever in Indian cinema. His portrayal of Ambedkar speaks volumes about his acting prowess. He should be at number 1 in any list
He is the one and only king and the rest should compete for being his assist...
Of late people started calling him "The Face of Indian Cinema". The much acclaimed megastar of mollywood is the only person in India if not the world who can rightly hold on to this tag. Apart from the the innumerous awards he has bagged, he has adorned almost all the faces in various strata of a Keralite (Native to the state of Kerala, from where he hails) and has stretched further into Telugu, Tamil, Kannada, English and Hindi movies. He has spoken around 19 different dialects of Malayalam covering the entire state of Kerala, the Indo-Britain English and other foreign languages not with ease, yes, but with effort drawn out of passion. He has leveraged himself to the most to bring out the best in him. With much pride, I can proclaim and vouch for Mammooty as the best actor in India and the best method actor in all over the world.
Ram Pothineni
He's the stylish and the most energetic star He is incomparable with other actors in south india. Although he is very young in compare to other actor, he has been able to accomplish
I am from Punjab and great fan of you yours and want to meet you once please sir
He is so handsome and better actor in south india
He make his name without any support
Ram Charan

He had won a big hit magadheera
Ram charan will be the next super star... Because of persistence in his career... I like him very much...
Super actor and super dancer
You' re super hero you' re super dancer I love you god bless you
Puneeth Rajkumar
S he is a great actor like his father legendary actor dr. Rajkumar...
Undoubtedly he is the best dancer n fighter in south india... His movies never sees loss... He has the highest success rate than any other actor in south india
He is a very good actot and he won the national award in his childwood movies he acted in 18 films so far all films are super hit and his dance and fights are very beautifull and he is the only actor in india can do fight as well as dance both
Power Star for a reason. Amazing acting dancing fighting
All rounder. Best ever in Indian cinema.
Karthi

Karthik Sivakumar, better known by his stage name Karthi, is an Indian film actor who works primarily in the Tamil film industry.
Real actor I like
Super handsome mass hero
I like very much
Be pray for karthi comes to big hero
Dr. Rajkumar
One of the greatest actors in India. He is called as the father of south Indian cinema. He is the first Indian bond. He is well described other actors like rajinikanth, amithabh bachacnn etc...
He s the born actor, good dancer, his 90% films r 100days he never saw flop n s carrier. No one can beat him in kfi.
The greatest actor since the birth of Indian cinema. Only Indian actor to receive Kentucky
Asper my knowledge He should come to No.2. Because he was made more novel based movies & given good messages to peoples. In India he only told Fans are God. Though he rich man but he lived simply. Very Important in this movies he did not allow drinks & smokes.
Dr. Vishnuvardan
All hero's must learn acting from Dada Dr. Vishnuvardhan, he is the one real HERO. Vishnu sir your great...
One of the greatest actor Indian cinema even seen...
None of the actors are comparative to vishnu, He is handsome, versatile & stylish, superb voice more than all a super human being
Great actor in the whole Indian film.Very polite and sacrificial nature.He has acted in many legendary films and he should be at the top of this list
Marudhur Gopalan Ramachandran
M.G. R God father of south Indian... Successful person in politics as well as cine field... Inspiration of all other heroes mentioned above and to others too who all r not mentioned...
He is stylish & mass hero of world
A real hero in the screen and real life
Evergreen top top only one hero
Darshan
He is real challenging star
He is very good actor his way is very difficult to show his tallent but now he was sandalwood number 1 star all the best chingari
He is presently one of the top actors and commercially successfull hero in south india. He has the ability of acting in historical films like Sangolli rayanna also.
He was a good fighter with actor
Upendra
Real star for ever in south film industries
Super Star is Always Good Actor & Director
Upendra is a realstar
Upendra is not reel star. He is REAL STAR. He is mad about films. I am sure no director in the world think like Him. If anyone have doubts see his films first, you will not understand and see twice or thrice. After that you will come to know which character you are seeing its not him but you only...
PSearch List