Anime Series with Unique Art Styles
The Top Ten
1
Jojo's Bizarre Adventure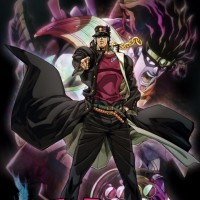 Jojo's Bizarre Adventure is an anime and manga franchise originally written by Hirohiko Araki. It centers around the perilous journey of the members of the legendary Joestar bloodline.
2
Mob Psycho 100

3
Gurren Lagann

Gurren Lagann, known in Japan as Tengen Toppa Gurren Lagann, is an anime series animated by Gainax and co-produced by Aniplex and Konami. It was also directed by Hiroyuki Imaishi and written by veteran playwright Kazuki Nakashima.
4
FLCL

FLCL is an anime original video animation series written by Yōji Enokido, directed by Kazuya Tsurumaki and produced by the FLCL Production Committee, which consisted of Gainax, Production I.G, and King Records.
5
Panty & Stocking with Garterbelt

Panty & Stocking with Garterbelt is a Japanese anime television series produced by Gainax, as well as a series of tie-in media developed around it. The series ran from October to December 2010 on BS Nittele.
6
Kill la Kill

Kill la Kill is an anime television series produced by Trigger. In Kill la Kill, Ryuko Matoi transfers to a new high school in order to find her father's murderer.
7
No Game No Life

No Game No Life is a surreal comedy that follows Sora and Shiro, shut-in NEET siblings and the online gamer duo behind the legendary username "Blank." They view the real world as just another lousy game; however, a strange e-mail challenging them to a chess match changes everything—the brother and ...read more.
8
Danganronpa

Danganronpa: The Animation is a 2013 anime television series based on Spike Chunsoft's murder mystery video game, Danganronpa: Trigger Happy Havoc.
9 Ping Pong The Animation
10
Afro Samurai

Afro Samurai is a Japanese seinen dōjinshi manga series written and illustrated by manga artist Takashi Okazaki. It was originally serialized irregularly in the avant-garde dōjinshi manga magazine Nou Nou Hau from November 1998 to September 2002.
The Contenders
11
Sekirei

Sekirei is a Japanese manga series by Sakurako Gokurakuin. The manga was serialized in Square Enix's seinen magazine Young Gangan between December 2004 and August 2015. A sequel to the manga began serialization in the same magazine in May 2017.
BAdd New Item