TVXQ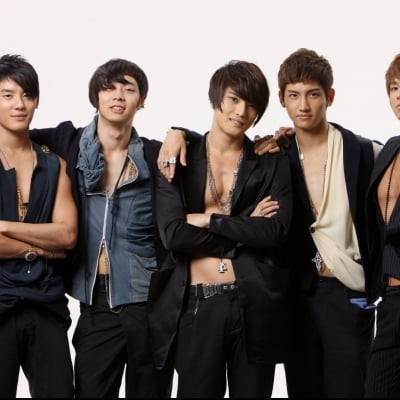 Uploaded by DynastiNoble
Comments
Top
Popular
Newest
My hope and my wish to see tvxq win cause they deserve it very much, they are work so hard to make the best songs, performances and shows, they are very talented group and they keep the name of tvxq alive, they prove to the world that the name of TVXQ never die, and they are very good men from the outside and the inside, they deserve the best for their fantastic work also they face a lot of hardships but they prove that they still standing for their fans, and we are CASSIOPEIA support them no matter what happen, ALWAYS KEEP THE FAITH...
They my number 1 in everything and I respect them and love them so much, I know if they didn't win they will always be the best to their fans and for me they are always the best...
TVXQ, you people know I always have loved you, and I always will. Although we have came through such hard times, we had the strong faith to win against all of them. What makes TVXQ the best group is not only their singing or dancing, but the bond between the fans and the group.
TVXQ have won Cassiopeia's hearts. I don't think they need more awards since all they need as idols is fans. They have very loyal fans like Cassiopeia. Cassiopeia will always love TVXQ and keep supporting TVXQ no matter what situation. TVXQ are 5 and forever 5. Always keep the five.
Once you are a member of DBSK, you will always be a member of DBSK. Be strong and keep believing. With all my heart, I never wanted any thing so badly as for DBSK to comeback again. 5 gods of the music industry. You can't find any other who can replace or even to compare with them.
They are the best singing group in Asia. The place where they are standing will be shine and the crowds milling around. If you want the best of the stage, give them a chance, you will never regret it. Let's "Embrace four friends"!
I think TVXQ the best K-pop Boyband I've ever known. The members are have great quality not only in for their voices but also their looks, dance, personality and many more. No matter how the separated like now I belive that there heart, mind and sould are unity So I think TVXQ deserve to win. I will always Keep The Faith and hope to the end. I support the 5 of them.
TVXQ, the best group ever who succeed on being love by all Asia! They are all talented, TVXQ who was brought by five good singers, five brothers. They are the best! TVXQ is a legend in Kpop world, they are THE group in Kpop world!
They are the ones who inspired many people to a different world that has happiness, joy, and hope! Not because of their music but their talents that touched our hearts.. Cassiopeia, Fans, and DBSK are connected like a W.
Although they are separate, Cassiopeia is still the same as before to support them. Even if they did not win the vote, but for me, their harmonies, dance is still the best of all the South Korean group.
TVXQ - even as three or two they still dominate the stage, filling it with powerful voices and dance moves. One of the few artists to sing live 95% of the time, and for me the best group to harmonize with each other.
DBSK deserves to win it. They are so talented, with incredible vocals and powerful dance. Forever and ever they are the kings of kpop, no matter what others say that their bias band are the kings, we know in our heats cassies, that DBSK will forever and truly be the king. They are not people who merely depended on looks, but through sheer hard work, developing their skills to the max and giving us a breathtaking performance time and again. I'm sure that even people who aren't cassies have to admit that DBSK is indeed very talented! Nobody could deny that! Always keep the faith cassies! 8 more days to august 10th!
TVXQ is THE BEST K-pop group of all time, and many famous Korean musicians and producers agree to this fact. Each 5 members' singing and voice is just beyoncd amazing, and their hot looks and sexy dancing makes them a complete package like no other. TVXQ Fighting! Always Keep the Faith
What else if left to say about the Rising Gods of the East? They truly fit the name and I can't me more proud of being their fan!
The member of TVXQ has done well for every part. They are very hard-working, modest and was respected by their senior and junior. Their performance are perfect and their sound can touch everyone. TVXQ'fan, cassiopeia is the Biggest Fanclub in Guinness.
Always keep the faith! TVXQ is one of the best K-pop combination now. I'm sure they will get Top 1! I'm looking forward to seeing their wonderful performance!
TVXQ is always the best... Hard working, talented, humble, tall & handsome boys
Always keep the faith I believe they will come back as soon as quickly
TVXQ is the most popular group in Asia.
Here is what experts say after watching their performance : They are the best singer, the hottest dancers, the greatest performance! They are the king of k-pop!
Break you leg, TVXQ!
They are the real Kings of Kpop, they practically started the 2nd generation of Kpop, they haven't lost a step even after their hiatus. They are racking hundreds of thousands of sales for albums and singles in both SK and Japan. This is only my opinion though.
5 or 2: they're hardworking, talented men. A talent that goes beyond the K-pop standard.
I'm not voting for the 2 man tvxq I'm voting for the 5 man tvxq. Always keep the faith
DONG BANG SHIN KI was, is, and will always be the number 1 not only for cassies but also to those other kpop fans who knows what REAL talent is and who knows how to classify between a mere idol group and a true artist.. With TVXQ's upcoming concert series in Japan ds early 2012 it just truly proves how dominating and popular they are not only in Korea but as well as Japan.. They're bound for another success ds year2012-AKTF!
They aren't the role model of most kpop idols for nothing. Most of the idols right now wouldn't even have thought of becoming singers/rappers/dancers if it wasn't for TVXQ. They gave them a dream, they gave Cassies a dream, a hope, a reason to believe, they gave us the hallyu wave. Without them, kpop would still be trying to make it into the Japanese market.
They are the most humble people I've ever known... They deserve to be number 1!
Surely its dbsk as the pioneer of the kpop phenomenon All over the world.