Top 10 Best Quarterbacks of the 1960s
The stats I give are only stats they got in the 60s, and not in their whole career.

The Top Ten

1 Johnny Unitas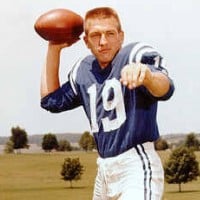 John Constantine Unitas, nicknamed "Johnny U", or "The Golden Arm", was an American professional football player from the 1950s through the 1970s.
considered to be one of the best Quarterbacks of all time some even have called him the best Unitas threw for 26,548 yards 182 TD and is a 2x MVP and a 7x Pro Bowler and 3x All Pro and has a record of 76-39-3 unfortunately Unitas was not able to win a Super Bowl until 1970 with the Colts but he did come in Super 3 and almost came back against the Jets but no one will deny that he is a top 10 quarterback of all time
2
Bart Starr

Starr was a quarterback for the packers and was the best quarterback in franchise history until Favre came Starr threw for 19,126 yards 125 TD 5x NFL Champion 2x Super Bowl champion won MVP and All pro Starr won championship after championship and it was no surprise that he won the first two Super Bowls Starr is considered to be in the top 20 Quarterbacks of all time some people even put him into the top 10
3
Len Dawson

before Mahomes no one Chief quarterback could come close to Dawson he was able to throw for 19,007 yards 183 Touchdowns and he is a Super Bowl champion and a 2x all pro and a 6x pro bowler and a record of 66-32-4 Dawson is probably most known for pulling off one of the greatest upsets of all time against the unstoppable 1969 Vikings
4
Fran Tarkenton

one of the greatest quarterbacks of all time was just a young rookie in the start of the 60s Tarkenton threw 23,140 yards and 186 TD and he also had 2,672 rushing yards Tarkenton is known as the orginial scrambler and revolutionized the game he can run all over the field one reason why he was not number one is because he does have a losing record in the 60s but the main reason for that is he was on a new expansion team and a trash Giant team which he would later call the Giants the worst team ever Tarkenton was a 5x pro bowler
5
Sonny Jurgensen
Jurgensen was a quarterback for the Eagles and Redskins getting 26,222 passing yards and 207 TD and won All pro known for his rocket Jurgensen was one of the only reasons why the Eagles or Redskins were somewhat good he is five time passing yard leader however never got many winning seasons part of that was he was on a bad team
6
George Blanda

George Frederick Blanda was an American football quarterback and placekicker who played professionally in the American Football League and National Football League.
Blanda was a quarterback for the Houston Oilers throwing for 20,029 yards 176 TD and a MVP 3x AFL champion 4x all star(pro bowler) and a All Afl(All pro) Blanda is one of the few AFL quarterbacks on this list and he is mostly known for his performance in the 50s but he did play 6 seasons in the 60s and he was pretty good and one of the few good Oiler quarterbacks
7
Joe Namath

Joseph William Namath, nicknamed "Broadway Joe", is a former American football quarterback and actor.
Namath is considered the best Jet quarterbacks off all time throwing for 97 TD 15,487 yards also a Super Bowl champion and a all pro and a 4x pro bowler Namath is also known for a even bigger upset then the Chiefs vs Vikings when Namath guaranteed a win against the Colts in Super Bowl 3 one criticism of Namath is he could not stop throwing interceptions throwing 104 of them and throwing 6 interceptions 3 times in his super bowl season
8
Roman Gabriel
One of the forgotten great quarterbacks Gabriel played for the LA Rams getting 15,406 yards 109 TD and a record of 51-24-4 also won all pro and MVP but one criticism of Gabriel is he never was able to win a playoff game not all his fault the team he was on was not great but he did almost beat the Purple People Eaters in 1969
9
Y. A. Tittle

Tittle played for the Giants and 49ers in the 60s getting 11,133 yards 100 TD and a record of 35-14-3 also was a two time all pro and won MVP the only reason why he is not higher is he only played four full seasons in the 60s but he is still considered one of the best Giants quarterbacks of all time
10
Don Meredith
Meredith was a quarterback for the Dallas Cowboys was always a reliable player for the Cowboys getting 17,199 yards and 135 TD and a record of 47-32-1 like Tarkenton Meredith was more of a scrambling quarterback making throws on the run and also a risk taker
BAdd New Item