Strongest WWE Wrestlers
The Top Ten
John Cena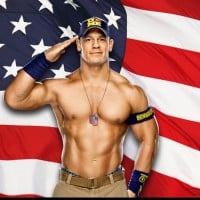 John Felix Anthony Cena Jr. (/ˈsiːnə/; born April 23, 1977) is an American professional wrestler, rapper, actor, and reality television show host signed to WWE, where he is assigned to the SmackDown brand. ...read more.
Saw him lift Show and Edge on his back at the same time at Wrestlemania.
John cena have not lost even a single fair fight and he defeated mark henry (World's strongest man) in an arm wrestling, even mark henry salutes him. And the most importantly, he had never tapped out in his entire career.
Dude WWE is fake, do you really think cena can beat henry in a arm wrestling match is REAL life, henry broke records by pulling 2 tractor trailers!
if you remember cena had beaten strong tag teams hhh & orton

John Cena is so strong never gives up just look at how he won Mark Henry in arm wrestling
Brock Lesnar

Brock Edward Lesnar is an American professional wrestler and former amateur wrestler, professional American football player, and mixed martial artist who is currently signed to WWE.
I go with Brock the guy is a beast just look at these numbers.

bench press 655 pounds
squat 920 pounds
deadlift 900 pounds and he throws 300-500 pound guys with ease.


Look at a match between lesnar vs big show at royal rumble 2003 and you will see who is the strongest wrestler in WWE
He is better than each and every superstar in WWE, as well as in any reality show of wrestling no one can beat him...
Brock lesnar is the strongest wrestler in the world. You think John Cena is stronger than brock lesnar? John Cena is weaker.
Bill Goldberg

William Scott "Bill" Goldberg is an American actor, former professional football player, and semi-retired professional wrestler.
THAT GOLDBERG JACK HAMMERED EVERY SINGLE WRESTLE WITH A SPEAR. GOLDBERG HAS THE POWER AND PASSION WITH LOTS OF SKILLS
He's the strongest! He jackhammered big show. He picked up 541 pounds with one arm. He can bench 605 pounds. He can beat anyone!
Goldberg is the most powerful wrestler ever (strength speed intensity). He'd jackhammered Big Show couple of times in WCW. He's Kratos of wrestling.
Goldberg has not lost a single match in his career in the WCW or the WWE that was ever conducted without a foul play. He is undisputed when the match is one on one and played fair. Within a single year, he defeated every single superstar in the WWE including Brock Lesnar. Actually, if you tune into YouTube, you can see Brock running. The man can still do a back-flip at this age. His record of 173-0 in the WCW reigns supreme. The streak would not have broken if that wrestler hadn't shocked him with an electric rod during the match. At this particular match, he knocked down everyone in the locker room who tried to bring him down. Then, this man made a foul move with an electric rod and that is how Kevin Nash won.

Just take a look at Wikipedia and witness Goldberg's matches in WCW and WWE and then vote. That is how you do justice to any man or any sport and not by voting for one's favourite wrestler without knowing what others have accomplished. It is Goldberg all the way.
Mark Henry

Mark Jerrold Henry is an American powerlifter, Olympic weightlifter, strongman, and professional wrestler who is currently signed to WWE.
He is really the strongest.I remember seeing one of his strong man competitions
He is one of the world strongest man of all time think about that
The guy is an accomplished power lifter. He has broken records in the big three and won competitions by miles drug free. He was stronger in high school than most of the dedicated strength trainers you will come across in a gym. His talent and raw strength should put him at the top. I can't speak for these other guys because they were not required to pass drug tests during their ultimate displays of power and strength.
Mark Henry can bench press over 700lbs he world strongest slammed big show-485lbs held across his chest and picked up over his head and slammed, and he cleaned and pressed 451lbs with the greatest of ease and held it up their for over 5 seconds.
Undertaker

Mark William Calaway (born March 24, 1965), better known by his ring name The Undertaker, is an American semi-retired professional wrestler currently signed to WWE, where he has worked since 1990, making him the company's longest tenured in-ring performer . Calaway began his wrestling career with World ...read more.
He can fight even having injuries that is why he is the strongest wrestler
its 95% all of his fight are winning
His Tombstone Piledriver is legendary, also his other moves Chockeslam and these are very powerful, too
Though I belong to young generation, I am just 18, but I don't believe on those things which are shown off always or loved because of their looks, I think practically and watching wwf/WWE since I was 7, and the guy who always been strongest and dangerous even now is none other than The Undertaker, I also like John Cena, Brock Lesnar, but The Undertaker defeated all of these even in his older days where naturally the body of a human being gives up, it is the fact that The Undertaker is the strongest man ever and forever in the history, if still anyone disagrees than they should watch The End Of An Era
Big Show

Paul Randall Wight, Jr. is an American professional wrestler and actor, better known by his ring name Big Show.
His Chokeslam is very cool and he can even fight against Brock Lesnar. He is a cool guy ;)
Just look how big he is
He defeated mark henry the khali kane mostly john
Big show you are the #1st best wwe wrestler because you can do chokeslam on great khali and mark henrey
The Great Khali

Dalip Singh Rana, better known by his ring name The Great Khali, is an Indian promoter, actor, powerlifter and professional wrestler best known for his time with WWE.
Benches 800pounds and 600 pounds 5 times. Also was a bodybuilder but he is a bit slow when he is walking although :/ but he is a strongman
Great Khali has power also he defeat undertaker, batista, John Cena, kane in there first match against khali
Khali is the Indian face in WWE. He is more than 7 feet tall and can defeat even the WWE masters such as kane, undertaker and bigshow
Remove the WWE rules and regulation this guy can kill anyone.
Kane

Glenn Thomas Jacobs is an American professional wrestler, insurer, and actor. He works for WWE, and is best known by his ring name Kane.
Even Brock Lesnar said that no one can beat Kane in arm wrestling. He said that Arm wrestling with kane is like pulling a tree with one arm. I think he deserve the 1st rank.
Kane is the strongest!
Kane before he tore his biceps was really strong. Glenn in his prime(1999-2002) was the strongest guy in the WWF locker room! His upper-body strength was incredible! He was pure power!
I am watching WWE from I WAS 6TH YEAR OLD and I watched Kane first time in 1998. Kane was the great wrestler in the WWF. HE made his big mistake by removing the Halloween mask and big red T-Shirt. Now he become old but he can still defeat his enemy but now 'Evil is Brocken' in WWE
The Brother of Undertaker, very strong big and powerful, also his Tombstoneq
The Rock

Dwayne Douglas Johnson, also known by his ring name The Rock, is an American and Canadian actor, producer and semi-retired professional wrestler, signed with WWE.
The guy that defeated hulk hogan, austin, and John Cena, and the only guy that ended WCW and ECW
Should be No. 1 not John Cena with Stone Cold Steve Austin in second place
The Rock is the people's champ at wrestlemania he finished John Cena he rock bottomed Brock lesnar and Goldberg and he is WWE greatest wrestler when he rock bottomed H it rised the crowd
He's also the toughest he's going to be coming before X-mas so that's my x-mas gift
He is one of the coolest guys in WWE the Rock Bottom surely hurts very much and he can easily lift John Cena for example
Roman Reigns

Leati Joseph "Joe" Anoa'i (Roman Reigns) was born on May 25, 1985. He is an American professional wrestler and former professional Canadian football player. ...read more.
I think Roman Reigns should be number 1
He is the strongest man in WWE this generation
Roman is overlooked completely on his strength capabilities. He's picked up both Dean Ambrose (225lbs) and Seth Rollins (217lbs) on his shoulders for a Samoan Drop back in FCW that everyone conveniently forgets about. He can easily squat 500lbs on his shoulders, and he's Samoan dropped Big Show and Mark Henry. Inasmuch he's an Unstoppable Force with that Spear of his and should not be ignored or overlooked. He's brute and raw strength incarnate right now and a fierce competitor.
Ha! Then explain why Ambrose and Rollins both beat Reigns on different occasions
He is my favourite WWE wrestler: Cool , Professional , Friendly and Chilled. I think his Finisher, the Spear is the most powerful move in WWE
The Contenders
Andre the Giant

André René Roussimoff, known as André the Giant, was a French professional wrestler and actor. André He most famously feuded with Hulk Hogan, culminating at WrestleMania III, and his best-remembered film role was that of Fezzik, the giant in The Princess Bride. His size was a result of gigantism ...read more.
Andre's strength was never tested. He is one of the only wrestlers to be feared by everyone in the day. Basically the rule was, if Andre wanted to beat you, it was over, because he was so strong. There is a story about Andre and the Ultimate Warrior that is really crazy! During their squabble, Andre was supposed to throw the Warrior into the ropes and the Warrior was supposed to clothesline Andre. Well, apparently, the Warrior really hit Andre very hard. Andre went to Bobby the Brain and told him what the Warrior did. Bobby told Andre that he needed to go and tell Vince. Andre refused. He said he would talk to the Warrior. He told the Warrior to ease off. The next night, the Warrior hit Andre even harder. When he told Bobby the Brain again, Bobby said to him you have to tell Vince what is going on. Andre told Bobby, no, I will handle the Warrior. The next night Andre threw the Warrior into the ropes and the Warrior came even faster and harder. Andre put his fist up and almost knocked ...more
He was one of the living legends. Could easily lift monsters like Ric Flair or Hulk Hogan.
Andre the Giant was actually the first wrestler to have a so called "streak".
This streak had happened a few years before the Undertaker's streak had even started. It was the third WrestleMania and he was going to face Hulk Hogan but with a deadly cost. He had to defend his 8-year-long streak. Hulk Hogan was one of the most influential wrestlers in history and Andre was one of the strongest. These two men were going face-to-face in front a venue of 98,000 people. This is what makes Andre the strongest wrestler in history, he never lifted weights. He mainly focused on his main energy source, food. Hulk Hogan on the other hand had a reputation for lifting weights and mainly focusing on a 30-day diet. This was going to be a huge match up. This was the first time where the two giants crashed down on each other. The night then came, Hulk Hogan had started it off with a punch to the stomach of the Giant but it did little damage. So then, Andre lifted a 230-pound man from the ground and ...more
A true wrestling legend. I rarely ever hear somebody saying bad things about him. R.I.P.
Ryback

Ryback Allen Reeves is an American professional wrestler that performs in wrestling shows on the indy circuit. He is a former WWE superstar and Intercontinental Champion.
Ryback is the strongest
Ryback is the best. Nobody can defeat him. He can beat any body in WWE. Ryback is the real storm
Ryback is my favorite, CM Punk sucks and Ryback should get the title.
Ryback shell shocked henry, show, khali, tensai, kevin owens, 2 people and benched over 600 pounds.
Braun Strowman

Adam Scherr is an American professional wrestler and strongman. He is currently signed to WWE under the ring name Braun Strowman. He has recently been in rivalries with Roman Reigns.
Braun strowman defeated goldberg he deserves stone colds respect Austin defeated goldberg as well they're both his friends he is a tough force monster above men
He can easily throw around Wrestlers without using much power, ok he copied his Finisher and its not so cool, but get these hands and himself is very nice and a friendly guy ;)
This guy is truly the monster among men he flipped an ambulance body slammed big show and broke the ring and can survive big shows knockout punch
He has done things that are way more impressive than guys like Big Show, Khali and Ryback. He has great potential and surely a Universal or WWE title run is in his future.
Batista

David Michael "Dave" Bautista Jr. is an American actor and former professional mixed martial artist and professional wrestler.
Even though many people said that Batista use steroids, he was the hell strong! He Batisa Bombed Umaga (R.I.P)and he is very strong, that's why he is in MMA right now like the ol' strong people in WWE like Bobby Lashley and Brock Lesnar. He is very strong and no matters if you people don't think it because he can take he hell out of us in O.005 Secs.
HE great the strong the Animal Champ real good like The Rock the people Champions and he strong than John Cena has some strong too. But Batista was too strong always the World Heavyweight Champion at Smackdown! He was good a man and some a special move, spear, spinebuster, batista bomb and batista bite! I love the Animal batista character in the wwe
Batista is a really strong wrestler, who defeated undertaker, John Cena, Kane, big show, triple h, HBK, Rey, Khali, Mark Henry, and many other strong wrestlers.
Dave Batista should had been in the Royal rumble 2017 to along with the rock. He should have done the Batista bomb on Randy Orton and won the rumble!
Sheamus

Stephen Farrelly is an Irish professional wrestler and actor. He is currently signed to the American professional wrestling promotion WWE, where he performs under the ring name Sheamus.
No doubt he is the strongest. Saw him lift the big show and surviving His knockout punch
Sheamus is the very nice and brave man. He is the good wrestler in the world. His brock kick is very fast.
Because he is so strong that he can beat anyone in the ring like john cena, alberto and randy orton
Remember how he lift big show at survivor series he is the strongest even goldberg or lesnar can't doing that also I still can't believe how can this cena fans be so idiot
Bobby Lashley

Franklin Robert "Bobby" Lashley is an American professional wrestler, mixed martial artist, and former collegiate amateur wrestler and former United States Army sergeant currently signed to both Bellator MMA, where he is undefeated through four heavyweight fights, and Total Nonstop Action Wrestling, ...read more.
He is the strongest. He has lifted a car with Finlay on the roof of that car.
He has running powerslammed big show and Braun Strowman.
He has lifted Elias with his one hand only for 16 seconds while applying vertical suplex on him.
He can jump on the ring apron without touching the ring ropes, which no one can do and no one has ever done it.
The dude lifted a car! How is he not in the top ten
Bobby is strongest wrestler he is lift the great khali who is the big man of the WWE
I think Bobby lashley is more powerful then anybody he can beat brock or any body he is my favourite wrestler
Randy Orton

Randal Keith "Randy" Orton is an American professional wrestler and actor who is signed with WWE, where he is a member of the SmackDown brand. He is a 12-time world champion, having held the WWE World Championship eight times and the World Heavyweight Championship four times.
The viper the predator with the rko he is unstopable he should be number one not 22 he is the youngest world champion beating people like triple h John Cena sheamus and much more
He should be there after cena. Performing an rko or ddt is not a joke
Randy orton is the best wwe wrestler of all time. He has beaten every wrestler and he can prove that he can be one. If I chose be team with a wrestler it would randy orton. His anger doesn't just help him, it helps him other people like John Cena. He should be number one instead of 16
The viper can never be stoped
Antonio Cesaro

19?!?!? Really?!?! John Cena dose not have the most strength here's why: first John Cena actually gets help by the big show by big show jumping on John Cena shoulder so John Cena can carry him. Have you ever saw the Andre the giant memorial battle? Cesaro didn't need and help. 2nd because Cesaro can literally swing a nearly 400 wrestler. Like really he isn't that high?!? 3 because you can literally carry big e with his arms he doesn't need his shoulders to carry big like that is amazing. Again he made it 19. At least he isn't number 20 :/
He's the strongest man in the wwe today. He used his cesaro swing on the great khali and the neutralizer to brodus clay. That's impossible for a man of his weight.
Pound for pound the strongest WWE superstar today. He
Can swing or Neutralize just about anyone in the WWE.
Pound for pound, easily the strongest wrestler in the WWE, maybe even of all time. He has lifted the big show over the top rope and swung countless superstars. Amazing.
Hulk Hogan

Terry Gene Bollea, better known by his ring name Hulk Hogan, is an American professional wrestler, actor, television personality, entrepreneur and rock bassist.
Hulk hogan is the babe ruth of wrestling, in wcw without a wwe watered down wrestling hulk hogan led wcw ratings to leave wwe in ted turners dust. Hulk hogan in wwe made the ultimate face and in wcw made the ultimate heel. Everywhere the hulkster goes the wrestling company he is at becomes better than it was before he was there and tna is no different for tna was barely on the map before hogan hit the impact zone. FOREVER A HULKAMANIAC!
I think Hulk Hogan is the strongest because he hardly lost a match even in his late 50's. He also has good rivals like The Rock (Dwayne Johnson. )
Hulk hogan is the worlds strongest wrestler he lifted Andre the giant over his head
Hulk hogan picked up andre the giant, yokozuna, he is the strongest brother. And he is the best, ant the strongest. Hulk hogan is STRONGEST IF ALL TIME BROTHER! AND that's AWESOME BROTHER
Alexander Rusev

Should not be in top 40 he should be in the last
Cheater Cheater Cheater
You can't beat John Cena
Strowman should be here
Ahmed Johnson

Ahmed Johnson Scoop Slam yokozuna and suplex vader, obvious he is one of the most powerful wrestler...
Ezekiel Jackson

Rycklon Stephens is a Guyanese professional wrestler best known for his tenure in WWE under the ring name Ezekiel Jackson.
He's not very strong when he lifted Show he struggled but Cena, Lesnar and Goldberg all lifted Big with ease.
He is new wrestler but he is strong slamming bigshow 2 times
What he is the strongest man alive he should be in the top 3.
If compared with all powerhouses in WWE history, he is one of the best.
Triple H

Paul Michael Levesque, better known by his ring name Triple H, is an American semi-retired professional wrestler, corporate executive, and actor.
Triple h is the strongest wwe wrestler. He is the kink of kings and the game. He is the cerebral assassin
I may be 32 tons 64.000 lbs but triple h. Is a lot like 40 tons 80.000 lbs to Brock lesnar and Bill Goldberg because he has kicked lesnar's but and probably taken down Goldberg even know today as the second champion of Cesaro. But triple h. Is one of the strongest out of wwe out of Shamus!
Has the best skill to fight in ring,even without flying moves
He traines many new players how to fight in ring proves that he can defeat many,but all depends upon story
Muscular,6.4ft tall
HHH is the symbol of attractive muscle with influencing power
Stone Cold Steve Austin

Steve Austin (born Steven James Anderson on December 18, 1964, later Steven James Williams), better known by his ring name "Stone Cold" Steve Austin, is an American actor, media personality, producer, and retired professional wrestler who is signed to a legends contract for WWE. ...read more.
Stone cold is the powerful wrestler in the world
Stone cold should be no1 he has took down kane and The Undertaker
If anything can't beat nothing can beat stone cold his squat and dumbbell bench press I admire most 260 pound dumbbells and squats a 265 pound barbell his the man
Austin maybe little than Henry or Big Show, but he can make an Undertaker buried alive. I'm glad it's not a real cemetery. Haha!
Stone cold Steve Austen WWE raw fight
Rey Mysterio, Jr

Because he's the small but terrible wrestler he's good in speed and flexible and high flying movement
Just cause he's the ultimate underdog and small doesn't mean he's weak.
And if he is he makes up for it with his speed, flexibilitie, and high flying movement
Rey mysterio should number 1 in speed and number 100 for strength
Rey Mysterio is one of the best wrestlers ever
PSearch List