Top 10 Best Muscle Cars of All Time
The Top Ten
1
1969 Camaro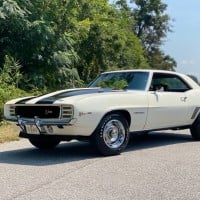 Great car I have a 69 SS 300hp 355 gears 4 speed muncy transmission hurst shift with gauge package matching numbers. Cortez silver black vinyl top Black hockey strips. My wife 57 stops in front of the kids in there weed eaters And smokes the tires. I don't think any of them have ever herd a 4bl and they love it.
One of the most desired muscle cars of all time. The ultimate muscle car package: Dominating appearance, jaw-dropping performance, tight cornering and a dream list of options.
The Mustang is an overrated muscle car, but on the other hand, the Camaro is not overrated. In fact, it's quite underrated and it has a lot of potential.
The 1969 X77(and X33) Z/28 are iconic. One year body style that can be spotted in a sea of cars similar to a '57 Chevy...Beautiful and fun with the high rev DZ302! Top 5 for all time for sure...only second to the mighty '67 L71 Vette!
2
1969 Boss 429 Mustang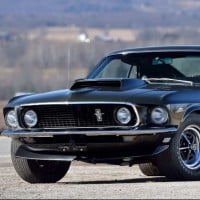 This is hands down the greatest and most fierce car the world will ever see. It's style is the very characteristic other muscle cars try (AND FAIL) to imitate. Unoriginal models like the 69' Camaro and the 70' Dodge Challenger don't stand a chance against this hell-raising machine. Definitely the right choice for #1.
Awesome car. Nearly bought one but got married instead. The one I was looking at was black with mag wheels. When I popped the hood there was a motor that wouldn't quit. The salesman was a little off that day... He said this car would be someones coffin :>). Probably not a great sales strategy. I still would have bought it if I didn't get married.
Not because of the power, speed or anything else... just because you'll be the luckiest person in the whole world when you ride this beauty while listening to rolling stones!
This deserves the number 1 spot. It is the all time best muscle car ever. The camaro doesn't stand a chance against this, neither does the charger or the firebird.
3
1969 Dodge Charger R/T SE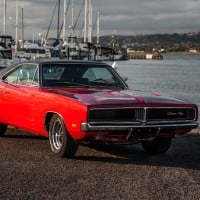 I'm surprised you guys got this list close to right. You don't see many Chargers anymore especially 1969 R/T's. The world agrees and is buying these Chargers and shipping them out of the country. I would rate the 1969 Mach 1 body style #2 and the 1969 Superbee should be on here as well. Currently I own a 73 Mustang conv. 351C 2004 Corvette conv Commemorative with 12k miles and a 69 Charger R/T. Blessed to be able to choose my rides. Anybody have a 71 Challenger conv for sale?
This car is potent and is the sole definition of pure American muscle, this car has the meanest purr and rumbles the ground when standing anywhere close to the car. This thing burns through gas with its 7.0 liter displacement, but that 'merican muscle for ya!
From Bullitt to Dukes of Hazzard, there is plenty of evidence to back up this machine as the ultimate American muscle car of all time.
The most iconic muscle car ever. When you think of muscle cars, this will surely pop to your mind... Mopar made history with this... Priceless.
4
1967 RS SS Camaro
Not exactly very streamlined or anything like a Lamborghini Gallardo but in a way it looks super cool, the front of it just says "I am the boss of all muscle cars"
This car is amazing and is a sexy beast.
Nothing beats a "winged" Camaro!
The best car ever built!
5
1970 Chevelle SS 454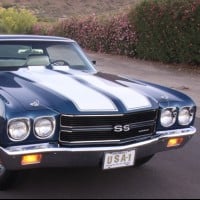 The first car I ever owned and for only being 17 now it's a hell of a good start. Back in the day these chevelle's could easily dominate the drag strip 24 hours a day, 7 days a week, 365 days a year and even on holidays! When you think of a muscle car the 70 Chevelle SS is what you think of. Not to mention the only cars on this list that are actually "muscle" cars are the Charger, and this beast. The rest are really pony cars. God Bless America. We are the only country in the world with the talent to build all these cars on this list. Think to yourself, what do you want to drive. A toyota prius or a 1970 Chevrolet Chevelle SS. It's your choice.
I see a list of 7 pony cars and 3 real muscle car... Shame... The 70 Chevelle had over 500 horsepower out of the box, a balance of straight and curved body lines, and a menacing look. Just don't put on chrome rims and you have one of the nastiest, most powerful cars to be produced with 8 cylinders. This American monster packs more power than the "worlds most powerful production V8" in the Mercedes SLS AMG. Seriously, how is this not number 1?
Great car, big engine, manly feeling. It's everything you can ask from a muscle car. I'd have one any time of the year. It's the car of my dreams. If you have this car, you don't need a house; you just need a garage to work on it, and you will know you've won the happiness lottery.
Want one any day of the year! So good looking in Fathom Blue with White stripes and a White vinyl interior with the cowl induction hood, of course! Been wanting one for a very long time now!
6
1970 Dodge Challenger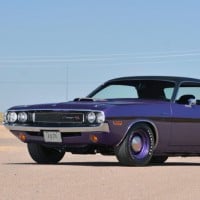 70 T/A Challenger is the best car of its age in my opinion, ponies are overrated. As for new muscle cars (if you can call them that), I saw a mustang the other day that sounded like a scooter, and the new challengers aren't too far off.
1970 Dodge Challenger is my favorite car and is prime. It should at least be in the top 5 in this list.

Also, no-one thinks of buying one of the new Dodge Challengers because everyone thinks they are expensive, but they are extremely cheap to get a v6.
You know nothing of the 429. It will destroy the 1970 Challenger any day.
This beauty of a beast has my vote every time.
7
1970 Hemi Cuda
I'm always fighting between this and the charger. This is just the most perfect looking thing that ever came out of the U.S. I will concede that the charger's ass is just a little bit better but I like the 'cuda's grill better. In the end it's just like the ass vs. boobs argument, everyone has there own preference, but they're both big round and jiggly.
An E-body Mopar with a Hemi? Doesn't it ever make the Ford or GM fan wonder why pretty much 100% of ALL professional drag racing classes run Hemis? Why are they banned in NASCAR? It's called dominate engineering. Simple.
I have a a triple black 1973 Cuda with a 340. It turns lots of heads and many take pictures of my sexy beast. I agree with you 100 percent. Thanks for your comment.
Sexiest car of all time along with the Lamborghini Miura! It just oozes sexy!
8
1970 Oldsmobile 442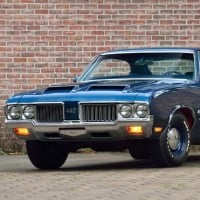 I agree... This car is BIG MUSCLE! Body like a shark and POWERFUL engine. The Shelby is cool and so are all the other cars. For room in the vehicle, front and back seats... The Olds did a great job. ANY MUSCLE CAR you obtain is worth driving down the road with a car unlike MANY others.
I bought an olds as my first car with my own money and it was and still is fantastic. You have to drive one to understand. They were a gentleman's muscle car if that gentleman was a bamf. They had power, precision, performance while keeping that American attitude.
I was born in 1970, and I happen to be...a Female! And, while this may be a "Gentleman's Muscle Car", I can tell you, First hand...I was so fortunate to have this BadAss as MY car, when I was 17 years old...a Junior in high school growing up in the Midwest (Indiana to be exact! ), and! I Was the BAMF, to all of you Guys out there! They talk about cars being "chick magnets"...and, I Totally Agree. But THIS car...Olds Cutlass, as a whole, definitely is a "guy magnet", as well! GOD, I DO MISS THAT CAR...Whoa! WHAT FUN! So, This Vehicle, Hands Down~
This car has style. Everywhere I look I see tricked out hot rods with a 90's Chevy 350 in them, or a 302 Mustang in my town. Boring. About as exciting as the Velvet seat phase hot rodders went through in the 80's.
9 1969 Hemi Charger
10
1970 428 Mach 1 Mustang
How this car rates below 67 camaro is beyond me! 69-70 mustang sportsroof body, interior way more detailed than any thing from Detroit at the time, the comfort weave vinyl seats really worked, and the 327 67 camaro will not compete on any level with the 428 cobra jet! Thanks got that off my chest feel much better now.
Good list someone posted here what I call pony car muscle cars. Look at my list of true muscle cars. 1st 1970 Plymouth GTX, 2nd 1970 Chevelle ss, 3rd 1969 Pontiac GTO Judge, 4th 1968 Dodge Charger, 5th 1970 Torino Cobra, 6th 1970 Oldsmobile 442, 7th 1969 Mercury Cyclone, 8th 1970 Buick GNX.
This car gets my vote also. The 1970-1969 sportsroof mustang body is second to none, add the Mach 1 trim level, looks so bad ass add the 428 cobra jet and it was bad ass! The top pony car, 1969 camaro ss second, 1971 cuda third, and although a sports car I place the 1970 AMX fourth.
The best looking model to come out of Detroit period. Ford hit it out of the park with the 1970 428 Mach 1 Mustang. Today it is one of the most sought after cars here in America and world wide.
The Contenders
11 1971 Boss 351 Mustang
12
1968 Shelby GT500KR
Love that car in blue with wide white stripes.
13
1967 L88 Corvette 427
Anyone who doesn't vote this amazing American beauty into at least the top 3 is insane! The 67 427 was the greatest car ever built as far as I'm concerned and it deserves a better ranking! It's way nicer then any mustang.
This should be #1, the look, the feel, the drive, the power screams muscle car.
The 1967 L71 Corvette 427/435 Tri-Pwr car is the "holy grail" car for the 60's...easily in the top 3 of all time and perhaps #1-
14 1970 Mustang Boss 302
15
1967 Pontiac GTO
My 66 gto would eat the 400's all day... But with the port and polish, the 456 posi rear end, the tunnel port headers, the 3 2 carbs, and the hearst comp plus shifter and 5 10 lift cam, and all the extras that it took to get it there, wel... Lets just say I wish I still had her... She was simply delicious... And she feared no man on saturday night.
No votes on the GTO? Hardtop GTO Black exterior on Black interior; doesn't get any better than that! "black Beauty" drop a special 400 block in it at have the horses kickin
Or even the Ram Air IV Judge convertible
I just bought mine and look forward to the many years that we will have together.
16
1970 Chevy Nova
The 70 SS 396-375 HP was the fastest muscle car on the road. Great car a real sleeper.
How was this beaten by the Olds 442!?
17
1969 Road Runner
She looks really simple, but she has a unique feeling, she sounds very good and the story of this car is very funny
The best my mans
18
1968 Nova SS 396
Yep, this is it! , The Best muscle ever made, hope GM people revive this model as they have done lately with the Camaro's, I will buy one on a jipi. As a matter of fact I have a 1972 SS 350/330hp Nova with 38,400 original miles INTACTED all around and won't sale it for nothing, so I'll be awaiting anxiously for a new Chevy Nova version, Thanks.
I LOVE THIS CAR! I made a model of this car and it is the most powerful car of it's day! This baby was MADE for drag racing! Awesome car, my dad drove one, smoothest ride, and fastest acceleration of its day!
I had one of these Monsters in the day.
19
1979 Pontiac Firebird Trans Am
Oh yeah its amazing, breaker breaker...
20
1970 Torino Cobra 429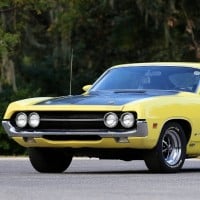 Mid-size big block Ford. If you wanted Ford American muscle, that wasn't in the pony car market, this is it. 1970 Motor Trend Car of the Year.
This definitely should be first because this is a very sexy car and duh it's a Ford so it must be just totally awesome and. They have so much torque
I have a 71 GT Convertible 351 4v around 400hp. It rides and handles so well. Best bang for the buck.
All Steel to boot.
21
1969 Firebird
The firebird should be a lot higher in the ranking. The car is beautiful and fast, and has a lot of horse power.
Beautiful car, fast, and just good everything. Should be number one. Most beautiful car on this list.
Firebirds are very nice cars and are very fast, some Firebirds are even used as nascars. They rosette to be a lot higher.
Go Smokey and the Bandit! best movie ever and the best muscle car ever!
22
1966 Nova SS
I can't believe it's not in the top 10. Weight to power ratio, with a 327 and 4 speed, extremely fast back then, and looked awesome
23
2009 Challenger SRT8
Had 1971 loved it. So I bought a 2014 srt8 challenger and it is awesome. Nothing it don't eat in the quater especially camaros, vettes and mustangs. At least the Mustangs put up a fight.
Faster than most cars on this list.
24
2010 Camaro SS
Love this car for the money really really hard to beat!
25 2008 Pontiac G6 GXP
PSearch List