Top 10 Best Commercial Aircraft
Which commercial airplane or commercial aircraft model/family was best in every way possible, or how they revolutionized the aviation industry.

The Top Ten

1 Boeing 777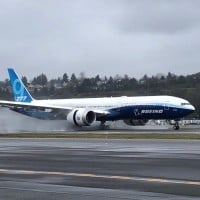 Certainly a great aircraft if you fly economy + or business. But at the back, it is a nasty cattle wagon when operated by the dark forces. Designed for 9 rows abreast, some airlines put 10. I did once a 15 hours flight in the cattle wagon section, and it is one of the worse experience I ever add. By the way, I started flying in 1980... tried every possible airplanes: the best? The B747 of 80's...
Technically the most reliable aircraft in the skies for both passengers and airlines.
Taking Emirates as an example the 777 is the backbone of the company's success.
Numerous records have been established this plane and its design is probably one of the prettiest so far.
With upcoming 777x airlines have already placed record breaking orders which again shows how reliable this aircraft is.
Overall, it it the best commercial airplane in the skies!
Triple 7 is by far the best & safest commercial aircraft today! It's smooth ride & sheer size is best in class. The trouble is airlines are jamming in too many seats, but with more complaints & consumers shopping for not just the price, but the type of aircraft. Air Canada is like a can of tuna on its new 787's.
Used by almost all major airlines, with state-of-the-art technology, that beats any of its competition. (Airbus A340) It exceeds all its performance guarantees, and is probably the most technologically advanced and most fuel-efficient long-haul minijumbo out there!
2
Boeing 747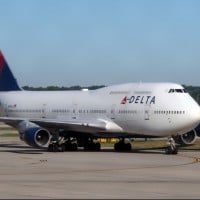 How did the a380 get up here? I mean... they are saying they will be put out of production in 2020! the 747 by the way has been flying for over 50 years *cough cough* a380 is a failure and waste of money. (the amount of money wasted is over 20 billion dollars, good job airbus you gave yourself a bad name). Oh the 747 over 2500 have been produced (a lot for a large plane especially at this size). The 747 should be the king of the skies not the queen (because it is the definition of moving forward in aviation as well as state of the art technology). Oh yes Airbus supporters don't get angry about this... oh yes the A350 *cough cough* fake 787 disgraceful and rude. Do not get me started on how the a380 looks...
This must me the real jumbo jet! NOT THE A380! Because it is the real ruler of the skies. Boeing, keep up the good work! Boeing 747 is the best because form me, this aircraft made history. This aircraft is also played a big role in jumbo jet monopoly. This great aircraft must be improved to rule the skies again once and for all. This is the greatest of the greatest! This is not a queen! This is a king of the skies! Boeing rules!
The first double deck jet airliner, it has been flying since the 1970's and is still being used. With a bit of improvement, the 747 could match the A380 (airlines are ordering the new 747-8). The 747 played a major role in aviation history and has a reputation of owning the skies. Certainly the greatest commercial aircraft of all time.
The beauty and grace of this plane on take-off and landing is un-paralleled.
Having flown in all the aircraft in this list except Concorde, I can vouch for the 747 to be the most comfortable plane to fly.
Yes it is old design, yes new planes have more modern interiors, but no one comes near this plane in the grace and flying smoothness.
3
Airbus A380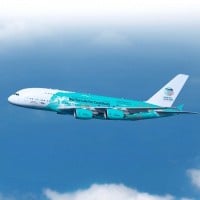 The Airbus A380 is an Amazing Aircaft, with it's high density passenger layout it could carry up to 853 passengers, not only that, the Efficiency of this Gentle Giant is not matched by any other. The Airbus A380 also boasts multiple arrays of high tech equipment and avionics making it as All Airbus aircraft are, Safe, Reliable, Efficient, Easy-to Fly, Comfortable and much more. The Entire Plane is a Beautiful Feat of Engineering and Design and no other aircraft can compete with it, It takes an A380 to Compete with an A380.
Seeing how big it was, I thought that it was gonna have turbulence and is gonna be loud. I was in Business class at the window. And oh my god. It was the smoothest plane I have ever been on. 90% of the planes I have been on was the Boeing 777 or 747. And the Airbus doesn't have much noise compared to those Boeings I mentioned. It's the future of aviation. The seats in Business is bigger than the Boeings. You don't feel claustrophobic or miserable. I bet that the people who voted for Boeing 777 and 747 were just Americans having pride in their country by liking Boeing.
I don't understand why the Boeing 777 is on this list. I go with business class, and the boeing is literally so uncomfortable and a lot louder compared to the Airbus A380. In fact, I can say with confidence that the Airbus A380's ECONOMY class is better than the Boeing 777's BUSINESS class. Without a doubt. Plus the boeing 777's T.V. screen is so glitchy and small. The touch screen and remote barely works. I can never sleep on the boeing.. Too loud IN the cabin, and the seats make you claustrophobic.
Airbus basically made this just for the sake of being the producer of the world's largest plane. So few routes these days want to carry such massive amounts of people in one flight. Modern day airlines are trying to fly smaller planes several times a day for increased freq. They should have let the 747 continue to be the largest plane.
4
Concorde
The Concorde was a much better aircraft than it's Soviet counterpart, the Tupolev Tu-144. The Tu-144 may have come out earlier than the Concorde, but the Tu-144 was involved in numerous accidents due to design issues, which clearly showed that it had been rushed to beat Concorde to the market and was generally considered a noisy and uncomfortable aircraft. The Concorde was only involved in one fatal crash, and that was due to the aircraft running over a strip of metal that had fallen off of a DC-10.
Wish they just improved technology, comfort and fuel efficiency on this record-breaking beauty of an aircraft. Twas one giant leap backwards when taken out of service. I wonder if we will see such an aircraft in the near future, with all the tech we have.
Who could forget the Concorde, it was the first and last commercial aircraft to break the sound barrier. This meant that you could go from London to New York in around 6 hours or less that's almost twice as fast as modern aircraft today.
The delta wing icon that was the result of a collaboration between Britain and France. Fastest commercial plane to this day. The 747 that went on to beat Concorde in sales was the result of Concorde beating the Boeing 2707 to production.
5
Boeing 787
The 787 is a plane not made out of aluminum, witch means it's stronger and can carry more passengers and cargo. It can go further then a 767 and 757, so it will replace those planes in the future. It is a better plane overall, and will replace more airplanes. While also being small, the 787 can carry a lot of passengers and can carry first class. So it's small, but yet big. It's a very good airplane.
Like the A350 (which came into service nearly a decade after this aircraft), what makes this plane unique is the high technology. Plus, unlike other aircrafts, the 787 uses a lighter weight material for the body of the plane which composite plastic giving the plane less drag and more speed.
How is this plane so low down, this is the 787! One of the most hi-tech aircrafts in the commercial aviation industry right now. Even though it's small, it's more fuel efficient and go long distances. The new flexed wings are both cool looking and hi-tech.
Cutting edge Technology. Choose new electrical system compared to bleed air. Increased pressurized cabins. Airbus backed away from these concepts.
6
Boeing 737
I have literally flown on almost every series of this plane. It has come a very long way from the original 100/200 series, that flight was on a "metro jet", I remember the red livery like it was yesterday, then working for southwest I have flown on the 300 series, the 400 series, the 500 series and of course the 700 series, recently I flew the 900 series and this plane has come a very very long way and none of my flights have resulted in fear or anxiety. I get more worked up over having to fly on an Airbus A321, I've grown to appreciate the work horse Boeing 737 series it's the do all of the short to medium range commercial jets.
The Boeing 737 has established the best safety record ratio for passenger miles flown. Since it was unveiled by United in 1968 it has been improved continuously over the last 45 years. Today, the 737-800 and beyond are the safest, strongest, aircraft. Airbus is good but..."If it ain't Boeing, I'm not going!"
The Boeing 737 is an amazing aircraft. I have been on long flights with this aircraft and they are quite enjoyable. Not to small, not to big. Another thing is that it can fly so far. I have been on 4 hour flights with the Boeing 737. The best aircraft type in my opinion!
After the apocalypse, people will still be flying in 737s. It's safe, reliable and utilitarian. It's been flying for over 50 years with no end in site. It's not the fastest, the biggest, the most attractive or the most luxurious. It's just the best.
7
Lockheed L-1011 TriStar
I can't believe this! This great jet should be up in the top 3 because of its S ducked center lined aft, engine, & horizontal flying stabilizer with the world's first use of carbon fiber in its rear spars! I know this because I was there in building 175/146 at B-1 Burbank! You would have to cross a DC-9 or Super 80 with a 727 to even come close to a smooth flying L-1011 but would still be lacking size, hands free landings, & quality! Lockheed killed the jet because of losing money on the "build it your way no extra charge" motto! A man named Les once told me he was a former L-1011 salesman who was paid not to show up to Airlines that wanted the jet!
It was way ahead of its time. Full cat III Autoland capability. The quietest cabin untill the 777-200. It's AC system was the best in the business and it's cabin air exchange rate was every 15 minutes, again not matched until the 777. Flight attendants loved the lower galley rest area. Pilots who flew it called it the best plane they ever flew. Customers loved the wider seats with longer legroom. To top off all this it only had 1 hull loss the was attributed to a design/construction flaw making it one of the safest commercial airliners ever built.
I have only flown on L-1011s a few times but it was always very nice-quiet and comfy. I have crossed the Pacific Japan-West Coast many times, usually in DC-10s which I disliked mostly because it lacked adequate overhead bin space. I flew SFO to Tokyo NRT once on an L-1011 and it was the best crossing I ever had. I rate it as my favorite plane.
Rode the L-1011 twice in the 80s/90s on Delta and ATA. Loved the RB-211s and the living room feel. From all pilot accounts it had the best air conditioning system. It was ahead of its time in terms of technical advances and flight control. Of course, it's design was a cut above the rest.
8
Airbus A330
Well, the ride quality isn't as good. The fuel efficiency however, is decent.
Kind of loud. But spacious and not crammed. Beautiful bird.
Quiet and comfortable. Nice streamlined look
This is a very efficent and comfortable aircraft, one of the smoothest landings I've ever had.
9
Airbus A350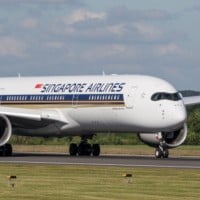 This plane is truly the most modern plane on this list (And while Cseries is newer and still is a nice plane, it has nothing on the mighty A350). Its size almost competes with the 777, its more fuel efficient than the 787, its winglets, or "sharklets", are better than the 737, its range is farther than the 747, its quieter than the 757, and its sleeker than the 767. While its just at the beginning of its career as a plane, this plane will soar above the competition.
The A350 is highly fuel efficient yet at same time, seems to be the best at ultra long haul flights. The longest range commercial aircraft is the A350ulr which is used to serve the longest flight in the world: Newark-Singapore with a total flight time of 18 hours and 30 minutes. The A350 so far has a perfect safety record. Not to mention how highly advanced this aircraft is.
The Airbus A350 holds a far more advanced technology throughout the whole aircraft and inside the cockpit. The wingtips are folded in to create more lift, making the passengers gain more comfort and luxury. I personally think that this is a very well-planned aircraft.
Personally speaking, I think this is a gorgeous aircraft with wonderful technology. Really, I don't know why people always pick on airbus, saying that this is copied from boeing...I would gladly fly with this a350 any day.
10
Boeing 707
Sleek, beautiful jet, the grand-daddy of all the commercial Boeing jets. 1950s technology yet the 300 series with its JT3D fanjets could fly for nearly 12 hours nonstop, over 600mph, at a ceiling of 42,000 feet. Long forgotton yet one of the most influential jet of all time!
GOD BLESS THE 707!... it is an immaculate aircraft it was an extreme advance in aviation technology and I love the engines...thank you Pratt and Whitney JT3D!
The Mighty 707. One of Bill Boeing's last directly influenced designs. Its smaller brother the 720 was good but not produced in large numbers.
The most beautiful plane ever!
The Contenders
11
Boeing 767
Okay, as a flight attendant, this was one of my favorite planes to fly on, not so big that it was RIDICULOUS but big enough and comfortable to work on as well as travel as a passenger. Don't think you will find anyone who didn't like the 76 as we called it. A great, safe comfortable all around aircraft! LOVED IT!
Most comfortable plane to fly. Plane designed by pilots for pilots, great plane, Boeing had to work more on efficient engines instead of designing something new with such many problems. Concentrate in making what is good even better and stop the race with airbus for Gods sake...
This mid-sized jet is one of the best planes I have ever flown on in my entire life. Although it was only a one hour flight from Melbourne to Sydney, I was able to notice how smooth the landing was, how quiet the engines were and how easy it was to move around the cabin.
Without a doubt the best I've flown. You have to get to the airport pretty late to have to fly in a middle seat.
12
Airbus A320
I completely agree that many people here are mixing up this and are only focusing on where the plane was made. Anyway, I have been on a 747, 767, 737, 727, and 757. For airbus I have been on 320, 330, 340, and 380. The 320 was my favorite for a number of reasons... BUT, what I find weird is that the 320 is behind the 787 by several planes. I didn't see any Airbus sitting on the ground for four months!
It seems we are mixing things up a bit. Is this about planes or nations? A lot of them great craft in their day, but it seems that a 707 is better than an A330? 727 better than an E190? Its like saying that a P51 is better than an F16! In their time great! But because craft are made in another country does not mean that they are inferior!
The A320 is one of the greatest aircraft out there, why else are there more A320 sales than the 737NG. Most major aircraft prefer it for short haul flights. With innovative ideas, it is a leader in aviation!
This is turning into American supremism! People are only focusing on where the plane was built. This is the worst list I have ever seen.
13
McDonnell Douglas DC-10
After all of the kinks were worked out in the 70's and it did get a bad rap, deservedly so.. I can bet you will never find a flight attendant who didn't love working the DC-10! We had a blast on that plane because we had the Lower Lobe galley to escape to, giving us a break from the passengers after our work was done and we took a short break.. It gave you a mind clearing relaxation break with out the annoying fear of being interrupted by a passenger while taking a break unlike all main floor galley planes! I just loved working down there too! Passengers loved it because of the large area in back to stretch out and 4 bathrooms straight across the back of the plane! We miss you "the 10" as we called it!
The DC-10 did have a bad rep but after the 1970s it all seemed to clear away. The DC-10 may not have been one of the safest planes but it was one of the most innovative, revolutionary, and beautiful airplanes ever built.
It was the first jumbo with less than 4 engines this was a great aircraft
No bad words allowed
14
Boeing 727
Was a flight attendant and we all loved flying the 727-200 that is. The 727-100 not so much.. It was awkward and discombobulated working on it! The 200 was safe, spacious and you always felt safe!
My 1st jet flight was a PSA 727- 200 in 1970. I used the Airstairs to disembark at SAN
15
Airbus A300
This was the K-MART version of the 767! As a flight attendant it actually was a nice plane to work on but we were always a little frighted of it! We flight attendants called it the "SCARE-BUS" and for good reason! Several incidents of very bad turbulence and the back of the plane was notorious for fish tailing and throwing us around like you dolls! I personally was thrown through the ceiling in the galley during turbulence smashing the galley lights with my head coming down on the ovens and ripping up my back! Blood all over badly injured and my coworker grabbed on the hand holder along the bottom of the overhead bins, ripping his shoulder out of the socket, screaming bloody murder in pain. Have had several back and neck surgeries since then all due to this plane! It was also made very cheaply and broke down allot as well! SAFE TO SAY NOT MY TOP RATED pick!
It looks descant had an advanced cockpit for the time it flew and I'm trusting you about it being a K-Mart 767.
I understand your hate for this plane but your story is just absolute baloney.
16
Douglas DC-3
A plane that change everything, and don't know what retirement is. Almost a century after her first flight, she just keep flying for war and peace. Try to name any aircraft that could come near her in service record.
At one time nearly every passenger airplane in the world was a DC3. It did more to move commercial aviation forward than any other plane.
It's not the quickest nor the quietest, but it has charm and character. A truly cool plane and a thrill when you rarely see one.
One of the most successful aircraft of all time.
17
Boeing 757
The 757 is elegant in every way. It looks the way a commercial aircraft should look. Paired with Rolls Royce engines, it has one of the highest thrust to weight ratios of any commercial aircraft.
Most versatile (if not overpowered) commercial jet ever built. Should not have gone out of production. Basically a jack of all trades on routes up to 4,000 miles in length.
The 757 is a cool aircraft with a nice cockpit I've been in it about 11 times and I love the fast take offs.
Best combo of performance and cruising range. The only plane that can do those "long thin routes".
18
Antonov An-225 Mriya
It's not that hard to build a big plane if you've got a lot of money
19
Airbus A340
Other than the only (operating) single deck quad engine aircraft, the A340 is another plane where ultra long haul flights seem to be a major virtue. The A340-500 was the original plane for the Newark-Singapore route before the route got discontinued then brought back with another aircraft called the A350ulr. One drawback is unlike the A350, is the A340-500 can be fuel inefficient. The older A340s can be underpowered as well.
This aircraft has a pretty good safety record. The only major crash I remember was an Air France crash back in 2005 and that was due to nothing but pilot error and bad weather.
Unique layout and ability to go to any airport (that has a runway long enough) to any other airport in the world.
Four engines, beautiful and not as fat as 747 or A380. 4 engines 4 long hauL!
20
McDonnell Douglas MD-11
DC-10 twin but top of the line newer, nicer more modern but NOT BETTER! Constant electrical problems, video problems looked nice but most passengers were displeased as their videos were no operative on long flights and lots of complaints! Was ok to work on as a flight attendant but no Lower Lobe Galley to escape to and the way they were set up not as much stretching space for passengers like its older sister the DC-10 as this was a all main floor galley plane taking up the space in the cabin unlike it's predecessor! Not my favorite!
I like this plane although I'm quite happy that they're retired and now only cargo planes because safety record: like 3 stars. It's still overly nifty for cargo.
Too bad it is only used as a freighter nowadays. Would love to fly on board one of these.
Just listen to the sound of the engines and you know how fascinating this plane is.
This was by far the worst airline jet ever made including the dc-10 version and fedex has pretty much converted to the triple 7.
21
Airbus A321
If Boeing had a rival for this plane it would be the 757.
22
Airbus A350 XWB
The A350 XWB is one of the most advanced aircraft, it is a great mix between fitting in with the rest of the Airbus family and leading with innovations. It's an aircraft of the future.
The A350 XWB is a technologically advanced twinjet which was meant to compete with the Boeing 787. This plane is unique in its own ways, and is still an efficient, long range, and comfortable aircraft
It is an incredibly new plane with a high level technology only one inch narrower than the 777 but 5 inches wider than the 787. the range of the -900ulr that comes out in 2018 will be able to fly the route from sydney to london direct and singapore to newark direct.
This just proves airbus is copying Boeing.
23
De Havilland Comet
I would like to recognize this aircraft as being the first ever aircraft to use jet engines. It's only fault (and biggest one that doomed the bird) was it's extremely thin skin, and poor design that was probed to attract metal fatigue. It was a tragedy.. Two comets brought down by a flying bomb. When the metal fatigue finally gave way, the aircraft ripped itself into pieces. This aircraft honestly could have done better, but by the time they improved the Comet, it was too late. Boeing had already made the 707 and the Comet slowly disappeared, out of aviation.
Flew many times as a passenger. Powerful take off. Beautiful design,once heard it said that "this is the plane pilots would fly on their day off"!
Shame this beautiful plane couldn't stand the pressure of high altitude
The beginning of it all...
24
Bombardier CSeries
Bombardier is known for bringing good products to the market and the CSeries aircraft is no exception, in fact, it's even better. Good recipes take time, and Bombardier made sure that before they put this aircraft into service, it would be the best in the sky. It will be profitable for airlines, and travelers will enjoy it. Now the question is, do airlines want to build their future with an aircraft of the 21st century or with 20-year-old upgraded models?
Probably the best plane on the market right now.
A beautiful, comfortable and capable airplane.
Very efficient and quiet. Rode it in Europe
25
Airbus A320neo
Very efficient. Small but has a very good flying range. New engines,wings,... A perfect small commercial airplane.
All you love about the A320 CEO but better. Outselling the 737 MAX for a reason!
PSearch List