Top Ten Dream Cars
At any price, what is your all-time favorite automobile?

The Top Ten

1 Bugatti Veyron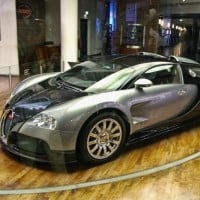 As you should know Bugatti is not at all a German brand but a French one.

Bugatti Automobiles S.A.S. is a French high-performance automobiles manufacturer, subsidiary of Volkswagen (like Lamborghini for instance).

Its assembly plant and head office are located in the city of Molsheim (France).
bugatti veyron is the most expensive car 1.2 million dollars
This car is the beast, considering there are only so many out there
I wish I had all of those 1001 horses in the bonnet of my little polo
2
Lamborghini, Murcielago LP640
Ha! I KNEW Lamborghini would make it to the top. I had a gut feeling. I searched it up: Mercielago was a bull that survived 24 bull strokes. The matador chose to spare the bull's life, and this was a rare honor. Yes. Owning a Lamborghini such as this one,... IS A RARE HONOR.
Looks to die for. The terrorizing sound of 640 Italian horses. The sheer power from that legendary V12.
And it is a TRUE Lamborghini.
As insane and exciting as life gets.
The speed awesome
The look is gorgeous
The technology is amazing
Hey what more do you need in car?
It's so cool!
Hats off to Lamborghini.
It's just awesome... Man.. All that noise and all that raw power... Every time I sit in that I just freak out...
3
Ferrari Enzo
I think Ferrari is better than Lamborghini because of the amount of different styles the manufacturer showcases, while Lamborghini showcases a very similar style to every car they release. The Enzo is, by far, my favorite Ferrari model.
Ferrari f50gt is the best car I don't know why buggati is first. It is a useless car just meant for speed, whereas Ferrari is luxury as well as speed. Ferrari is a true dream car! D
I totally agree. I think this is cooler than any other car listed above. I wish I could have one, then again, it has bad mileage.
Hey! Ferrari is a really good car don't judge! I love it
4
Koenigsegg Agera R

I adore it; Veyrons and Ultimate Aeros are just obsolete!
I love it because it's fast, well equipped, sleek, beautiful inside and out, has some of the best technology, and is excellently finished and sophisticated.
I love the sound of the upcoming Koenigsegg One:1; named after its power-to weight ratio (1250bhp, 1250kg)!
Koenigsegg Agera R is one of the fastest hypercars ever. It has an excellent power to weight ratio. Speaking of power- There's over 1000 hp! It has a top speed of 273 mph! I t's even faster than the Holy Trinity( porsche 918, mclaren p1, and ferrari laferrari) And it is my 3rd favourite supercar( hypercar). It should have at least been in the top 3, but at least its 4th!
Gotta say it was hard to pick but who doesn't like this car! It is pretty, fast, and comfortable! Everything you need! Look out Bugatti, Koenigsegg is coming faster than u!
Sure the Lamborghini Murcielago LP640, and the Bugatti Veyron are nice and all. But I personally think this car is badass looking. Just my opinion, don't criticize it.
5
Audi R8
This is my favorite sports car and quite frankly one of the three (the others being corvette stingray and the shelby mustang, but this being my favorite) that I would even keep. my dream car is the Chevy Silverado (but only lifted high with big tires). I think sports cars are kinda gay and girly and the only thing their good for is selling them so that you can get a lot of money. I think it's a huge waste to put sixteen cylinders in the new bugatti veyron because its not used for anything but speed that you don't even need. if I put that many cylinders in a lifted truck, I could and would anything I wanted almost
The only supercar on planet earth that's easy to drive. The V10 makes a beautiful sound, and it is "cheap" for a supercar.
The hottest super car out there. With top of the range performance and looks to kill for. This is a car of the ages
One of my favorite vehicles, it's a definite must have in your garage. I tip my my hat to German engineering.
6
Aston Martin DB5
Although not the most beautiful, this machine has an immeasurable level of class and quality. Also, it is surprisingly modest and therefore a true gentleman's car.
Classic james bond car
This car is used in cars 2
Bond
7
McLaren P1

The McLaren P1 could be one of the most innovative cars of all time. If McLaren makes an electric version of it, well, it WOULD be the most innovative cars ever.
As far as I know, this car is completely different thing on earth. This car is a new type of movable things for man kind.
"It's a game changer, a genuinely new chapter in the history of motor racing"
Sleek, amazing, what couldn't you like about it
8
Pagani Huayra
No doubt that the Huayra is better than the Zonda in every possible way.
I saw the Zonda and thought, OK. I then saw the Huayra and thought, impossible to beat.
Although, I also love Koenigseggs; the Agera R and the upcoming One:1, which has as many horsepowers as it does kilograms!
This is more then a super car. This is pure Italian quality. Simply the best
Simply one of the two greatest cars in the world
Simply Awesome, I Absolutely adore this car, should be in to p three
9
Rolls-Royce Phantom

It is the ultimate beast of luxury, elegance, style and has a class of its own. An ultimate dream car for everyone who wants a car which is beyond a level of comparison. The Rolls Royce is fully handcrafted, and even though the bill is large, there cannot be a better standard of a car.
My ultimate dream car!
Come on. With all these rappers having a Rolls Royce in their songs there's no doubt it shouldn't be no. 10 on the list. Kmsl
A classic car looks excellent the airplanes nowadays have rolls Royce engines
Most luxury cars are nice but this one is the full option one
10
Ford GT
It is hard really to start describing the FORD GT... But it all started from its origins... The Legendary FORD GT40! This car needs no introduction and to do a New car reflecting on the original GT40 is a bit like... Jesus Having a Son! The Ford GT was bestowed with the Highest of the Responsibility... To simply live up to the Name! How could the Son of the Son of GOD be Better than the Son of GOD Himself? But you know what... Hell It Has! The Charisma this car possesses is second to none! And there is no way anyone can argue about the fact that... It is the Best looking Car... In the World! The FORD GT is such an Extraordinary... I was going to say Machine... Because unlike any other machine, This one has something that not many have...
It has... How to put it... Emotion, Passion, Excitement, Porno-graphical Attributes, Love, Warmth, Respect, Grandeur...
It Has... A SOUL!
The greatest american car of all time. And arguably the greatest car ever of all time
I agree, best looking car of all time with power to back it up.
Just look at it. Especially the New one.
The Contenders
11
Lamborghini Aventador LP 700-4
Should have been on top, far better than others... An awesome car...
Most inspiring car from Lamborghini's its best
I feel weird that aventador is not in the top 5
Surely this is better than the murcielago
12
Aston Martin 77

This car was worth 7 million dollars. And just 77 built. One of the rarest and just look at it. This is one serious car.
13
Ford Mustang
This car is beauty of his owner's life
Man just the most amazing machine!
It's the most amazing car ever made
The classic car awesome
14
Nissan Quest

I had one of these vans. I love it.
Dream cars are cars your not embaressed to drive!
I got kids to haul!
Uuhhh why is this on the list?
15
Ferrari 458
Best ferrari ever!
16
Lamborghini Reventon
So awesome it goes so fast!
its the best car ever it can go 200 freakin mph its a muscle car mixed with a lambourhghini
the lamborghini reventon is the best car ever made
17
Pagani Zonda
Pagani Zonda Revelucion is awesome 800 hp and lighter than an mx5 this car is boss. If it lapped the nurburgring it would be even faster than its predecessor the Zonda R (which is the fastest car ever to lap the nurburgring with a 6:47) because it has more hp and weighs even less. "Perfect".
This car is perfection on wheels. Not to mention it has the fastest ever lap time on Top Gear.
I think zonda cinque is even better than this one
Can someone tell me why this is at 12? It should be at 1.
18
Porsche Carrera GT
Porsche are the best cars ever, and the Carrera is a superior car.
The sound is amazing, the design is amazing and it is a very very fast car which makes it a complete car, and one more thing to add is that this car can be driven easily in traffics and in the city not only on the highways like ferrari and lambo.
Class Means this, Its All About Porsche. Speed engineering luxuriousness all together create this.. Sure Its Not a Car It's A Porsche.
Totally! This is the best and most good looking car I have ever seen it totally deserves first place
Pure beauty, speed, engineering, and porsche. Need I say more? I don't think so
19 Porsche 918 Spyder
20
Lamborghini Veneno
This is literally the coolest car in history, how is it number 58?
Should be in top 10 way better than any other outside of top10
Its worth makes it really a dream!
How is it at 58?! It should be at #1
21
Maserati MC12
Around 30 MC12s will be built in all, 25 of which will be for road use. A second series of 25 examples for clients will be built in 2005 also.
22
Lamborghini Aventador
! It should be First!
This Kick Ass Car Should Be number 1
23
Dodge Charger
1969 or 1970. With the nice blower Fast and Furious style!
Old or new baby, I don't care!
I'm happy to say I allready own one. still my dream car tough
the R/T or the New Charger?
I don't care, both of them are georgeous.
24
Jaguar E-Type Series 1
The E Type is one of the most beautiful cars in the world, it is very fun to drive and has a soul in it. When it was new it costs 3 times than the Aston Martin with similar performance.
Faster than a Ferrari from that time, cheaper, and more beautiful. Even Enzo Ferrari said so. This is the best car from the 1960's and the most beautiful of all time.
Stunningly beautiful, quick, and impacted car design. Its still the best looking car ever made.
Just the experience of looking at one of these is amazing
25
Dodge Grand Caravan
I rode in one to flordia.
ugly
PSearch List