Sir Donald Bradman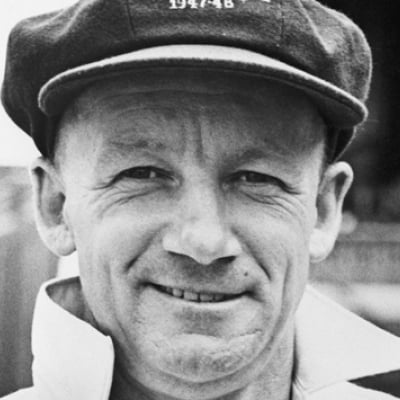 Uploaded by zxm
Info
Sir Donald George "Don" Bradman, AC, often referred to as "The Don", was an Australian cricketer, widely acknowledged as the greatest batsman of all time.
Comments
Top
Popular
Newest
He is the best batsman in the world. He's average is 99.94 I think no one could achieve this batsman even Sachin also.
I don't know why people vote for Tendulkar. Sir Don stats, his skill, and his influence on the game are phenomenal. And those who say that he only played few matches (52 averaging almost 100) and Tendulkar has played over 180(average 56)have to look at Bradman's first-class record which is 28,067 runs in 234 matches at an average of 95.14 with 117 centuries, 37 double centuries, 6 triples and one quadruple (452*). While Tendulkar has scored just 22k (i think) in almost 300 matches with less than 80 centuries. Batting was much more difficult in the old era, uncovered pitches, no advanced bats, larger grounds, no technology. I mean come on, Sir Don is the greatest. Sachin is not even better than Viv Richards or Jack Hobbs.
He is better then sachin tendulkar because no one came close to 99.94 average run. So it is clearly tall us Donald Brahman is the best player in the world right now in a bating point of view where the game can be Winn and its allage Winn by run.I may be wrong about this comment but 35 years watching crickets. I can say sachin tendulkar is good player like many anther player. may be the Indian people think he is best but from USA I think he is good. But sir Donald brahman is the bast for the time. thank U.
Gee there are some imbeciles posting on this website. How can Bradman not be number 1? I guess this is a reflection of the fact there are well over a billion Indians able to vote for Tendulkar and only 20 million Australians to vote for Bradman, so the numbers are well and truly stacked against The Don in a poll like this one. But it doesn't matter because the records are there for all to see and they clearly indicate Sachin is about as half as good as the Don, and there's no shame in that.
You've got to be joking that he is not number1. Who is not to say he would have raised his performance to modern conditions. To be so ahead of his other players at the time is the only way you can judge. Is Tendulkar so ahead of his fellow players. Not really. Brilliant but not bradman.
What can you say he had a average of 99.94. At least 30 runs ahead of the second best Pollock at 60. He was the greatest batter of all time by miles. He batted 3 and coud handle the bowling with content. One guy was on 90 when he got out he got his century first. No one could come close to him. He barely got out. His average would be over 100 if the war didn't come. When the wicket keeper was injured he keeped. He was a very smart cricketer. Greatest sportsman of all time.
He's the best ever. Great career average. Unarguably the best.

In a nutshell Unquestionably the greatest batsman in the game, arguably the greatest cricketer ever, and one of the finest sportsmen of all time, Don Bradman was so far ahead of the competition as to render comparisons meaningless and to transcend the game he graced
Donald bradman is better in any side in any angle he deserve the number you have listen that quote you have brains in your head you have feet in your shoes you can steer your self in any direction you choose there fore I think sir donald a king can deserve tendulkar only score more runs but sir donald strike rate is the best
His average in test cricket is the most impressive, nobody who has played as many tests as him is with in 30 runs of his average. TENDULKAR IS NOT AS GOOD BECAUSE HE DID NOT PLAY ON UNCOVERED WICKETS AND SCORE ABOVE AN AVERAGE OF 60 OR HAVE THE ABILITY TO SCORE 300 RUNS IN A DAY! - earplug123
How. HOW is Sachin Tendulkar the greatest Cricket player of all time. Don't get me wrong, he probably deserves second, but Don Bradman has a status in cricket that is only rivaled in other sports by the likes of Michael Jordan. 99.94 average. The guy is a head and foot above all others. You can have all sorts of records and what have you, but an average so far above the rest from a 20 year career is un-comparable.
Sir Donald Bradman the greatest ever player of the Australian side who has played only 52 test matches and has got 29 100's and 13 50's with an average of 99.94, what would happen if he would play matches like that of "god of cricket"-Sachin Tendulkar.

See about the security of the players against the bowlers at his time and the style about the bowlers would bowl at that time. Anybody would start shivering. You can't even think about making runs and see he had made runs at an average of 99.94. Yeah I respect every batsman but...
No one can beat him. He really is the best! Bradman was known for his dedication to perfecting his skills, such the famous batting the golf ball up against the wall with a stump to sharpen his hand-eye coordination. When Bradman retired from test cricket in 1948 he had scored 6, 996 runs in 52 tests with 29 centuries and 13 fifties at a staggering average of 99.94!
Let's be serious about this. Bradman is the only possible choice here, however many Tendulkar fans are out there voting for him. Not just the greatest batsman, but arguably the greatest sporting performer in the history of civilisation. So to have him at number 2 is not entirely sensible.
He is the best and ultimate and total cricket package. He hold many records that would not be broken, whereas sachin's records can be brake if any player play the same No. Of match that sachin has played and playing, its very tough but not impossible, but record of bradman will remain.
Sir Bradman is No. 1 by far! Since this is a popularity contest, you can't beat the number of votes from Indian fans, they have a population of 1 billion afterall, so you are going to see Sachin, Sehwag, Dravid... Etc. High on the list. Therefore this list means very little! They were all excellent batsman no doubt, but they were not Bradman. I'm surprised Gavaskar wasn't higher, he was brilliant. Lara is up there with Tendulkar, Lara was a match winner under pressure.
His batting average puts him at 30% better than the next best. How anyone can dispute those credentials is beyond belief. Interestingly enough he was also short in stature, had amazing reflexes and was able to succeed against all bowlers on all pitches.
This guy is obviously the greatest batsmen of all time. It is not even close. The man averages 99 to Tendulkar's 53 and scored 4000 more runs in 120 odd fewer games.

He still bettered Sachin's average when facing bowling which is now illegal and without any form of protection.
How typical, I wonder what group of people voted for Tendulkar... I didn't know that playing with a tennis ball and a bit of plywood must allowed you to know everything about the greatest game known to man! There's no comparison, Bradman is infinitely better.
Bradman is by far the best batsman in the world. He nearly scored a century every time he was out. Tendulkar only scored 50 every time he was out. In the old days you could only do a test a year so if he played right now he would have scored 8000 runs in 40 test matches.
He scored 28 hundreds in 52 tests averaging at 99.64.. Tendulkar has played close to 150 tests and has 50 hundreds.. I rest my case! He played in an era where the cricket ball was no better than a grenade thrown at a single soldier! No guards, no fast and dynamic bats! NO wonder he is the DON!
Sachin is a a different era not fair to compare him with Sachin and if you do bradman wins because he played in a time without helmets and on fast Australian. Pitches no offense to Indian pitches but you can't deny the difficulty of playing on bouncy surfaces
Wow unbelievable this genius, is the greatest sportsman of all time let a lone the greatest batsman of all time, nobody has come close to his record, those below him are refered to as legends...what does that make the Don, a saint, I am not sure. Playing with illness and missing long durations during the war, carrying the expectation of the nation. I am proud to be an Aussie and to have an Australian to be the greatest of all time!
He is a genius. According to me he should be given the top spot for his outstanding contribution to the cricket sport. He is a great Test Player and would excel in the other two formats too if they were invented during his rein.
There should no doubt about on his skill. Someone said about his opponent bowler's. But thing about 99.94. Who is been near to him that time to till now. But some player's is been near to tendulkar. Obviously tendulkar is the best but remain second to Bradman.