Top 10 Best Outfits to Wear
Fashion cannot be my favorite, but somehow has an aesthetic to it. Here are many of my favorite outfits to wear.

The Top Ten

1 A turtleneck crop top and a plaid skirt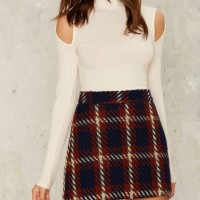 2
A pink midi dress, black leggings and pink heels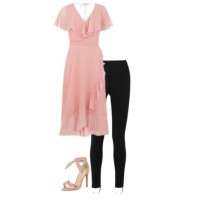 3
A black skirt, a white short-sleeved blouse, a sleeveless argyle sweater, and a purple hair bow
A common outfit when my bestie and I see each other
4
An oversized shirt, a pair of jeans and checkerboard VANS sneakers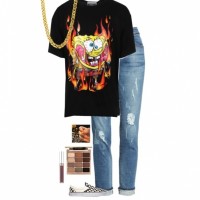 It is very comfortable and versatile.
5 A black skirt, a yellow t-shirt, a denim jacket, and a pink infinity scarf
6
A black tank top over a fishnet long sleeved shirt, black ripped jeans and black sneakers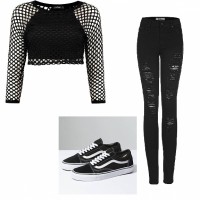 7
A white t-shirt, blue ripped jeans and a pair of sandals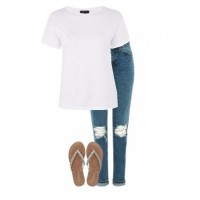 8
A velvet dress with black ankle boots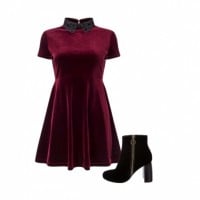 9
A Thrasher t-shirt, ripped shorts and a pair of Air Jordans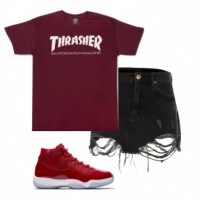 It looks super neat and great to go anywear people should totally vote for it
10
A floral dress, a black headband, black stockings and black boots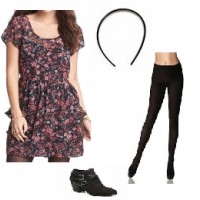 That is so 1990s!
The Contenders
11
A striped shirt, a bomber jacket, a pair of mom jeans and sneakers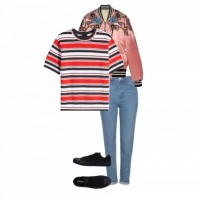 I don't like the striped shirt, but I would wear everything else.
12
A pastel pink crop top, a pink skirt and pink heels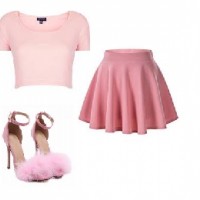 13 Jeans, a red plaid shirt, and a navy blue bubble vest
14
A red gown and black heels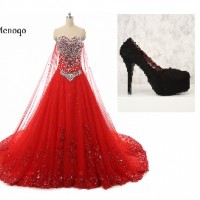 15 A blue rugby shirt, jeans, and blue sneakers
16 A yellow plaid shirt, a long sleeve gray sweater, a black skirt, and nice shoes
17 Jeans, a blue plaid shirt, a straw hat, and white sneakers
18
A white tank top, a pair of blue jeans, a pink cardigan and yellow sneakers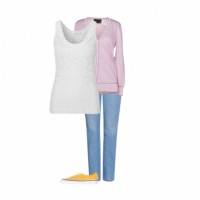 I wear this all the time but in diff colors its really comfy and great love destyni age ten
19 White sneakers, jeans, a purple polo shirt, and a white hoodie
20
A white blouse with a pink tie, a blue skirt and black boots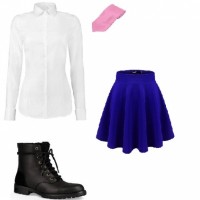 Looks like a school uniform.
21 A purple t-shirt, a purple poncho, a purple skirt, and purple sneakers
22
A green sweater, blue jeans and blue sneakers complete with a red plaid shirt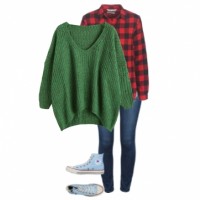 23
A white crop top, a red crop cardigan, a white skirt and black knee length boots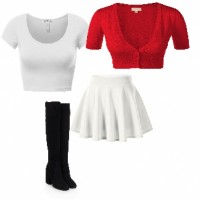 Valentine's Day and ladybug vibes!
That looks so cool!
24
A gray hoodie, a purple t-shirt, black denim shorts and purple knee-length sneakers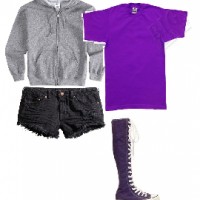 I would wear that.
Ace flag colors!
25
A white blouse, pink skirt, black tights, pink heels and pink hairbow with a pink bead bracelet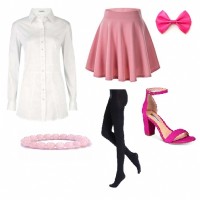 Reminds me of Barbie.
PSearch List