Best Sneaker Brands
The Top Ten
1
Nike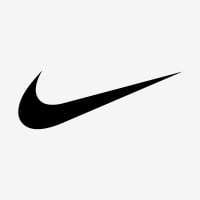 Nike, Inc. is an American multinational corporation that is engaged in the design, development, manufacturing, and worldwide marketing and sales of footwear, apparel, equipment, accessories, and services. The company is headquartered near Beaverton, Oregon, in the Portland metropolitan area. It is the ...read more.
I Love Nike because it's beautiful and the #1 sneaker brand in the world. Super cool designs and colors. Including a college colors. My favorite Color off all time is university red and I'm in love with Nike.
Duh! I have Nikes, and I run pretty well in them! They fit so well and last for a while. I had Under Armour's a while ago, but they broke and dirtied pretty darn fast. Nikes are amazing. I mean, Nike means victory, and a victory I shall have...! They have great prices, sales, and clearance. My shoes came from clearance, one pair left, and they're fabulous! :) GO NIKE! NIKE, NIKE! VICTORY, VICTORY! VOTE FOR NIKE, OR ELSE...! please vote.
Nikes are the best of the best. I'm in love with the nike woosh every time I see it. And nike is the #1 sneaker brand on earth for every sport. That's what makes me a Sneaker lover.
These are the most amazing shoes ever. I just got a pair of roshes and my feet were like in heaven. And their not even very expensive. I got a pair for sixty and a pair for seventy. Best. Shoes. Ever.
2
Adidas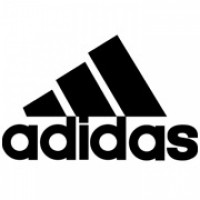 Adidas AG (stylized as adidas since 1949) is a German multinational corporation, founded and headquartered in Herzogenaurach, Bavaria, that designs and manufactures shoes, clothing and accessories. It is the largest sportswear manufacturer in Europe, and the second largest in the world, after Nike. It is the holding company for the Adidas Group, which consists 8.33% stake of the football club Bayern München, and Runtastic, an Austrian fitness technology company. Adidas' revenue for 2018 was listed at €21.915 billion. ...read more.
Adidas made me a sole collector; or maybe a boost collector. Adidas deserves to be no. 1, maybe nike is good on their basketball shoes, but it still sucks. Their shoes are look like boots that can use when the street is flooded. Adidas has the great designs. And also, adidas have Kanye West, Louise Vuitton, Supreme, Neighbourhood, Bape, mastermind, Kith and Naked.
"Within the first few years of its introduction, the Superstar was being worn by over 75% of all NBA players; proof of its revolutionary technology which remains today." - wikipedia adidas superstar. adidas is king from the past until now.
Greatest and most iconic brand with the hottest shoes in the sneaker game like the Yeezy Boosts, NMD's, and Ultraboost, but not only are they cool and iconic they are the most comfortable shoes ever in my opinion and they come in many styles.
They come in all different styles and colors, are comfortable, go with most clothing, classic, and are affordable. They're just a generally good shoe.
3
Converse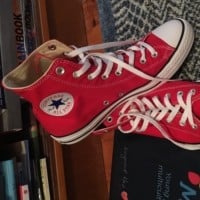 Converse is an American shoe company that designs, distributes, and licenses sneakers, skating shoes, lifestyle brand footwear, apparel, and accessories. Founded in 1908, it has been a subsidiary of Nike, Inc. since 2003. ...read more.
Comfort, quality and luxury feel on thw other hand but if a legend to be considered then CONVERSE is here to take you through the ages of skateboarding, free spirited lifestyle and Rock n Roll. None of the other brands can take CONVERSE to back sit in terms of legendary chuck taylor designs. I only think they should be more good in business and marketing as their not very operational throughout the world. Love, Peace and Converse.
These are really cool. Converse high tops make me feel good about myself, and confident. Don't know why, they just do. Anyways, the way Converse feels also adds up. They are really comfortable, and aren't too casual or dressy. Anybody could wear them and look sporty but good.
I love Converse Because they're comfortable on on my feet. Its good old fashion sneaker on the planet. I see everyone wears converse, for school, work, and sports. I love the logo and the design. I like mid top and high top it makes me feel good about myself.
Saw some of my friends earlier last week wearing some of these sneakers. So I looked online for some and found a whole bunch of variety. The Chuck Taylors appealed to me the most, so I think I'm going to go buy me a pair today or tomorrow. The black ones.
4
Vans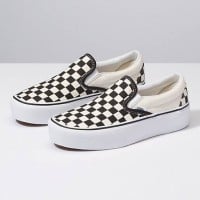 I vote for vans because like they are amazing quality and they look amazing. Vans are like the best shoes out there and they are amazingly comfortable! I love vans! They are like the shoes of awesomeness! :) I got vans like lasts year and they are still amazing quality. They aren't ripped at all. They got kind of dirty but its still amazing! I like chicken. Rainbows. Dirty Underwear.

Sent from my iPod
No! This should be first place because they are real sneakers! They are sooo cool. They have great quality and can go with almost any outfit. Casual, hipster, sporty, nice casual, for church, for the park, to the gym.
Love my vans because they are stylish. Nike is better for running but vans are my favorite for everyday. They are my second favorite.
Vans are always the best. VERY COMFORTABLE. And the quality is really perfect. I have Vans that I bought three years ago and I still use it. Another thing is Vans has its own unique style. Their styles are really awesome. I just love Vans that's all.
5
Puma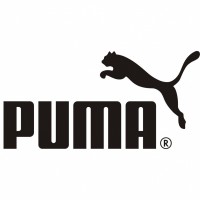 Puma SE, branded as Puma, is a German multinational corporation that designs and manufactures athletic and casual footwear, apparel and accessories, which is headquartered in Herzogenaurach, Bavaria, Germany. Puma is the third largest sportswear manufacturer in the world. The company was founded in ...read more.
I have had my pumas for about 2 years now and I love them! They sell them at softmoc, footlocker, and puma. Com. Check them out! They are amazing and about 30-100 dollars based on the store and shoe style. Definitely recommend them!
Puma got the best design no doubt. They are very leather and comfortable as well. You must give em a try
I've never bought Puma yet but people say that they are pretty comfortable.
Great design and style at reasonable prices. Some of the shoes tend to run up a tad narrow
6
Air Jordan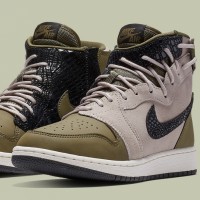 Very comfy, the air cushioning is very responsive as well. They also look very nice and will earn you lots of respect. While they are a bit pricey they are definitely worth it. I have a pair of aqua 8.0s and I hope to expand my collection.
I love the Retro 4 and 6's. Why? Because of their colour ways. They're telling a story. It's art. It's just too bad that the really nice colour ways and collab editions (like the Kaws) are for the very lucky few only.
I love Air Jordan because it is the coolest sneaker ever. Colors, and style. I like the Jordan retro 10, and Air Jordan 1 midtop. Air Jordan makes greatness. Olso they're both Nike.
Jordans are Nikes just high end not so sure that they are worth the price over just regular Nikes, buy what you like.
7
Asics
Asics are very comfy and unlike other shoe brands that I wear it is a solid and sturdy and in the best ways. The shoe may not always look the best but they are great for running. Once I started wearing Asics for running I noticed that I didn't get my usual running sores.
Simply the world's most sophisticated running platform - without the distraction and unneeded expense of superficially attractive collectors editions.
The only problem with these sneakers is that they never break so you have no excuse to buy new ones. I do anyways. Super comfortable and pretty too.
Only sneaker I wear. They are super comfortable and stylish. I have a pair for running and a pair of tigers for everyday wear.
8
DC
The best kicks I have ever seen, I'm a graphic designer and I'm not easily impressed. phlegmatic as I I'm I give dc my vote, hands down it kicks ass
Pretty much the only sneakers I own, look amazing and some of the comfiest shoes I own.
The most comfortable brand of shoes I have ever had the pleasure of wearing.
They actually last more than 3 months unlike Nike, or converse ever since they were bought out by nike
9
Reebok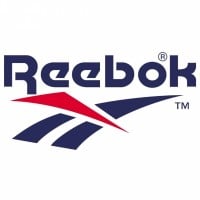 Reebok International Limited is an American fitness footwear and clothing manufacturer that is a part of Authentic Brands Group. It was established in England in 1958 as a companion company to J.W. Foster and Sons, a sporting goods company which had been founded in 1895 in Bolton, Lancashire. From 1958 ...read more.
Since I tried reebok I haven't wore any other brand. Those shoes are very comfortable. Reebok Classics design is the best in the market and they have a reasonable price.
I and my wife wear Reebok, made well and very comfortable. Podiatrist also recommended.
10
Fila
Conventional and subdued.
I love theses shoes
Classic look s
The best ever
The Contenders
11
New Balance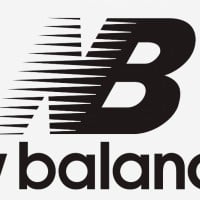 New Balance Athletics, Inc. (NB), best known as simply New Balance, is one of the world's major sports footwear and apparel manufacturers. Based in Boston, Massachusetts, the multinational corporation was founded in 1906 as the New Balance Arch Support Company.
The 811! New balance is the best support
Sneaker ever made. Comfort, arch support
And balance. Intense ach support and a
All terrains secure movement. The three
Pairs, I have had for 15 years, now must be replaced.

I love the style and performance. Please recycle
The 811 new balance shoe.

Thank you.
Comfortable with simple universal designs. Cheap price. Wide variety of sizes and widths to fit your foot. The size factor is what brought me to them and I won't go anywhere else.
I've own, nike, converse, heck all the big brands and nothing compares to the comfortability, quality and value of new balance shoes.
This is the shoe that Steve Jobs recommends, and trust me, he has flat feet and he knows.
12
Champion
I have the octoflexes they are so light and comfortable I like them better than the free run 2 I think this is a great shoe for runners and couch potatoes.
Yeah these are quite light and comfortable pretty good for running.
I have green and black champions at home I have good interest in them.
13
Skechers
I have 3 pairs shoes of this brand for most than 3 years, daily use over hard sand and they are almost as new. Price was around US$40.00 in Amazon.
They may be a put down brand, but their memory foam shoes are heaven yet stylish
14
Supra
Supras look so cool! They are the best high tops I've ever seen! I have like, every pair of vaiders, they have. My favorite pair is my snake teal vaiders They are so attractive! I love them! They leave my boys hanging. I would kill to buy every pair they have in the store! Thank you inventor of Supra!
I have used Nike , addidas , puma but Supra is different from all the brands I have 2 Nike , 3 puma , 5 Supra , 1 Nike Jordan. In these the more I use is Supra and puma which is comfortable and both has fresh collection
Supra's are the best sneakers and also Justin Bieber wears supra sneakers...they are just awesome and look awesome..!
Amazing design... Best quality... Wide range of colours... They maintain their standard
15 Ellesse
16
Lacoste
Classy with any outfit...
17
Marc Ecko
Its classic and very comfortable. Good designs, worth the price.
18
Lotto
I don't really reccomend wearing these... I don't see anybody wearing these
19
Vlado
Have a Jordan collection. Just discovered Vlado. Calculated that my Hares are worth roughly 3 pairs of equally nice sneakers from Vlado. New collection here I come!
Vlado sneakers are really underrated. They have a few of the nicest high tops I have ever seen
I have a collection of almost all sneakers but not Vlado.
20
Diadora
Its good for running... I've head >_>
21
Yeezy
This should be number 1
They are amazing
22 Royal
23 Avalanche
24 Etnies
25
Under Armour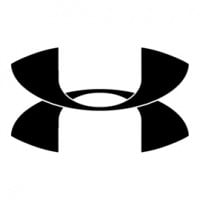 Under Armour, Inc. is an American sports equipment company that manufactures footwear, sports and casual apparel. Under Armour's global headquarters are located in Baltimore, Maryland, with additional offices located in Amsterdam (European headquarters), Austin, Guangzhou, Hong Kong, Houston, Jakarta, ...read more.
I love Under Armour so much especially there currys if I were to have my own sneaker I would partner up with them because the quality is great it comfortable nice looking and worth the price.
This ranking is ridiculously low. I understand that because they are my favorite doesn't mean everyone agrees but I'm stunned at how low UA is ranked.
Should definitely be in top 5 one of the the most famous brands on earth
PSearch List