Top Ten One Piece Couples
The Top Ten
1
Luffy & Nami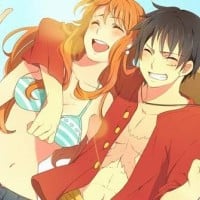 Once again with last week's Weekly Shonen Jump, Oda proved that he likes this pairing along with Franky x Robin. With his style of writing couples and romance, this is as good as it's gonna get unless he decides he wants to push LuNa more, like in a movie ala Strong World that he wrote which emphasized Luffy and Nami's relationship and how she depends on him.

Some fans like to think they know what they are talking about when it comes to saying LuNa will mess up crew dynamics but that just their bias. Not surprising since these are the same people who preached the no romance in the crew and look what happened. Frobin practically confirmed in the color spread.

Luffy and Nami are the main couple of the series so Oda will finish them at the end but its pretty obvious to anyone who have common sense and read something other than one manga in their life.
These two literally have the best relationship and the fact that the feelings are mutual just makes me love this ship even more. I know that nami is ride or die whenever it comes to luffy and luffy literally always gets ridiculously mad whenever nami is involved in something dangeruous and little gestures like nami feeding him or giving him her food and luffy going great lenths to help her just helps this ship skyrocket. You just gotta notice the little things. Dw, I see you oda.
If it happened most one piece fans would riot. It's not a manga that focus on romance at all -thank god!- so it would come off as weird and besides Nami treats Luffy pretty badly at times.
Luffy shouldn't be in a relationship if you ask me. Let him have fun with his meat and nakama!
You know what guys let me shorten things up cause I saw your comments damn long yet nonsense.. Luffy and hancock, nami and zoro, ussop and kaya, sanji and pudding, chopper and carrot nah chopper will focus on his doctor stuff, robin and his archeological stuff and books, franky and his mechanical stuff and lot of girls, brook and his panties nah maybe laboon + jinbie + tama. you guys can thank me later.
2
Zoro & Robin
Yes I love her and Zoro. They are great. Don't say Robin is ten years older than Zoro since age doesn't matter. I know plenty of famous women who marry men younger than them. I think Zoro and Robin are perfect. People Robin is NOT UGLY or stupid. She is sexy and beautiful. She loves books like me and has a slightly dark aura. She has a past so sad I want to cry. She is cool, mysterious, and calm in fights. She is a strong women on the inside and outside. She is kind and only wanted to carry her mother's dream : to live. I know Naming is great but Robin is much better for me. She is my role model
Anti Zorobin people are hilarious to me. You claim stuff such as there never been any hints about them when that's just a flatout lie. I even listed several of those hints below in my first comment to this section. Whether Zoro x Robin actually happen or not, their ship is very valid and has a lot of material.
Okay, I get that they have some similarities, so what? That doesn't make them a good couple. They don't talk to each other that much and don't have any chemistry for me. Sure, he respects her like every other member of the crew and its understandable because of her mature personality. Also they don't have that much moments. The only thing that can be taken as romantic is the moment in skypea but in that time zoro didn't even trust her. He did it only because she is a crew member and was the only person on her side around. Also the fact that he said she is a woman looks more like an exuse to save her since he doesn't actually care for genders and that stuff. He did the same with nami in the beginning of the story when he didn't know her. For me they would be very boring as a couple and don't understand why so many people ship them. And most of the time the opposite attracts more. So I think both of them need someone more energetic and positive like Franky and Nami.
My opinion? This pairing is unlikely and incredibly stupid. They don't fit well together and have no chemistry. This pairing lost a good chunk of popularity since it became obvious that Robin and Franky have way more chemistry.
3
Sanji Vinsmoke & Charlotte Pudding
This couple finally appeared here lol! Well, whether it's a crack pairing that will someday be canon I definitely love the chemistry between these two. This is the first couple I started shipping where one was trying to kill the other and the other was avoiding to get killed, I don't know but their moments together where we know pudding is evil has the most chemistry of all, and then when sanji complimented her eyes, that's it for me, I started shipping them. As a Sanji fan, I felt like pudding as a woman has the most unique interaction with Sanji, he already did something no one has ever done for her, call her eyes beautiful, now I'm waiting for the thing only she can do for Sanji because if she does, then she will be "The One" for Sanji
This match is so obvious I think everyone has figured put they're going to end up together one day. They share a passion for cooking and are definitelely attracted to each other. They would be happy together.
I haven't seen whole cake island yet but I already ship it. I just want sanji to be happy and charlotte seems good for him. if sanji were to canonically end up with someone, I'm pretty sure it would be charlotte and I have no complaints about that
I don't know why but I don't think Sanji will end up with Nami. In Whole Cake Island Arc we know Sanji's true personality. The story between him and Pudding was romantic and they even kissed each other. Too much tears have fallen. Oda has created tragedy backstory for Pudding so I hope someday she will find a man that cares for her. I hope they will end up together.
4
Zoro & Sanji
They have the most chemistry and honestly make so much sense. They obviously care for one another and are complete equal in all matter. Also they would only be themselves and not with others
I LOVE THIS SHIP! They are just...so perfect for each other! I love the dynamics between the 2 of them and Sanji can't even be around a female without basically dying...! So he's gotta be gay...
I love this couple. Yeah, we know it's not going to become canon in a shonen manga, but it's still great! These two are such a good match and they always seek each other's company. Zoro barely speaks but around Sanji he becomes so outspoken and Sanji acts like himself around him. I love it every time they are together. Plus they respect and trust each other SO MUCH, like when Sanji said they could count on Zoro on Punk Hazard and when Wanda was saying their nakama were dead, Zoro immediately said Sanji wouldn't have let it happen. But they are proud guys, they will never admit it, No good guys, we see through your pretense!
They always fight with each other, but when they work together, they become so powerful. It's the perfect love/hate relationship~ Even though bicker at each other (like an old married couple) they still have mutual care and respect for the other. It seems like if sanji was with a woman then he would have to treat her delicately like glass, and become easily manipulated. However, he can act naturally when with Zoro.
5
Franky & Robin
If there is any couple that comes out of the Straw Hat crew, it's going to be them. They got through some really time during the same arc and Oda often shows them with matching clothes did you notice? Even if it's not sexual or romantic I think they're fond of each other and I think their personalities fit well together as I think Robin is the kind of girl who would enjoy Franky's antics.
Straw Hats have been declared a family, it would be a bit strange to see them paired together. However, I must admit that the only ones I could see very well together are Franky & Robin. I love their dynamic and by the way they are already considered the parents of the crew.
Nice to see with all the hints building up that Oda finally made them canon. No woman would touch a man like that if they were just friends. The no romance in the crew that people spread is dead now.
They just work. The way they're always together, they are some of the closest pairs in the ship. I think there's huge potential for some romance to develop between them, because they are pretty close and they have had little moments like Franky sleeping on her lap, saying she was beautiful when they met after the timeskip, and protecting her from the hail on their way to Zou, I think. Not to mention the unique bond they formed during W7/Enies Lobby, since they shared a forbidden knowledge, and faced jail together.
6
Luffy & Hancock
Hancock is more justified than anyone else in her behavior. There is a far bigger threat hunting her, and she developed the personality so other people don't view her as a weak person taking advantage of her. Overtime, she turned into ice as granma said. Her kicking small animals (they were not hurt if you check the manga) and breaking statues is nothing because she did it for a bigger reason. Bigger reason of protecting herself and her sisters. Compare that to Bon Clay stirring up a civil war for no good reason who fans ended up loving anyway. Pudding who was able to shoot someone after inviting them over as a guest jut because she had insecurities (her insecurity is nothing compared to Hancock's past). It looks hypocritical when Hancock haters make it seem like she's the only one who fans forgave.
They are so cute together. Despite Hancock being much older she acts so cute and innocent so it doesn't feel awkward shipping her with Luffy.

I also like how Luffy always tries his best to listen to her in Impel down and Sabaody to stay low-key. Tho he failed in the end XD

Luffy told Hancock that he doesn't want to get married. So maybe he won't end up with anyone but if he does I think it would be Hancock since she's been loving him for 2yrs strong.
Her being older is hardly a reason to hate this ship, but her being blindly obsessed with Luffy and being an awful human being overall IS. Boa Hancock doesn't care about her people, she turns them into stone and treats elderly and animals badly. She only acts like a human being when Luffy or her sisters are concerned. People forget that about her because she is beautiful and because she had a tragic past. But Nami for example also had a tragic past and she is still a wonderful human who forgives and protects. Boa Hancock never leads Luffy in the right direction, she follows his whims and lives in her make-believe fantasy of her feelings being reciprocated. Also Luffy openly rejected her.
I love Boa! She's beautiful we all know that. BUT she's also one of the most powerful women in One Piece! I think she is hilarious when she is with Luffy. She's crazy about him and I want them to be together. Even if Luffy is probably asexual haha.
7
Usopp & Kaya
To be honest I think this is the healthiest ship that we have here. I can be sure that Usopp will treat her better than his father did with his mother. I don't know why people hate him but Usopp is good nakama. He is weak now but he will be stronger in the future. Kaya is the only girl that cares for him. I don't ship it, however, I think it's very likely to happen at the end of the story.
In the beginning, I actually thought that they were crushing on each other. That was even before I knew much about them, and I was EIGHT YEARS OLD. If even an EIGHT YEAR OLD can tell, then isn't it true? Plus, who else can you imagine Usopp 'with'? And don't say Chopper! That's just... Discusting. I'm sorry if there actually are fans for that out there... because they are JUST FRIENDS!
this is hands down my favorite one piece ship. they are sooo adorable and especially the part when kaya says she wants to become a doctor so she can treat his wounds when he gets back is so sweet. ill be disappointed if they don't end up together they're made for each other
I love Usopp and kaya she is becoming a doctor just to treat him for when he returns and there still best friends. It's obvious that the reason he loved the going merry so much is because it was a gift from her. Plus usopp even made a snow sculpture of Kaya on the going merry how can you not ship them
8
Sabo & Koala
Please make this come true, Oda. I really love this ship. They always care about each other and they have shared many cute moments. Koala is like Boa Hancock, they both have dark past so I hope someday they will find their own happiness.
This pairing is nearly by default. They are shown together all the time and seems to get along, only important members of the revolutionary army who are young good-looking. So of course people ship them! It's not like there is any "rival" to this pairing :P If there was another member on the team (male or female) hanging around, it would be another thing entirely.
Even though they fight a few times that proves their relationship is growing into a love relationship, plus Kola has shown been worried for Sabo when he passed out and slept 3 days straight. hopefully they share some feelings for each other at some point hopefully it will be soon.
It's weird how people love this pairing. People love Sabo and Koala for their funny dynamics/interactions yet some of these same people will hate the idea of Luffy and Nami being together even though the two pairings are exactly the same. lol.
9
Zoro & Nami
I don't get why people ship Zoro with Nami. They are so mismatched in term of personality. They don't really talk or spend time together on the ship but when they do they act like annoyed siblings. I don't really ship Zoro with anyone because he's so focused on, you know, swords and booze but I think shipping Zoro with Tashigi or that chick from Wano (forgot her name) make more sense anyway. I get that shipping is all about personal taste but I find this one very hard to understand and after reading some threads I didn't get the impression many people ship them either because I don't recall anyone mentioning this pairing during any of those stupid endless debates. But I believe it used to be a bit more popular years ago, maybe when less characters were part of the one piece world.
Recent interview with Oda.

By the end of the series, in which they have found One Piece, some of them still have to continue their journey to pursue their dreams. Zoro has to travel around the world looking for strongest swordsmen and beat them and Nami wants to draw maps of the world so they will eventually travel together to achieve their dreams while protecting and helping each other.
Both of them are also the core of one piece. Which also means, they are the most important characters in One Piece. And that also means, they can or might end up together even after One Piece is over.
I feel like these two are a very good choice. They both complement each other well and both of them are like guardians to Luffy. What's more, it has been shown many times that although they can argue a lot, there are still times they agree on and can talk without biting each other's necks. Not only that, they also show a lot of care for each other than one would think. Like the time Zoro was seriously trying to navigate when Nami got sick, even telling her to get sleep while he "takes care" of it. Or the time Zoro was deeply injured, Nami and Chopper stayed by his side. Interesting is also the fact that Nami just knows very well which buttons to push to make Zoro angry (like that time in Whiskey Peak about the debt..). Luffy and Nami are more like siblings only.
10
Sanji & Nami
They have a lot of cute moments together.

Sanji treats Nami more special than other girls. He left Violet for her. He kept thinking about her when he was with Pudding. He even said I love you to her in front of Pudding. I just can't imagine Sanji with anyone else with the way he treats Nami.

Some people like to say that Nami hates him but that's so not true. She always shows she cares towarrds him. She didn't want to leave him behind with Enel or Doffy. She let him smoke in her body, She fought Kalifa for him. She got caught by Capone because she got worried even though Sanji told her to stay behind.

people just don't like it because of Sanji's pervert gag. But this gag is Oda's fault, he makes tons of his chara as perverts because he's a pervert himself lol.
I love this ship. In my opinion, the only reason Nami x Luffy is popular is due to the fact that Luffy is the main protagonist and Nami is the heroine. It is really common among fans to support the hero x heroine standard. However, Luffy shows equal concern for all of his crewmates and the only "moment" between the two is when he allows her to wear his precious Straw Hat, which is not considered romantic by me. I support Sanji x Nami because in the current arc (Sanji retrieval arc), it is hinted that Nami might have some feelings for Sanji as well. It is also well - known that Sanji prefers Nami above all.
I really think Nami is special to Sanji and that he would be faithful if he ever got a chance to be with her. Oda has chosen Nami and Sanji for a lot of moments that could be seen as kind of romantic. I think the biggest reason this isn't more popular is because a lot of western fans see him as a playboy, when he's far from. Honestly, the way the current arc is going it would not surprise me if Oda threw in even more scenes between these two in particular. Personally I ship it, and I think they would actually fit really well together. Two people that can be on the same level when it comes to both serious and unserious subjects. Can we all at least agree that they both care deeply about each other? Because no matter how many fans there are that think Nami hates Sanji, they're clearly wrong.
Sanji and Nami has plenty of moments that makes me think Oda treats them differently.

We have the whole wedding scene in Thriller Bark, not to mention another wedding coming up and a quite distressed Nami.

We have them protecting each other, not only Nami getting saved by Sanji several times, but Nami fighting for him too.

She's cried over him and he's cried for her.

In a lot of serious situations they turn to each other because they are both levelheaded and trust the other one's opinion.

They switched bodies in Punk Hazard, but despite Oda making a unfunny joke about it, we got a lot of moments between them.

Nami has worn Sanji's jacket twice.

Sanji is often chosen to be Nami's protector she can be seen hiding behind him from time to time.

Luffy has basically said "I leave Nami to you" to Sanji while he has said "Leave Sanji to me" to Nami. Indicating that he knows they care and worry deeply about the other.

They know ...more
The Contenders
11
Sanji & Violet
Sanji and Violet ROCK!
As we all know Sanji is obsessed with women. Sure this can have some really funny moments with Nami and Robin. But the kind of irritating thing is when Sanji refuses to fight women. I know, I know, it's a big part of his character and stuff... But you have to admit it is really annoying when Sanji get's completely defeated by a girl who is actually pretty weak compared to him. But that's how Violet and Sanji are just so awesome.
FINALLY! Sanji's refusals to fight women and his faith in women actually had a positive impact and it actually saved Sanji instead of injuring him. So therefore after years of Sanji believing in women it's only fair that Violet believes in him.
It's true Violet likes Sanji, but it's clearly nothing compared to how Pudding feels for him. Violet had a small crush but she didn't seem fazed by his departure. Pudding on the other hand was heartbroken. That's the difference between a crush and love. Plus I think Pudding is way better for him. She would fit at his side perfectly and would be happy to leave her island...
I think they'll do well together. Why? Well to be honest I think Violet is one of the few who actually likes him, second I think she would be good for him in cases of love. But to be honest Sanji likes every woman so it's hard to say, but in the end the Straw Hats when they go off on their own paths I'm 81% sure Sanji will be with Violet, but we just have to wait and see.
She seems to like him as much as he likes her, and with Nami it is one sided flirtation only. I think the straw hat crew are like brothers and sisters, and any romances just do not work in my opinion. Plus the fact that she can read his dirty mind is funny. They would be a wonderfully romantic couple.
12
Law & Robin
I know it seems absurd to hope for such romantic pairing since Oda himself noted that it is unlikely due to the genre of the manga, but we can't help ourselves ship people especially when they are given so much attention in both manga and anime.

After the Dressrosa Arc, when they were sailing out for Zou, Robin approached Law and asked his next step, which us very un-Robin to pry on other people's lives. This is my first notice that this pairing is probably significant in the arcs to come.

When they arrived in Zou and found the Road Poneglyph, Law and Robin are given yet again significant screen time especially the time when Neko warned Robin about people targetting her. After her flashback, she was in the present once again but the person in front of her is Law. I don't think this is a coincidence.

They were also given ample screen time together in the movie Stampede.

Their personalities and history are also similar. They are both intelligent and rational ...more
They're just perfect together, physically and mentally. They share the same dark humor and personality. They are taciturn, smart and mysterious. They form such a good team -in the dress Rosa arc but also against Ussop when they turn him mad haha -. They also seem to not sleep the night -in some episode we can see Robin's reading the night while the others are sleeping and Law has circles under his eyes-. They're also both closed to Chopper, Law because of his medicine's skills and Robin because of her maternal instinct and her love for the books. In fact, Law just seems to be Robin's male version. There's just a little difference between them, Law hates bread while Robin's favorite food are sandwiches, but that's not really important x)
Love them! If Oda decides to let certain Straw Hats be with people outside of the crew then Law and Robin is definitely something I hope happens.
I love them together! They have a lot in common. They both love dark things, have morbid remarks and they have the same dark humor. They are quite, intelligent and mysterious. And I think they both love cute things (Chopper and Bepo? )! Plus Law is taller than Robin and they only have four years of difference! And I love the scenes between them in the Punk Hazard and the Dressrosa Arcs! I think they're meant to be together!
13
Zoro & Tashigi
Tashigi was obviously created to interact with Zoro and share an emotional connection with him. Her relationship with Zoro has been evolving, from enemies, to rivals in swordsmanship but now they're coming to terms with each other. Oda has also hinted that Tashigi might have a crush in Zoro. I don't ship this but I like their interactions and how Zoro acts when he's around her. He even made her a bandage while she was passed out in Punk Hazard, before running from the gas. He doesn't admit it but he cares for her.
How do you get Zoro to blush like a child and to reveal his past? Put Tashigi into the mix. There has always been chemistry between these two in my opinion. And I don't think there is a better couple.
Zoro is very possessive, he sleeps with his swords for goodness sake... I don't think he will give up holding them for someone else unless they are someone who values their worth more than he does and Tashigi has already announced the fact that she is going to take them away. :D
No person has brought out a more clear truth from another than Zoro and Tashigi. They get on each other's nerves and argue whenever they meet.
Some of the Best episodes of One Piece have Tash/Zoro screen time.
Well just based on the dynamic maybe I guess. But I cannot think of scenario that would make it work (Zoro leaves the crew and joins the marines? Or they both leave and travel the world together? She joins the crew? The settle in a nice little house on an island? ) Pfff like that's going to happen. Maybe a one-night stand or something but then again that's hardly a romance. Zoro doesn't strike me as the romantic type anyway. Fights are pretty much the only thing that excite him. Which is probably why so many people match him with the cook now that I stop and think about it. lol
They're just so perfect, it's just like they were made for each other. But at the same time different, Tashigi's softness and cuteness brings a contrast to Zoro's rough side. The fact that they're a pirate and a marine gives everything an interesting twist. I can't wait to know how their relationship develops! Besides, let's remember Oda confirmed that Tashigi feels attracted to Zoro in the SBS, so this ship is at least 50% canon!
14
Capone & Chiffon
Very affectionate and healthy relationship. They are a good match.
15
Shanks & Makino
Why not? Shanks is really inspired by Roger so I think it's logical that he will end up with a normal woman. Makino has a baby boy now and I hope Shanks is the father of that child. Maybe at the end of the story, Shanks will be just like Rayleigh, quit everything and come back to normal life with his woman.
I would be disappointed if Makino's baby isn't from Shanks after all. Makino is a caring woman and Shanks is a kind man, I think they would work very well
I think at this point Shanks and Makino are pretty much canon, especially after the chapter cover.
I hope on the cover of the one piece manga of makino holding a baby, was her and shanks baby
16
Don Sai & Baby 5
They surely ended up together
Perfect, in love with tihis (canon) ship!
17 Corazon & Bellemere
18
Usopp & Nami
I know, I know, Kaya, but seriously, these 2 would be pretty cute together as well...they just seem to get each other and before Robin, I feel like they were the parents of the whole ship...
I love this ship, they both have been shown to invest huge amounts of trust in each other, and let's be honest, pre-timeskip they were as far from the Monster Trio as it got. They are both used to fighting on wits and deception and they are very emotionally connected, as seen on Thriller Bark where Nami rushed to his side. I absolutely love this ship!
Well if kaya wasnt introduced, this pairing would be a huge competitor for Luna.
I LOVE THEM, why is this not more popular? If there wouldn't be the Kaya-thing then I'd totally want them together...they are like a better LuNa version since they have more developmend...
19
Luffy & Meat
Luffy is so clueless. So to me, it's the only Luffy "ship"that makes sense. If Oda felt that him reacting to a beautiful woman's naked body was out of character for him when he was alone, then the idea of Oda putting Luffy in a relationship in the manga is even more far-fetched. This kind of things work well for a guy like Sanji, but it's very difficult to picture Luffy in such a position. It would be so weird.
There is no love greater then Luffys love for meat. He shows this in almost every episode that food is involved with. No woman would be able to tear him away from it.
Let's be honest here... Meat is Luffys true love and always will be, if luffy ever decided to become a vegetarian or something the world would end
I ship LuNa all the way across the world, but THIS... This is the most romantic love in the history of manga kind.
20
Ace & Vivi
Rant Warning!

I'm pretty sure this ship started just because they happened to meet at alabasta and they talked next to the fire, first of all ITS JUST A TALK, GET OVER YOURSELF FANGIRLS! JUST BECAUSE A BOY TALKS TO A GIRL DOESN'T MEAN YOU CAN JUST SAY THEY LIKE EACH OTHER JUST LIKE THAT! EVER HEARD OF SOCIAL INTERACTION? Second of all they barely knew each other for a week, unless it's some sappy love fanfic they wouldn't just fall in love at first sight or fall in love over a simple talk, did you see ace or Vivi blushing in each other's presence at all? NO YOU DIDN'T if you did I'm sorry I forgot most of the details about the alabasta arc third of all I'm pretty sure once the fangirls knew a lot about him they fell in love and started making OC X ace and Reader X ace fanfics and stuff like that, I'm not really one to ship him with other people cause he seems more like a victim of the fangirls fanfics to me

Rant ended

by the way if your angry at me I don't blame ...more
Why? It could have been nice, but Ace is dead and they had no significant scenes together in the first place. Seriously, I don't understand how people can support a pairing in that context. There was nothing between them and now we're 100% sure there never will be. That's just stupid. I'm sure Vivi will eventually find someone.
I think they are the best couple ever! I mean how could you not love them? When they talked and laughed next to the fire was simply amazing! Also when they were buried in the sand, he ran to her first. And I think she likes him, too. They make so much sense!
Even though they had little time they still made cute moment like when they were at the fireplace and how ace ran to her first when they were burried in the sand, how he helped her burry the skeleton and how he understands how important the country is to her. even though ace died I still see them together
21
Kid and Law
This is a very popular pairing, very surprised it is not higher on the list.
Kid seems very interested in Law, cannot take his eyes off of him.
Kid/killer and law/corazon are better
That is one HOT pairing, I'm telling yo.
22
Sanji & Vivi
I didn't know people actually used to ship Sanji with Vivi. I just can't see it happening
I prefer Sanji with Monet & Vivi with Luffy, no thanks!
Sure why not they look good together
Vivi is with Kohza.
23
Kohza & Vivi
Duh. Vivi and Kohza are perfect for each other! Stop shipping Vivi with Ace, I repeat, stop shipping Vivi with Ace. Ace and Vivi don't have chemistry. They don't even look cute together. Besides, Ace is mine, he belongs to the fangirls, he ain't getting shipped with no one. Although, Ace does look kinda sexy with Nami.
Kohza and Vivi are a great couple while yes they are cute together but I don't ship them because of that, they have each other's backs ever since they were kids and they both have a strong connection to each othere in the romantic since. Plus they even each day other out well
Vivi and Kohza have known each other for a long time unlike Vivi and Ace so I vote to STOP SHIPPING VIVI AND ACE I think that this couple is adorable and they are both perfect for each other!
They grew up together! They love each other. Kohza protected Vivi when she was younger. The care about each other.
24
Smoker & Hina
Smoker and and Hina are two close friends who always have each other backs and I think that they have good chemistry between them I would love to see them end up together. They would be one awesome marine couple
Simply amazing! They understand each other well, and were mates during their training years, plus who would ever be good enough for Smoker other than Hina
Smoker and Hina would be one of the best couples ever. Their old friends and always have each other backs. One Piece could use a marine couple
OOH these two would be adorably funny together! Hina would be the boss of the relationship, of course!
25
Luffy & Vivi
Those two are certinely for eachother! most innocent and cutest pairing in my opinion and they had cute moments together. LuNa shippers tend to forget that luffy gave his hat to vivi too. I think luffy really likes her and he wouldn't mind to make her his queen when he grows up. she is soon to be named queen and he is soon to be named king. and she is the only girl that stayed between his protective arms. (the longest if you have to remind me of him hugging hancock as a thank you hug, to her delight) this couple could certinely work as both of them tend to care a lot for each other. nami is more like a scary big sister to him and this ship is fan made. and hancock is over a decade older than the young innocent luffy. this one sided love was only made for comedy.
Luffy's Japanese Voice Actor, herself said that it was Princess Vivi Luffy was interested with, not Nami.. She said that once a crew got in a ship, it'd be impossible for them to be in that kind of relationship
There has to be a reason Vivi (a princess) was put on the crew for awhile. in my opinion once Luffy becomes pirate king, he will reveal Vivi is the girl for him and make her his queen.
I totally shipped this back then in the Alabasta arc (but then came Hancock)...but I still ship them too! And I expect Vivi to join his crew someday! I wish her a devil fruit until then
PSearch List