Best Argentine Soccer Players
The Top Ten
1
Diego Maradona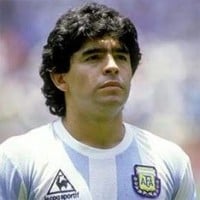 Diego Armando Maradona is a retired Argentine professional footballer. He is known for "The Goal of the Century" and the "Hand of God" goal.
He is best Argentine player because he led Argentina to glory
Love Lionel Messi, but the fact that he still hasn't won a World Cup is disappointing-especially after coming so close in 2014.

Maradona can do anything Messi can do, but with the National Team too. Not saying that Messi is worse, but just cannot achieve at National level. The goal against England in the World Cup says it all.

What it would take for Messi to be considered better than Maradona?

A World Cup - if he does achieve this title, I think he's the best player ever...
Hey, Maradona is the best argentine, but Messi is actually same like Maradona. The real problem why he is better than Messi is because he made the 1896 world cup winner. He is now a couch of this country
The greatest done it with every team he played for scored the greatest goal ever and number 1 comes close
2
Lionel Messi

Lionel Andrés "Leo" Messi is an Argentine professional footballer who plays as a forward for Spanish club Barcelona. He is also known as one of the greatest football players of all time. He was born in Rosario, Argentina on June 24th, 1987.
I watched some of maradonas goals on youtube and they were good but, the players he was playing against sucked! they had no formations and everyone was running around like headless chickens. but now a days its much more tactical but messi some how makes it happen... amazing control!
THE BEST simple, better than Ronaldo!
Just saying "Messi' is enough.
I reckon Leo Messi should be the third best player of all time
maradona's brilliant but messi is the new face of argentina. maradona's history.
3
A Di Maria
A Di maria should be first at crossing and past
He is fast and awesome
You are my second best Argentina you suck at man utd why did you move to the psg what always fails there shots I hate you kind of because you play for the psg
Should be in the top almost reaches the levels of messi
4
Sergio (Kun) Aguero
You can forget Aguero!
Gary Lineker even said they would do better if Aguero was playing against Switzerland
He is probably the best striker in the world
Remember Agueros last minute goal v Qpr
5
Carlos Tevez

Carlos Alberto Martínez Tevez is an Argentine professional footballer who plays as a forward for Shanghai Shenhua and the Argentina national team.
Tevez is a thinking player
Total idiot.
Man city striker? nothing' else
He's small
6
Gonzalo Higuain

Gonzalo Gerardo Higuaín is an Argentine professional footballer who plays as a striker for Italian club Juventus.
This guy is an amazing finisher... He may be slow, but he is strong... And ruled the Spanish league in his time
It is because of his rascal Messi lost World Cup and Copa de America. How will he pay those valuable years
How is he over aguero aguero rules
Gonzalo sucks he played rubbish against Switzerland
7
Gabriel Batistuta

Gabriel Omar Batistuta, nicknamed Batigol as well as El Ángel Gabriel, is a retired Argentine professional footballer.
Diego Maradona once stated that Batistuta is the best striker he has ever seen play the game. His Stat explains it all. He haven't played for Argentina much in 1996 and year 1997 due to a dispute with team coach Daniel Passarella when he was in best of his form. His nick name "Batigol" explains it all. He was a very loyal, committed and complete player.
The best striker and very handsome
Pure goal scoring machine
Best argentinian striker ever
8
Alfredo Di Stefano
He redefined what football was at the time. If he played today, he would still be one of the best in the world. He was so ahead of his time. He was the finisher and the creator. One of the most complete football players ever. In my opinion one of the three best football players ever
What? Si Stefano most be in top 3! He was an exceptional player, very underrated... One of the best players in history
Wow, its absolutely ridiculous that likes of Di Maria and Higuain are above him. 5 time champions league winner and scored in each final. The most complete player of all time.
I mean really this guy was one of the first legends, he reinvented the game with real madrid and still makes a influence today
9
Javier Pastore
Pastore gay so shut up
Why not in the top ten, this guy is just WOW
Why not in top 10, this guy is very talented
10
Gabriel Heinze
He is a master better than messinronaldo and pele combined
Great plaer
The Contenders
11
Hernan Crespo
Just faultless and his experience gives him the edge over any striker around.
Class 9
Liked him
Epic
12
Manuel Lanzini
He is the future of Argentina football
Amazing skills
13 Guillermo Stabile
14
Javier Mascherano
Mascherano is a "take no prisoners" kinda a player! Very focused and passionate on the pitch.
He has to be in the top ten you idiots
16? and you have Higuain in the top ten? Stupid. Mascherano should be 3 on this list
One of the best defenders at this moment in time
15
Juan Riquelme
Juan is the world's number 1. It is an insult to football to ignore him. Watch the videos of Juan playing and compare him to any other player. None of the players matches him. He is the best. You can deceive others but not us who know football. Please stop being influenced by soccer politics and be fair. Please stop misleading the world.
How could this man not be on the list
The best number 10 of last 20 years
I'm a River Plate fan, but this man must be top 5
16 Oscar Mas
17 Francesco Manfredini
18
Mario Kempes
He gave Argentina their first Worldcup and had an amazing ball control. He played for Valencia and gave the team some of their most glorious seasons and is know as "El Matador Kempes" in Spain since he is the top scorer in Valencia's history.
If Kempes is at the bottom of the list is because these statistics are ran by very young people. If you guys saw Kempes play 40 years ago you'd be in shock! Besides his outstaning Soccer skills, Kempes had millions of female fans because of his great looks.
Kempes was great for Argentina & Valencia. One of the great football players of his time, heh should be 2nd or 3rd on this list.
He introduced me to worldcup soccer in 1978. After watching the '78 Cup surrounded by England's fans while I was working outside of London, this North American then got schooled in the passion of Worldcup action. Ben a fan ever since.
19
Claudio Caniggia
Someone said that Claudio Caniggia is the missing link between Diego Maradona and the rest of the mortals...
Super player, a great foil for Maradona
Best fairing to Diego
Super fast runner...I like Caniggia... 1990 he was in his supreme...
20
Javier Zanetti
A defensive legend!
Good player one of the best for argentina
THE BEST...(PERIOD)...
Legend
21
Diego Milito
A beast of a player
Under rated!
22
Paulo Dybala

Paulo Bruno Exequiel Dybala is an Argentine professional footballer who plays as a forward for Italian club Juventus and the Argentina national team.
Why he is not in the team?
He should be the first one because the way I see it he is still a child but he will make history.
He is very and plays better than higuain and di maria so he should be at third number
He is a world class striker and he competed with the players like messi and ronaldo
23
Nicolás Otamendi
He should be rated higher rated
He should b a farmer
24
Hugo Porta
Hugo porta was a RUGBY PLAYER.
25 Nery Pumpido
PSearch List