Top 10 Best Last Minute Goals in Soccer History
The Top Ten
1
Sergio Agüero (Manchester City vs. Queens Park Rangers)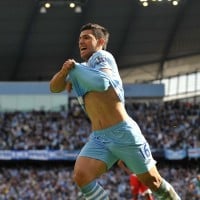 Sergio Aguero's last-minute goal against Queens Park Rangers in May 2012 secured Manchester City's first Premier League title in 44 years. In the dying moments of stoppage time, Aguero latched onto a pass from Mario Balotelli and fired the ball into the net, clinching a dramatic 3-2 victory.
2
Sergi Roberto (FC Barcelona vs. Paris Saint-Germain)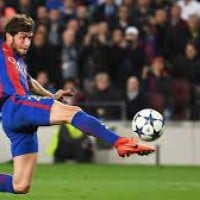 Sergi Roberto scored a sensational last-minute goal against Paris Saint-Germain in the 2016-2017 UEFA Champions League Round of 16. Trailing 4-0 from the first leg, Barcelona mounted a historic 6-1 comeback in the second leg, with Roberto's 95th-minute strike sealing their spot in the quarter-finals.
THis is good but if you watch this goal messi jumps on the crowd

What I'm saying is I don't think he thaught that through..
3
Troy Deeney (Watford vs. Leicester City)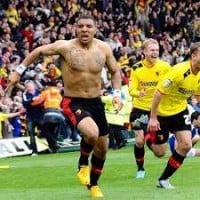 Troy Deeney's last-gasp goal for Watford against Leicester City in the 2012-2013 Championship play-off semifinals is etched into English football history. After Leicester's missed penalty, Deeney capitalized on a swift counter-attack and hammered the ball home in the 97th minute, sending Watford to the play-off final.
4 Lionel Messi (El Clásico: FC Barcelona vs. Real Madrid) Lionel Messi's injury-time goal in the April 2017 El Clasico saw Barcelona snatch a thrilling 3-2 victory against arch-rivals Real Madrid. Messi's precise left-footed strike from the edge of the box in the 92nd minute was his 500th career goal for Barcelona, cementing his status as a club legend.
5 Didier Drogba (UEFA Champions League Final: Chelsea vs. Bayern Munich) Didier Drogba's 88th-minute equalizer for Chelsea in the 2012 UEFA Champions League Final against Bayern Munich turned the tide for the English club. With the match heading towards its conclusion, Drogba rose to head home a corner, eventually leading to Chelsea's victory in the penalty shootout.
6
Andres Iniesta (FC Barcelona vs. Manchester United)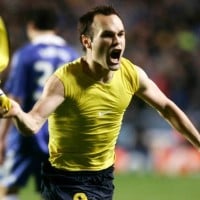 Andres Iniesta's dramatic injury-time goal for FC Barcelona against Manchester United in the 2008-2009 UEFA Champions League semifinals secured their place in the final. Iniesta's stunning strike from 25 yards out in the 93rd minute silenced Old Trafford and set the stage for Barcelona's eventual triumph over United in the final.
7
Nacer Chadli (Belgium vs. Japan, FIFA World Cup)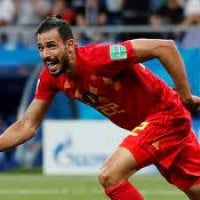 Nacer Chadli's last-minute goal for Belgium against Japan in the 2018 FIFA World Cup Round of 16 secured a thrilling 3-2 comeback victory. With the match poised at 2-2, Chadli finished off a swift counter-attack in the 94th minute, ensuring Belgium's progress to the quarter-finals.
8
Ben Watson (Wigan Athletic vs. Manchester City, FA Cup Final)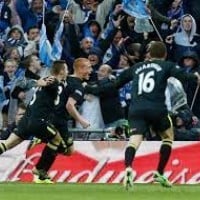 Ben Watson's 90th-minute header for Wigan Athletic against Manchester City in the 2013 FA Cup Final handed the underdogs a historic 1-0 win. Watson connected with a corner, directing the ball past Joe Hart to clinch Wigan's first major trophy in their history.
9 Arjen Robben (UEFA Champions League Final: Bayern Munich vs. Borussia Dortmund) Arjen Robben's 89th-minute goal in the 2013 UEFA Champions League Final between Bayern Munich and Borussia Dortmund secured the title for the Bavarians. Robben slipped past the Dortmund defense to poke the ball home, giving Bayern a 2-1 victory and their fifth European title.
10 Cristiano Ronaldo (Manchester United vs. Villarreal) Cristiano Ronaldo's last-minute header for Manchester United against Villarreal in the 2008-2009 UEFA Champions League group stage earned the Red Devils a vital 0-1 away win. Ronaldo's powerful leap and precise header in the 87th minute demonstrated his aerial prowess and secured three crucial points for his team.
The Contenders
11
Lucas Moura (Tottenham Hotspur vs. AFC Ajax)
Lucas Moura's 95th minute goal to make a hattrick in the UEFA Champions League Semi-Final between Tottenham Hotspur and AFC Ajax sealed the win for the English. Moura slipped past the Ajax defense to poke the ball home, giving Spurs a 3-2 victory and to get Spurs into the UCL Final for the first time in their history.
BAdd New Item