Best Credit Repair Companies In Texas
Your credit history can add up to a 'good' or a 'bad' credit rating, which can act as an obstacle in the way of achieving your goals. As lenders usually don't lend credit to people with bad credit rating. Unfortunately there is no magic wand that can improve your credit rating overnight, but you can improve your credit rating gradually with credit repair.

Thousands of people in Texas with poor credit rating have been able to improve their credit score by fixing bad credit, making current payments on time and better managing their credit summary. There are examples of people improving credit score from 300s and 600s to even 700s and 800s.

If you are facing difficulty getting loans, improving your credit score through credit repair can help you qualify for lower interest payments. Now you are free to purchase anything you want to, even a new home.

Even if your credit score is fair enough to help you qualify for a loan, improving it further with only just few points can save you big amount sometimes even in thousands. Leveraging credit repair for increasing your credit score can save you a hundred dollars or more per month on your debt such as mortgage payment.

You can either repair your credit score yourself or seek professional assistance from a credible Texas credit repair service provider. Here is a list of top 10 credit repair companies in Texas doing a great job helping people increase their credit score and achieve their goals.

The Top Ten

1 Better Credit Reports Consulting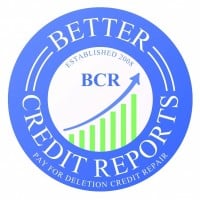 Better Credit Reports Consulting, founded in 2008 and commonly referred to as BCR Consulting, is an Austin, Texas based company offering credit repair and consulting services based on expertise obtained over many years of dealing with various credit related issues...mortgages, auto loans, etc. BCR Consulting, ...read more.
Great company to work with! In a matter of months I had 10 deletions off my reports. They helped me understand what was impacting my credit scores and what I could do to raise them. They are experts in what they do and they do it fast and inexpensively.
Awesome service and does what he can to get your scores back!
Extraordinary honest company to work with. I got results.
Best value for the money Ron
Visit Website
4 Alexander Credit
5 AAA Credit Repair Services
6 The Credit Repairmen
7 Texas Consumer Credit Services
8
Covenant Credit Repair
I'm Mary Robb, owner of this business and we are honored to be on your list of the Top Ten Best Credit Repair Firms in Texas!
We are one of very elite few firms that are BBB (Better Business Bureau) Accredited Firms in Texas/USA. Feb 2016, we proudly received the Ft. Worth BBB Torch Award for Customer Service for 8 county wide region. Any firm happy to receive a Customer Service Award, but especially for a Credit Repair firm, it's a huge accomplishment. Call us we, are passionate about helping people and offer an affordable monthly price plan. God Bless!
9 Brighter Day Credit Solutions
10 MSI Credit Solutions
The Contenders
11
Best Texas Credit Pros, LLC
I recommend this company, I was able to get my points increased to 720 in 6 months!
Love this Company! Keep up the Great work Stephen!
Best credit repair option we found in fort worth and dallas area. When ever I had questions they were able to help me boost my scores up and give me tips throughout to bring my scores up at the same time they helped me remove negative items within a short period of time. I recommend Best Texas Credit Pros.
These guys are the pros! They have staff standing buy to answer any and all questions you have. Tips on credit building and a plan of action to ensure success. So far I'm in the program 3 months and I can't wait to see my next results
12 RMCN Credit Services
BAdd New Item