Top Ten Best Kpop Male Rappers
The Top Ten
1
Suga (BTS)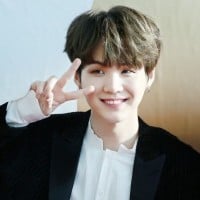 Min Yoon-gi, better known by his stage names Suga and Agust D, is a South Korean rapper, songwriter, and record producer.
His straightforward lyrics, his flows especially fast flow, seriously one of the best even in live, and he has a good voice..
August D, The Last, Cypher Pt. 1-4, and many more...
Listen to August D if you doubt his rapping skills! Because if you haven't listened to it then god, you don't know what Tounge Technology is! If there's anyone beating eminem, is Min Yoongi! The hardest rapper to keep up with and the genius composer!
Min Yoongi. Suga. Agust D. Whatever you call him, he is amazing. All of these rappers are amazing, and I would choose the whole BTS tap line if I could, but Suga is unbelievably talented. His flow is amazing, his "tongue technology" gets me every time. He can rap fast, and with emotion in his voice, and the lyrics that he raps are so meaningful or just beautiful and perfect like poetry. He works hard and has lots of talent, as he also produces and co-writes many BTS songs and can play piano. Props to Suga. So admirable.
Agustd uses his vocal zone to rap and is a very diverse. It's really rare to see a rapper nowadays who raps fast and with so much clarity.
2
T.O.P (Bigbang)
T.O.P. of Bigbang is one of the only rappers who uses his regular voice while rapping.
Uncultured bandwagon hoppers. We all know TOP is top
I love his voice and the way he raps
He has a low, satisfying tone when rapping.
3
Rap Monster (BTS)
He us one best k pop rappers alongside zico and bobby. His flow,lyrics,wordplay ,versitality ,punchlines and delivery of rap is just amazing .The way he changed in his rap song joke is just amazing.
Rap Monster is one of the best idol rappers, if not the best, in my opinion due to his high versatility and flow. His ability to deliver in both Korean and English is especially impressive and his high IQ definitely plays a role in his extensive and wide vocab. He can easily switch from a laid back and Drake-like flow to a fast-paced and passionate flow like Eminem's. Of course, Suga and Jhope are also very impressive rappers. I guess BTS was just blessed this time-round in their rap game.
In JOKE, 9 flows, wordplay in Korean and English, no chorus, only bars,no mumble rap...
Cypher Pt. 1 - 4, mind blowing flows, wordplay, switching rap in Hangul and English smoothly...
Listen to Change(feat Wale), Do You
He has so much talent and he inspires so many people around the world including me with his versatile lyrics and insane flows. This man is the best rapper, musician, and basically everything.
4
G-Dragon (Bigbang)
He's what people would call a 'soft boi', especially when he raps. He has an accent when rapping (FXXK IT, etc) or singing, which I find adorable.
G Dragon has been Rapping since he was a child of 6. His love of music and Rap is expressed in very piece of music he writes, arranges, and produces. Hid style, technique, and skill are unrivaled in the K music Industry. GD and TOP set the stage for modern K-Rappers! They created history with their style, flare and talent. When it comes to K Rappers there is no beating these legends. All other Kpop Rappers of the 3rd generation now enjoying popularity got their start because of this duo.
Ji yong is a talented rapper who is a genius composer and everything! He is the perfect package when you say rapping needs good lyrics
Him and top are the ultimate duo. bts are cool and all, I like them but big bang definitely have the stronger, more talented rappers. However, GD's devotion in particular is what makes me favour him over top, as mentioned in another comment he has written 2 songs everyday for 12 years and his songwriting skills are amazing. Big respect to GD.
5
J-hope (BTS)
He learned how to rap and no doubt, he is one of the best out of any other kpop idol rappers who are learned to be a rappers..
His flow in Aeroplane Pt.2, DDaeng, Cypher Pt. 4 and the latest Ugh, mind blowing.. I like it very much
He didn't even come from a music background and held his own alongside two underground rappers who have already been honing their art since they were kids. J-Hope accomplished everything in just a few years from being just a street dancer to being an amazing rapper, producer, and song-writer with his own cool, funky style. Suga and RM are good rappers and producers, but J-Hope is much more well-rounded than they are. He's absolutely brilliant. Unacknowledged genius.
J-Hope the most versatile, adventurous and experimental of the BTS Holy Trinity. He can go from Daydream to 1Verse in a drop of the hat, and from P.O.P to Cyphers in a heartbeat. I honestly can't see RM or Suga having that range in style.
Bias! I've been being bias wrecked by yoongi but seeing him here made me go back to stanning him. he's such a sunshine and so talented, and its really impressive given that he was originally supposed to be a singer
6
Zico (Block B)
He has an amazing flow and comes up with his own music including his groups music and other groups music. Plus he's been around for a while and still owning it, all while acting like a complete cute dork.
I don't even know that much of his stuff, but I almost died from talent overdose whilst listening to Bermuda Triangle.
If you doubt his skills, listen to Tough Cookie, and you'll regret not making him in Top 5
Seriously, Why isn't he on the number 1 spot? He is so good.
7
Chanyeol (EXO)
He should have ranked 3 at least . because I think his way better than j-hop. If someone is saying no to him I would say his probably dumb
He shouldn't be here honestly. I'm not being bias. He can rap, but he is not a rapper. If u know what I mean. Compared to all these underground rapper.
Chaneyeol should be higher than 5 he has a good rapping voice and he has emotion and style while he raps he's the best I love him!
Chanyeol is great and all but I think his rapping is not worthy of placing in the top ten
8
Changbin (Stray Kids)
Literally one of the best rappers I've ever heard. He deserves to be number one, he is way better than bts's rap line all together
He is the best rookie rapper by far, so just imagine him in a couple of years time - his flow is always amazing, he can rap fast and slow and make it sound great. You might know him to sound aggressive but listen to Streetlight and you will see the more emotional side of his rap.
Changbin is the best rapper in the industry, have you here'd how he tackles his lines? he also holds the record for fastest rapper in the industry, and he did it by accident!
His flows are honestly some of the most complicated ones I've heard in kpop. His lyrics are also very well thought out and the aggressiveness in his voice is extremely addicting.
9
Kim Ji-won (Bobby)
He's underrated. Seriously. He was on Show Me the Money Seasn 3 and won first place, debuting a year later under YG in a boy group called iKon. I love his tone, face, and style.
Ah! I can't start with Ji-won, his skills in rapping are god like, his tounge just jumbling out the verses so easily and effortlessly
Literally the best rapper. Lyrically the most skilled, closest to authentic hip hop and rap. His lyrics have differences and weight to it, other than the usual "I'm the best/we're the best". Underrated.
Most certainly a force to be reckoned with and he very well secures the top rank. His skills are beyond what I've seen any idol rapper possess and he's still so young. He's going places that's for sure.
10
Mark (NCT)
Mark is SM's best rapper. Before his debut, SM had been known for really bad rappers in their group, but Mark broke that rumor and is now the best rapper SM has. Especially being from another country originally, the fact that he can rap in another language is incredible. Mark isn't only SM's best rapper, but K-pop's best rapper. He seriously is the best, and if you don't believe it you're lying to yourself.
Hands down, the best rapper in SM and probably even all of kpop...this soon to be 20 year old raps, sings, and plays a significant roll in writing music. He is multi-talented and his flow is so good but underrated, Mark Lee needs to be recognized for his awesome ass raps.
Seriously mark in no 10? I'm not being biased but he really better than some people above his ranked including chanyeol,his rap is just fantastic, his voice is amazing for rapping
Mark is good enough to be in the top five. Stop sleeping on the boy and vote for him.
The Contenders
11
Jooheon (Monsta X)
I honestly don't know why he isn't number one on the list he is literally the best I got attracted to monsta x cos of his unque skills. A true Legend I stan.
For me, jooheon's rapping style is the best. Why people out there sleep on his talent? I thought he is the best rapper among all of them
Jooheon is the most charismatic rapper, he always delivers a great performance and has great stage presence.
Jooheon's rapping style is very unique. He truly deserves to be on top. He's the best.
12
Jungkook (BTS)

Jeon Jung kook was born in Busan, September 1 1997. His nationality is South Korean. HIs favorite number is 1. He is known as a South Korean idol singer, singer-songwriter, dancer, composer and producer. JK Favorite color is Red, Black, and White. He think express color of Hip Hop is Black and Red. ...read more.
My bias is the golden maknae. He's really good at everything, and that includes rapping. Even though now he is known as a vocalist, there are some older songs that show off his rap skills.
Jungkook deserves to be placed higher..although he is the main vocalist with a beautiful voice his rap is no joke either..he is better than Sehun
Even Jungkook should've placed higher than Oh Sehun...
Lil' bunny can spit bars when he needs to.
13
Han Ji Sung (Stray Kids)
Han really brings a fun side of rap, which is a nice contrast to Changbin's more aggressive style, but Han can also deliver emotion really well. Skz definitely have one of the best rap lines.
His flow is amazing, he is super talented
He is the best free style rapper
He's talented and genius
14
Jackson (GOT7)
I'd see him on the top 10 honestly. Yeah he's not korean but this man sounds fluent! Not only that but he can also rap in English. And that voice of his.. damn, love him!
Come onnn. jackson is a very talented rapper. and his songs are amazing. like... why would u put jungkook above him or other good rappers when jungkook is not a rapper.. I understand he rapped a lil in the start of bts but.. I think we should mainly think about the actual rappers first..
Jackson should be in the top 10 list. I mean, cmmon, he's a non-korean idol, yet he raps fluently both in korean and in english.
Worth the top 10 vote
15
Mino (WINNER)
He was on Show Me the Money 4, where he won second place. He only lost because people were trying to support the underdog (competitor), Basick.

He isn't any worse than other YG rappers (CL, TOP, G-dragon, Jennie, Lisa) so I can't understand why his ranking is so low.
He is the greatest artist with his lyrics, creativity and his definite style. he should be in top 5. unfortunately list not for real talents but for popularity by kids. even Gdragon is 11 unbelievable. Only one just watch him in SMTM or listen his XX and you will get just undoubtful pleasure from his rap. And also he is the best beatboxer in whole kpop.
As an underground rapper (HugeBoy) rapping alongside Zico, they trained together. His lyrics are top three the best and his rhythm is top tier. He is so versatile with his rapping. Keep at it Mino top three for sure
Mino is a great rapper (and singer), I wish he got more credit for his abilities
16
Ilhoon (BTOB)
An underrated rapper. His flow is amazing. Even with ballads his rap is so wonderful. H e truly deserves more.
His voice immediately made a mark in my head the first time I heard him
Best Rapper with a true talent in composing.
His voice is very unique
17
Bang Yong Guk (B.A.P)
Yongguk has amazing talents not only in rapping but also in writing. He pours his entire heart and all his beliefs into B.A.P 's songs. He also has an amazing voice. The bass rapping is pretty special!
I think the fact that he was an underground rapper says enough
TOP was 1 in the other list though...
BANG YONG GUK! Just no doubt.
18
Sehun (EXO)

Oh Se-hun, better known mononymously as Sehun, is a South Korean dancer, rapper, singer, model and actor. He is a member of the South Korean-Chinese boy group Exo and its sub-group Exo-K.
Look at every number after 11 on the list everyone under Oh Sehun is way more talented in the area of rapping.
Sehun... Is a great rapper... He is going great
Is just good
19
V (BTS)
V has a very nice rapper,he is not only good at vocal but also good at rapping he also covered cypher pt.3.I think he should also counted at best rapper
I love himmm and also he is my first male favorite artist and I love you more any thing love you.
Go listen to War of Hormone if u think he can't rap
He's a rapper? I thought he was a singer
20
I.M (Monsta X)
I.M is so good if u don't know him then u should go listen to monsta x they are really good (and I.M is the rapper with the deepest voice)
he deep voice when rap are the great
21
Zelo (B.A.P)

Choi Jun-hong better known by his stage name Zelo, is a South Korean rapper, dancer, singer and beatboxer.
22
Kim HanBin (iKON)
I love him
He composes and he has a good flow but I agreee he is a much better composer
my one and only leader
He's a genius
23
Eunhyuk (Super Junior)

Lee Hyuk-jae, better known by his stage name Eunhyuk, is a South Korean singer-songwriter, dancer and actor.
He is a great rapper, better than those who people just think can rap
His voice is clear and my type
He is too much good at rap.
His raps are just AMAZING. I always feel captivated by his skill in rapping especially really fast lyrics, leaves my mouth open. You should see the way he rapped in Mamacita - that is hard. His voice is so full of emotions 😍
24
Key (Shinee)
He is the best
25
Hyunjin (Stray Kids)
Hyunjin sould be number two because in district 9 he is rapping fast and he that was his debut
He has a good flow and has improved a lot since the show
His voice is really clear
PSearch List